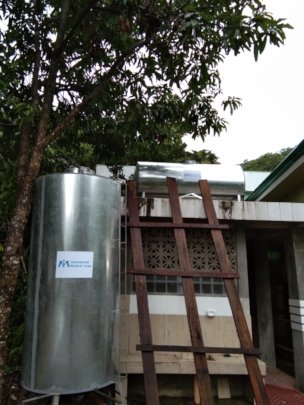 Final Report on Typhoon Mangkhut
As International Medical Corps' emergency response to Typhoon Mangkhut in September of 2018 has ended, this update will be the final one. Thanks to the support of the GlobalGiving community and other donors, International Medical Corps supported recovery for 87,170 people affected by Typhoon Mangkhut in the Benguet province with mobile and static healthcare, safe sustainable water, improved hygiene awareness, and continuous power supply for cold-chain management. International Medical Corps held trainings on various aspects of emergency response management for 777 community members and healthcare professionals from all over the Philippines, at the recommendation of UNICEF and the Philippine Red Cross.
To continue supporting International Medical Corps and our GlobalGiving projects, please visit our "Emergency Response to Hurricane Dorian." As of September 3, 2019, Hurricane Dorian is moving very slowly with life-threatening storm surges, flooding and dangerous winds from the Bahamas, to Florida, and the Southeast Coast. Our teams are ready to assist the Bahamas, Florida, and other areas affected by Hurricane Dorian.
https://www.globalgiving.org/projects/emergency-response-to-hurricane-dorian/
Sustainable Water and Good Hygiene
Typhoon Mangkhut made landfall in the north Luzon Island of the Philippines as a Category-5 storm and caused widespread flooding, multiple landslides and affected more than three million people. The widespread flooding ruined housing, damaged road infrastructure, increased standing water and destroyed and impaired water sources that led to the use of contaminated water, slower response times, and increased vector- and water-borne diseases. With the help of the GlobalGiving community and other donors, International Medical Corps' teams facilitated access and knowledge about water, sanitation and hygiene (WASH) for more than 85,000 beneficiaries.
International Medical Corps' teams worked closely with the local government agencies and communities to identify the key challenges to accessing safe water in targeted areas. Pinpointing the main problems led International Medical Corps to repair four water supply systems by rehabilitating water pipes, protecting the water source, and supplying communal water tanks. The newly repaired water systems provide access to safe water for more than 80,000 community members, including two rural water systems, one health unit and one district hospital.
International Medical Corps' hygiene promotion activities reached more than 4,000 typhoon-affected community members. Topics such as safe water storage, proper handwashing, household water disinfection, and oral hygiene, increased their knowledge about the importance of these topics for good health, as well as for both personal and household hygiene. International Medical Corps' Global WASH Advisor Yasir explains, "improved WASH access plays a vital role in meeting the basic water needs during the emergency response – saving lives. Our teams deliver emergency yet sustainable WASH interventions by rehabilitating the water systems."
During our programs in the communities, the Benguet Province Health Workers identified a lack of understanding on how to identify a safe water source. Consequently, International Medical Corps led training for 206 health workers from all municipalities of Benguet province on water quality monitoring and how to detect safe water sources. The testing of water sources allows the province and municipalities to take actions that protect access to safe drinking water and identify water sources that are not compliant with the standards set by the Philippines government.
Finally, International Medical Corps facilitated a training on WASH in emergency response for health professionals in coordination with the Philippine Red Cross. Training community members in harmony with other organizations leaves an increased awareness about the importance of working together toward a common goal for the betterment of the community. Jojo, the Medical Coordinator for International Medical Corps' Philippines mission, informs us that, "the partnership with the Philippine Red Cross helped the health and WASH professionals of the provinces become more confident and competent in responding to the WASH needs of their communities, especially when disasters happen."
We thank the GlobalGiving community and other donors for their continued support as our teams work to promote clean water, sanitation and hygiene in the wake of natural disasters around the world.