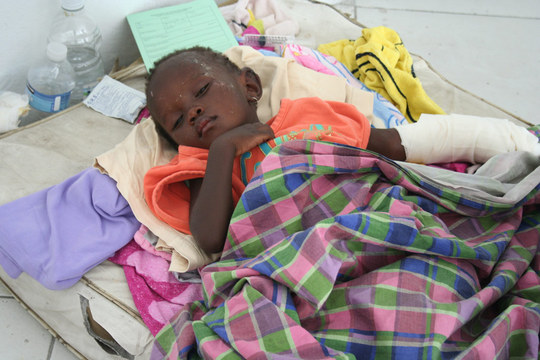 Within 23 hours of the earthquake, International Medical Corps' Emergency Response Team arrived in Port-au-Prince. Our current team of 40 on the ground includes 27 medical personnel, a mental health specialist, and logistics, financial, communications, security, and coordination officers.
The team is providing medical care outside the general hospital near the Presidential Palace, the Hopital De l' Universite d'Etat d'Haiti. Our physicians and nurses are working together with other nongovernmental organizations that have joined us in the hospital. We have established eight basic emergency operating rooms, and are currently providing medical supplies for the hospital.
President Clinton met with International Medical Corps' Emergency Response Team on January 18th. He spoke with our doctors, and noted our urgent needs: • Our field hospital had 1,500 patients seeking treatment -- 70% to 80% need surgery. • About 75 amputations were performed on January 17th alone; another 150+ were needed. • Through a partnership dating back to Hurricane Katrina, the Service Employees International Union (SEIU), the largest public service employee union, has offered International Medical Corps 400 volunteer nurses, many Creole speaking. • We delivered desperately needed medical supplies to the field hospital, and more supplies—including emergency medical kits and food—are arriving via caravan from across the border in the Dominican Republic. • Our team is treating crush injuries, basic wounds, trauma, shock and other critical cases – with the few available supplies.
International Medical Corps physicians assisted in significant reorganization of the hospital including establishing the first inpatient/post-operative unit in Port-au-Prince post-earthquake. Under International Medical Corps' guidance, patient management and flow has recently improved and the hospital is now able to accept referrals (and is perhaps the only hospital accepting referrals right now which can provide overnight care).
Reaching the Underserved
The team is also supporting small medical posts near the Villa Creole Hotel in Port-au-Prince. We have also begun operating mobile units in Leogane (the epicenter) to reach those who are underserved. Leogane (population 134,000) is severely affected with 80-90% of the buildings damaged.
The team has conducted assessments in Carefour, Grassier, Leogane, and Jimani. In Grassier, we have established primary health care support for a community clinic that had previously been abandoned. International Medical Corps will continue to assist in coordination of public health assessments with the World Health Organization and other nongovernmental organizations in the affected areas.
International Medical Corps will expand emergency medical care to underserved populations through both static and mobile clinics, and will provide primary health care as needs dictate, including immunization and disease prevention. Furthermore, International Medical Corps will continue to support devastated public health facilities by providing supplies, medicine, and personnel to manage the increased caseload of patients due to the emergency.
Building Capacity in the Midst of Emergencies
International Medical Corps will build capacity in Haiti's health care system and infrastructure through training, administrative support, and rehabilitation of health facilities. Already the team has improved the management and administration of the Hopital De l' Universite d'Etat d'Haiti, and local Haitian students were trained by our team to help triage incoming patients.
Going forward, International Medical Corps will support health posts and clinics in underserved areas through rehabilitating, restocking, staffing, and training. We will continue to work with the Ministry of Health, the government of Haiti, and local communities to conduct needs assessments and establish leadership committees representative of all stakeholders, including women. In particular, International Medical Corps efforts will include water and sanitation efforts to drastically improve living conditions and general health, and prevent disease from spreading. A hallmark of International Medical Corps' work is training local doctors, nurses, midwives, and community health workers to care for their own communities.
In addition, International Medical Corps is known for its technical expertise in both medical and health care administration in humanitarian emergencies. We will support the Ministry of Health and health facilities throughout Port-au-Prince and the surrounding area in hospital and clinic operation; administration, disease-monitoring, and record-keeping; personnel management, recruitment, training, and retention; and logistics of stocking medical equipment and supplies.
International Medical Corps firmly believes that the best way to create lasting change is to invest in long-term recovery at the outset – it begins in the midst of emergencies. This year International Medical Corps marks its 25th anniversary of providing critical, lifesaving care to millions, while bridging the divide between relief and recovery. International Medical Corps' mission—to restore devastated medical systems by arriving quickly in crisis, then training local practitioners to care for their own communities, restore well-being and build self-reliance—has been and continues to be crucial. International Medical Corps has worked side-by side with local doctors, nurses, and health workers; it has delivered the highest standard of medical care and training; it has elevated the level of primary health care in developing countries to a level second to none. The knowledge and skills that International Medical Corps leaves behind remain the great measure of its strength and impact.