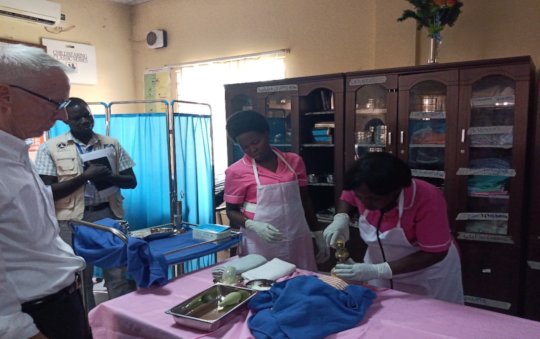 Abraham is a 25-year-old student who just completed his first year at one of International Medical Corps' three midwifery schools in South Sudan. His path to the field of midwifery was not easy.
Abraham comes from a large family and he is the youngest of ten children. Abraham's story begins in primary school. While he had a sponsor for a few years, "I supported my studies through small jobs," Abraham explains. "I faced numerous challenges during that period, including the payment of school fees and scholastic materials, like textbooks, notebooks, pens and school bags as well as the seven miles' transport from my home to the school."
Nevertheless, he persevered with the support of his mother. His father served in the army during the war and was frequently absent for long periods of time. He graduated from primary school in 2012 and then faced the same challenges in secondary school; thanks to a partial sponsorship and part-time employment, he was able to find sufficient funds to pay for school fees, housing and transportation. In 2016, Abraham celebrated the completion of his secondary education.
He feels very privileged to be supported by a scholarship at the Kajo-Keji Health Sciences Institute. It came as a surprise. "One day, when I was visiting South Sudan's Ministry of Health, I saw an advertisement for a scholarship for any qualified science student to apply in the fields of midwifery and nursing," Abraham explains.
"Four months later, I was called for an interview after the list of candidates was announced," he says, and began his studies in January 2019. This class of students just completed their first year and their second clinical rotations.
Many men are enrolled in the three-year midwifery program, and, across all three schools, 36% of the first-year students are men like Abraham. "I promise to do my part to reduce the suffering of the people of South Sudan by offering the knowledge and skills I have gained in this program," Abraham assures us. "I will teach other students or people who need this knowledge and skills; provide basic health services like nursing care to patients in any health facility; and advocate for better understanding of sexual and reproductive rights and the consequences of gender-based violence for women and girls."
International Medical Corps' nursing and midwifery students come from different parts of South Sudan and have different backgrounds, including experience as refugees and with armed conflict. Most are enrolled free-of-charge so that they can focus solely on their studies.
While institutional donors cover most of the educational expense and school maintenance, the students and faculty have identified the need for solar panels to replace an aging generator, which has been causing disruptions in electricity in Juba; additional teaching aids like an electronic birth simulator at the Kajo-Keji school; and additional toilet facilities and a school bus for travel to clinical placements at Wau.
Donations, like those from the GlobalGiving community the next generation of health professionals, like Abraham, in South Sudan.