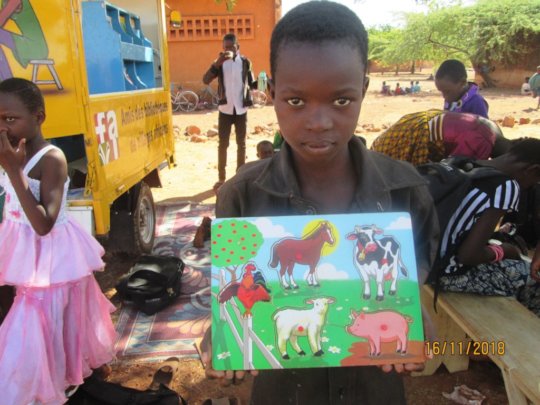 The mobile library project continues to operate normally. Here are the most recent (translated) reports from Ouedrogo Bernard, the BMP operator (and librarian of Pissila library).
Friday, November 16, 2018, before 13h, I arrived at the school Center A with the BMP. I found that almost all CM2 grade students were still there. There were also some CEs. Those in CM2 were shy and stressed because they said they had a history and geography assignment in the same evening at 3pm. With that, I proposed to change site to allow them to work; but they together disapproved of my proposal. That's when I put the books at their disposal. We organized free and guided reading. At the end of the reading, I asked each student to give the title and author of her favorite book. This exercise revealed that the majority of students do not consider the title and the author in their reading. So, I said that to make a good reading, you have to start with the title without forgetting the author. The children enjoyed this exercise very much. By the way, we played the puzzle. We played those whose pieces were animals. It was necessary to mention the names of the animals which constituted the different pieces. This game was very beneficial for the students because they discovered the name of an insect that is the ladybug. In addition to the puzzle game, I improvised a coloring session with elementary students. The exit was as a whole well finished around 15h minus. Students want to receive BMP in their school every day.
Tuesday, November 13, 2018, arriving at the office at 10am, I went to get the BMP to the Niwaogo hostel where it is parked for security reasons. I noticed that it was covered with dust and I washed it myself in the office. I also cleaned the shelves. After that, I made an outing to the communal school A. About 12h, I was on the spot. The students were eating (about twenty students). They gave up their food and ran to the BMP, which is very well known throughout the neighborhood. After having everything installed, I invited them to read. Everyone chose their favorite book and started reading by asking questions about words they did not understand. We played a game about naming. The game is organized together on the parts of the body. In addition to the game on the human body, the students offered to play a letter game. This game was organized with great enthusiasm. The women who sold at the small market of the said school were interested in the reading and the games and saw to have more information on the BMP. They very much appreciated the initiative. Around 14h 30 minutes the students became more numerous which forced me to pack up to avoid the big disorder or the theft of books by the children.
The BMP visits three schools each week.