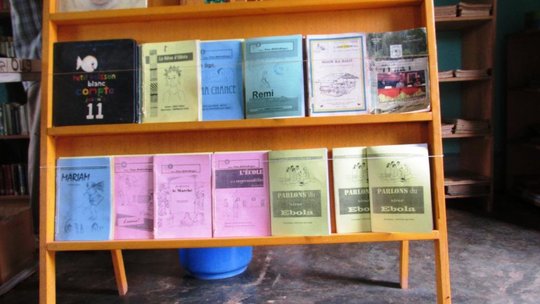 FAVL's multi-media center in Houndé, Burkina Faso, prints inexpensive, culturally relevant books that are written and illustrated by local authors, storytellers, illustrators and photographers. To date, generous GlobalGiving donors have raised $2125 (about 40 percent of our goal) for the Girls' Computer Literacy and Leadership Project, which will provide local high school girls the opportunity to augment their computer literacy skills as well as technical research, writing, drawing and photography skills, as they produce and print their own books. Our project's goals include building these young women's self-confidence to help them in their future job searches and careers. Once we are able to buy the 5 computers, benches and work tables necessary for implementing the project, we can really get the program rolling at the Houndé multimedia center.
In the meantime, we are utilizing the resources of the Houndé center to produce a timely Ebola information pamphlet called Parlons du virus l'Ebola that our team adapted from WHO information bulletins. With the Ebola virus in nearby Sierra Leone, it is only a matter of time before someone unwittingly introduces the disease to Burkina Faso. Residents of villages with FAVL libraries will be equipped with the information they need to stay healthy.
We are also progressing on a complementary girl-focused literacy project. Our pilot girls' health literacy reading club project, funded by EIFL, allows five FAVL libraries to purchase and use six smartphones in each library for a health literacy-focused reading club of ten young women. The participants will meet to discuss vital health information, including malaria prevention and family planning.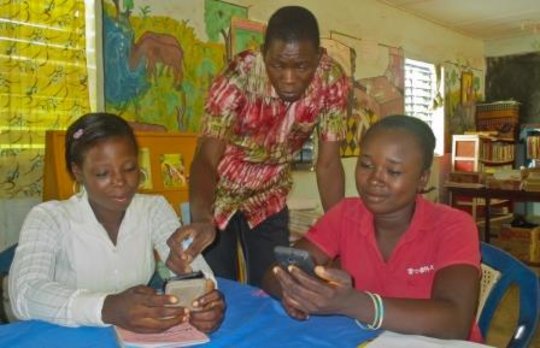 Links: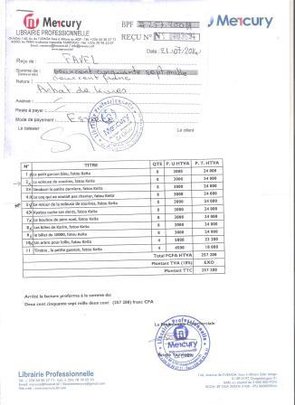 FAVL's Burkina staff used your generous contributions to purchase 80 Fatou Keita books at a local Ouagadougou bookstore in late July (receipt above). That's 6 new books for each village library in Burkina Faso! (See attached spreadsheet.) FAVL's Activities Coordinator, Alidou Boué, brought back books to distribute to the 7 libraries in Tuy province, as well as FAVL's libraries in northern Burkina Faso (Ouargaye, Béléhédé, Pobé-Mengao, Bougounam and Kiembara). It was wonderful to have new, colorful, and appealing books over the Burkinabé summer vacation. The Fatou Keita books saw heavy use at the summer reading camps held at our village libraries in Béréba, Kiembara, Niankorodougou, and Pobé-Mengao. The children were thrilled to have the new books.
Fatou Keita is the Ivoirian author of a wildly popular series of children's picture books. Her titles include Le Retour de la Voleuse des Sourires, Le Coq Qui Ne Voulait Plus Chanter, Sinabani, La Petite Dernière, and Le Boubou du Père Noël. The stories are set in familiar African settings, and each page features a large, colorful illustration with a few lines of text. The books are adapted to and reflect the lived experience of African village life, and are written at the primary school reading level to encourage emerging readers. Even younger children who can't yet read enjoy turning the pages of the books and marveling at the illustrations.
The 80 new books are being much enjoyed by children visiting FAVL's libraries, and librarians often feature the volumes during storytime!
Links:
Attachments: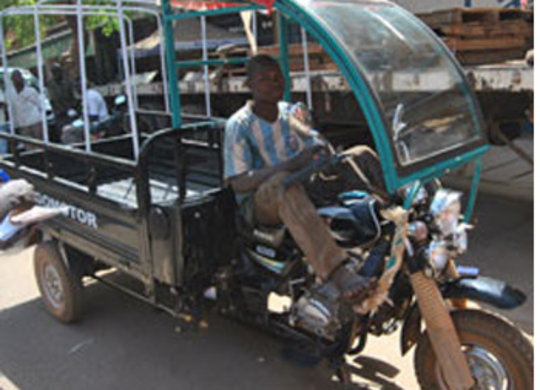 Thanks to generous donors, we've already raised more than $100 towards the mobile library. With $2000, we'll be able to buy a motorbike with a covered cart, which we will be able to use to transport books places in rural Burkina Faso that are both hard to reach and don't have access to books (no libraries or bookstores). With the remaining funds, we would like to purchase 250 children's picture books and 150 adult novels to stock the mobile library as well as a librarian/chauffeur, gas and motorbike maintenance. The mobile library will follow up a recent project that FAVL completed called "Youth in Tuy Read," where we transported novels to young adults in hard-to-reach areas near village libraries. Unfortunately, the roads are not good enough to be regularly shipped books on bicycle and the program did not address the needs of adults and younger children who would also like to have access to books. So as a continuation of the project, we hope to be able to start the motorbike mobile library.
Links:
WARNING: Javascript is currently disabled or is not available in your browser. GlobalGiving makes extensive use of Javascript and will not function properly with Javascript disabled.
Please enable Javascript
and refresh this page.