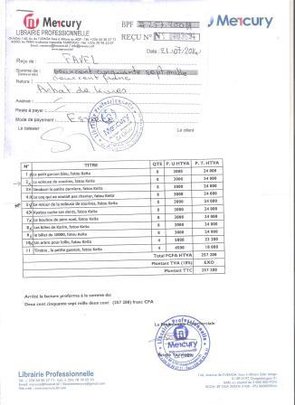 FAVL's Burkina staff used your generous contributions to purchase 80 Fatou Keita books at a local Ouagadougou bookstore in late July (receipt above). That's 6 new books for each village library in Burkina Faso! (See attached spreadsheet.) FAVL's Activities Coordinator, Alidou Boué, brought back books to distribute to the 7 libraries in Tuy province, as well as FAVL's libraries in northern Burkina Faso (Ouargaye, Béléhédé, Pobé-Mengao, Bougounam and Kiembara). It was wonderful to have new, colorful, and appealing books over the Burkinabé summer vacation. The Fatou Keita books saw heavy use at the summer reading camps held at our village libraries in Béréba, Kiembara, Niankorodougou, and Pobé-Mengao. The children were thrilled to have the new books.
Fatou Keita is the Ivoirian author of a wildly popular series of children's picture books. Her titles include Le Retour de la Voleuse des Sourires, Le Coq Qui Ne Voulait Plus Chanter, Sinabani, La Petite Dernière, and Le Boubou du Père Noël. The stories are set in familiar African settings, and each page features a large, colorful illustration with a few lines of text. The books are adapted to and reflect the lived experience of African village life, and are written at the primary school reading level to encourage emerging readers. Even younger children who can't yet read enjoy turning the pages of the books and marveling at the illustrations.
The 80 new books are being much enjoyed by children visiting FAVL's libraries, and librarians often feature the volumes during storytime!
Links:
Attachments: