This month the Houndé multimedia center (CMH) finished editing and will distribute two new books authored by young women from Houndé. La ruse de Sonsonni le lièvre is by Tuina Sarah, a 10th grader in Lycée Provincial de Boromo, and Le prince et la fille laide by Fofana Adjaratou a high school senior in the Lycée Municipal de Houndé. Both books are illustrated by Bazoun Robert, who works in the school district.
These CMH books are distributed in all FAVL supported libraries. The hope is that by promoting short books written by young women, more young women will be inspired to continue their schooling and aspire to professional accomplishment. The young women also get exposure to using computers in the multimedia center.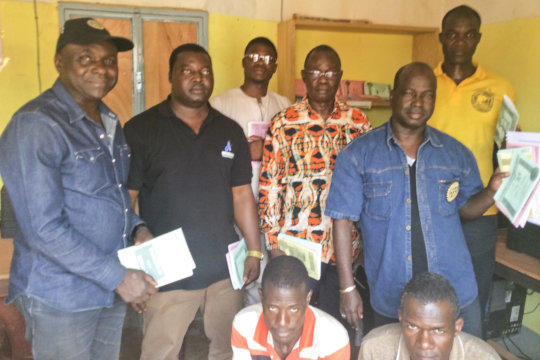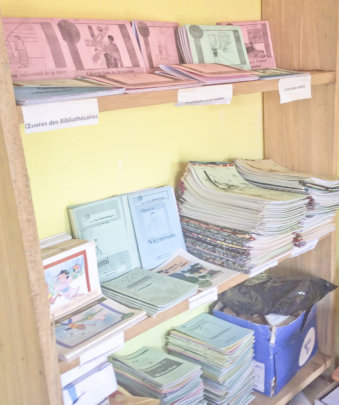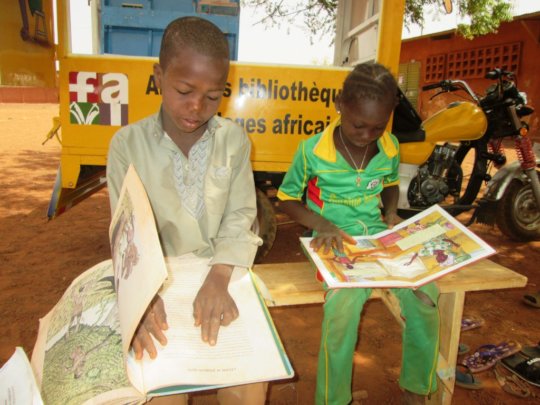 The mobile library (Bibliothèque Mobile Pénélope, or BMP) started operating about one year ago, and regularly visits schools and public places in the town of Kaya. A typical outing lasts about 2 hours and involves 20-30 young readers. Mats are spread on the ground, kids have access to books to read, and the librarian organizes games.
The ongoing costs for the library are fairly modest: the librarian (also half time librarian in neighboring village of Pissila) receives a stipend of $8 (4,000 FCFA) per outing, that covers the cost of his transport to Kaya and return, and his time during the activity of the day. (Note, after subtracting his costs and the time, this is about $10 per day, for an equivalent annual salary of about $3,000, so it is very modest). The motorcycle library also needs regular maintenance, oil changes, gas, and we pay a small hotel 7500 CFA a month for parking the library in the hotel courtyard that has a security guard.
The FAVL team in Burkina Faso is working on more formal outreach to schools and the mayor's office to develop greater local support for the mobile library.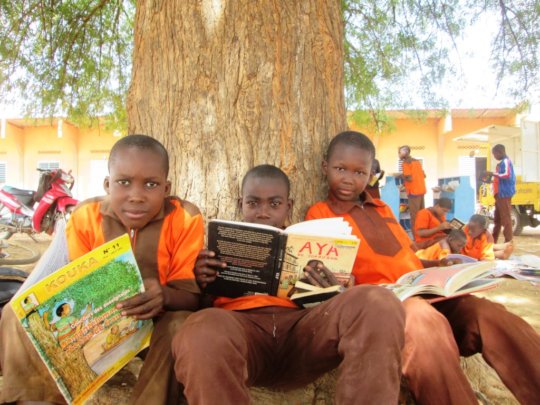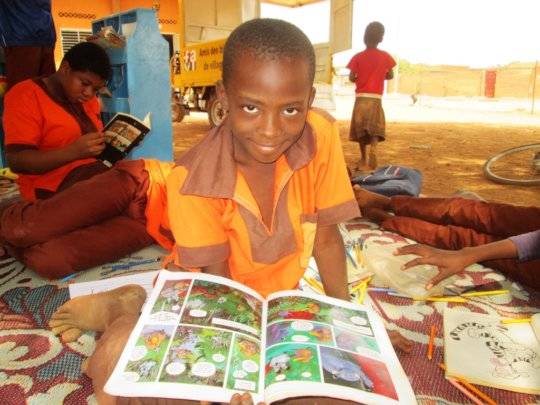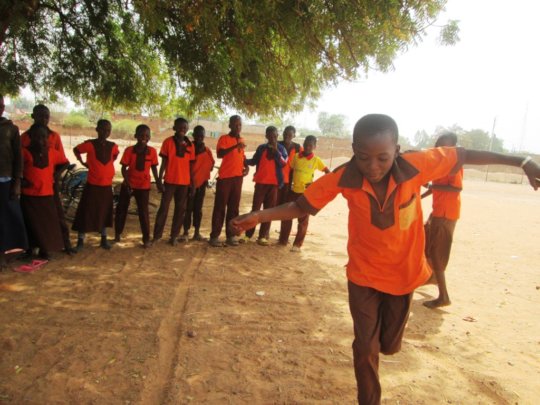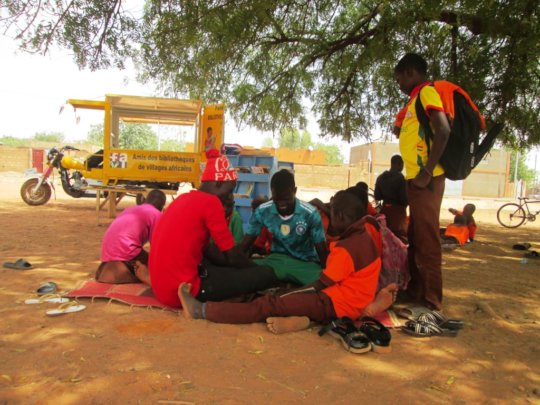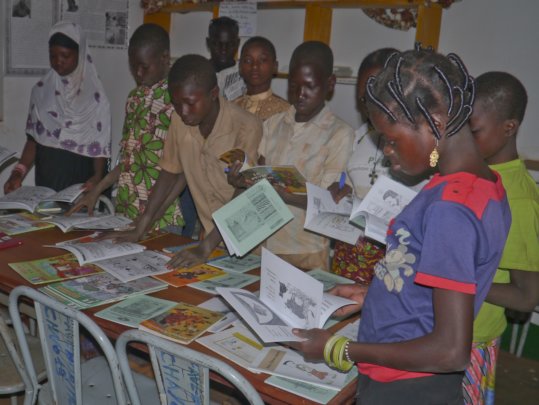 On the morning of Tuesday, December 15, at around 9 am, at the library of Rouko, in the presence of some readers and the librarian, a batch of forty books of African authors was given to Sawadogo Alimissi, first deputy to the mayor for the library. This gift of books is part of the program of FAVL-BF to support and support the libraries of its network. Mr. Sawadogo first addressed the readers by encouraging them to attend the library but also to be interested in reading before congratulating FAVL-BF for their accompaniment of the library through this gesture. He said that the donation of books challengeds the municipal council to take more commitment, responsibility and to get involved in the sustainability of the community library of Rouko.
Dans la matinée du mardi 15 décembre, aux environs de 9 heures, à la bibliothèque de Rouko, en présence de quelques lecteurs et du bibliothécaire, un lot d'une quarantaine de livres d'auteurs africains a été remis à Sawadogo Alimissi, premier adjoint au maire pour la bibliothèque. Ce don de livres s'inscrit dans la dynamique de FAVL-BF à soutenir et appuyer les bibliothèques de son réseau. Monsieur Sawadogo, s'est d'abord adressé aux lecteurs en les encourageant à fréquenter la bibliothèque mais aussi à s'intéresser à la lecture avant de féliciter FAVL-BF pour son accompagnement à travers ce geste. Cela est un acte fort, qui interpelle le conseil municipal à prendre plus d'engagement, de responsabilité et à s'impliquer dans la pérennisation de la bibliothèque communale de Rouko.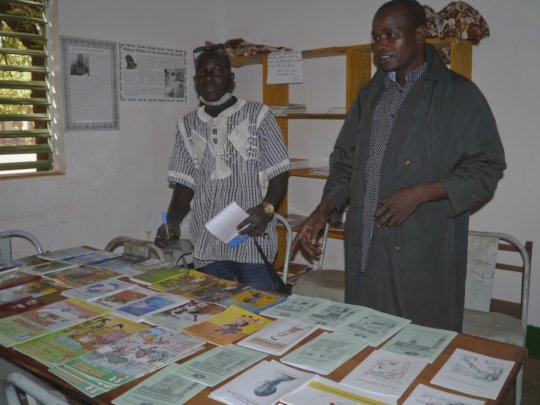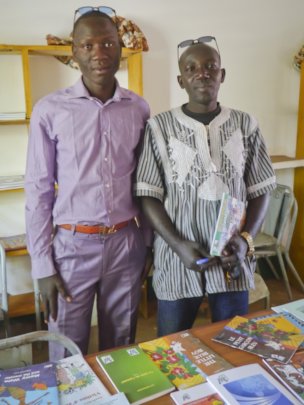 WARNING: Javascript is currently disabled or is not available in your browser. GlobalGiving makes extensive use of Javascript and will not function properly with Javascript disabled.
Please enable Javascript
and refresh this page.