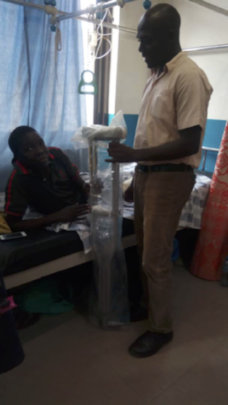 To all our donors and supporters,
We once again extend our sincere gratitude for your generous contributions to our work and because of that we continue to make a difference in the lives of the patients and families under our care.
We are delighted to once again share with you some updates from our work over the last 12 weeks.
Patient and family care
Our multidisciplinary team has provided care to 250 patients and families, through the relief of pain and symptoms as well as providing social, psychological, spiritual and practical support through our dedicated team of volunteers. Please read Moses's story about care received from a team that he did not know before!
Moses (not real name) is a 35yr old, who got a pathological fracture after being shot by thieves while on duty. He has been sick for 3 months and admitted in the surgical ward in Hospital.
He is under the care of the Palliative care team working alongside the primary doctors, the volunteers have been supporting him through his pain and symptom control, our volunteers visit him and his brother who is the main caretaker. The doctors requested for an operation that would help to revise his problem, but it was too expensive and the family could not afford due to financial constraints. This was very distressing to the brother and wife, watching their loved one in agony and in a confused state. It seemed really a hopeless situation for them.
However, the volunteers were able to liaise with one of the church members who was able to raise some funds for crutches and this was able to bring hope and a smile to Moses and his caretaker who would always cry because of not being able to walk.
Through the regular visits by the volunteers, the caretakers were able to share their worries and fears, which included not being able to get any support from the patient's employers and how they could transport their loved one's body if he died in the hospital!! The volunteers informed the clinical team and the social work department who then facilitated the patient discharge and also referred them to a community Palliative care centre for continuity of care.
The family appreciated the time, help, care and love they were shown at their darkest moment and they had this to say"Thank you for loving us and visiting us you did not know us and we did not know you but this has created a relationship between us which I would not want to end! You should extend the love to the rest of the other patients too".
A few days after he was discharged back home he died but the family was very grateful and we have remained in touch.
Sharing our Research
This is a very busy period in terms of research in the region and internationally with several upcoming conferences, we are delighted that we shall be presenting and represented at the following conferences;
Uganda Cancer Institute & Palliative care Association of Uganda biennual conference; 5-6 September 2019, Kampala, Uganda
ESACOP conference, 5-7 September 2019, Lusaka, Zambia
African Palliative Care Association conference, 17-20 September, Kigali, Rwanda
THET conference 25-26 September 2019, London, United Kingdom
Look out for our next report for updates from these conferences!
Sharing knowledge through Education and Training
In this period, we have had a lot going in our education and training section with the commencement of the University semester.
We have trained the following groups of students;
30 Students from the Institute of Hospice and Palliative care in the modules of research and complex symptoms.
100 medical students from Makerere University; 82 of whom have come to the team for a 1-week rotation each.
4 Post graduate students from Family Medicine and Internal Medicine, 2 of them are currently on a 4-week placement.
We are also hosting Dr. Chimwemwe Kabaghe from the Palliative Care Support Trust, Malawi, for a 1-month placement, she is working alongside our specialist team to experience palliative care in a different setting, she reflects on her experience so far ….
Work Begins
The MPCU office is quite close to the guesthouse, yay! It is smaller than I expected but somehow everyone manages to slip and slide past each other and fit in quite well. It feels packed but it really has enough space for everyone. Everyone is very welcoming to the Dr from Malawi. I feel quite right at home as I settle in. Everyone is also busy and there are like hundreds of students just crawling about the place like little ants. Even palliative care has a few hundred of their own…ok maybe 15 or so. But that is still a lot.
Ward Rounds: STC and LTC and Private are faaaaar. They are also uphill. So on ward round days we huff and puff to them, and meet hundreds of other students and it's a bit tricky to do any teaching. For me, the first 30 minutes in the first week were spent calming down and wiping sweat and hyperventilating. I realized I am quite unfit. But this is good for my heart it seems. By second and third week I was a pro, walking fast and minimal sweat. Maybe the weather also helped, when it got cooler. But I felt comfortable moving around the places we usually went to. It has been a while since I was in a teaching ward round, but it was great each time. All the doctors are a river of knowledge. I learnt so much. I learnt the things I had overlooked in my practice, listed things I need to read, learnt how to treat the students and how to treat the patients, realised that Uganda has the same issues and it feels weirdly like home, I fit right in. The more time I spend with each doctor, the more I see how much they have so much knowledge in what they do and more, I am very inspired to do school (something I didn't want to do at first). I see that there is more than what we do in Malawi and there is more we can do even with limited resources. Everyone is very helpful in giving information and making sure I get as much out of the experience as I can. I am truly and eternally grateful for that.
Student Teaching: Both undergraduate and post graduate classes were invaluable. Learning how to come up with objectives, use flip classrooms and interactive sessions were truly exciting. Teaching and participating in those classes helped me to have a greater understanding of palliative care and how it can be incorporated into the curriculum. The classes challenged my mind and got me to think broadly on issues as well as cases. Working with various lecturers in different situations was great and I gleaned a lot of information on how to approach teaching. Meeting different students from different universities was also wonderful, I learnt a lot on their enthusiasm to learn, or the lack of it.
Others: Spending time with the doctors individually, in between either seeing patients or at the office was of great value most. I learnt how things work on the ground, how to approach authorities, what to do to get maximum benefit in certain situations. Drs Liz, Liz, Jack and Natalie all gave great information. Particularly Dr Liz who was stuck with me and had to ensure I had something to do each day. She was truly great. Of course the time spent with Dr Mhoira was mostly out of the hospital and teaching premises, but each moment was not wasted as I got all the overall and nitty gritty information. Link to read widely and think assertively. Not forgetting doing PBL and rounds with Rose and Josephine. Grace and Jenny were fantastic and Grace is a great organiser, getting things done with promptness. I may not mention everyone, but I appreciate their input or even just presence during my stay.
My not-very-last words will be, please continue to be warm and kind and welcoming to many more that will come through those doors. Your vast experience does not only end at teaching them, but you indirectly impact many more countries through us, who visit.
Thank you for reading, more updates about our work coming up in November!
"Transforming lives, changing systems and bringing hope"