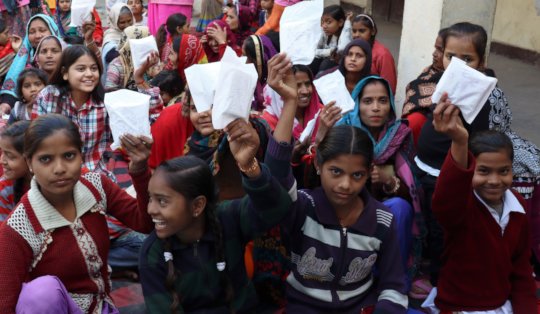 Dear Friends,
Greetings from the Indian Dreams Foundation!
Menstruation, a natural process in women's life that needs special care from a physical and psychological point of view. Negligence in menstrual hygiene can result in biological disorders, for example, different sorts of infections but unfortunately, awareness concerning this area of life is not highlighted due to the socio-cultural trends of our society. Promotion of menstrual hygiene is indirect support to gender equality, national development, high literacy rate, and SDGs accomplishment.
In August 2016, Indian Dreams Foundation has started an awareness generation project named Smiley Days that aims to promote MHM knowledge & information through different sets of activities and engage more stakeholders with the project. The IDF team members conduct MHM awareness sessions in target communities as well as in schools. Smiley Girls Club has been formed and trained to disseminate information on hygiene management during periods.
Rani (name changed), student of class 8, is one of the Smiley Club members. After getting training on Menstrual Hygiene Management in her school, she discussed the information with the female family members and conveyed the message in her neighborhood and friends. Palak (name changed) was one of her audience/neighbor who is 15 years old girl belongs to a slum area of Agra. Belonging to the most under-developed area Being she never knows the best practices of Menstrual Hygiene.
In the interview, Palak said "I used to throw the used sanitary cloths and pads in open but when Rani shared information then I came to know about the proper practices of Menstrual Hygiene. Now I throw my used sanitary pads in the dustbin after wrapped in the newspaper".
Rani the Smiley Club member said that in start she was shy while discussing the menstrual hygiene issues with her friends but now their welcoming attitude has enhanced her confidence.
IDF has partnered with more than 25 schools in Agra and reached more than 3000 school girls. Now the schoolgirls have been changing their mindsets towards periods and start discussing the issues related to the MHM.
Thanks for your support and encouragement!
Regards,
Team IDF