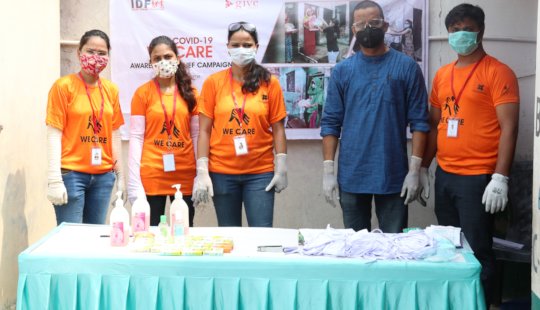 Dear Friends,
Greetings from Indian Dreams Foundation!
We hope you are safe, healthy and motivated in this time of the pandemic. In this time of uncertainty and pathetic COVID 19 pandemic, the entire world is facing the most critical time ever with thousands of deaths and killing of hope, confidence and possibility.
In this time of crisis, the IDF team is diligently working on the field and running WE CARE project on COVID 19 relief in the target communities of Agra, India by providing dry ration and hygiene kits support to more than 5000 beneficiaries.
IDF has distributed more than 500 grocery kits and more than 400 hygiene kits among the target population. Apart from distribution, the team is dedicated to disseminating knowledge and information on COVID 19 precautions measures and the importance of healthy hand wash with soap and hand rub. Team members are also spreading awareness among girls and women towards their menstrual health and hygiene through IDF's Women Connect toll-free helpline.
Priti, 18 years (name changed) said, "I was depressed during lockdown because all shops were closed and I had nothing to soak my menstrual blood. So the first month of lockdown I used cloth but that gave me discomfort then IDF team members provided me hygiene kit and sanitary napkins. I thank team IDF who is supporting many girls like me during this tough time".
All such heroic stints are doing dedicatedly because of our committed team that includes board members, staff, and volunteers to take responsibility as warriors and be committed to serving the communities and spread humanity.
We are grateful for your continued support, trust, and motivation that drive us forward to combat COVID 19.
Thank You,