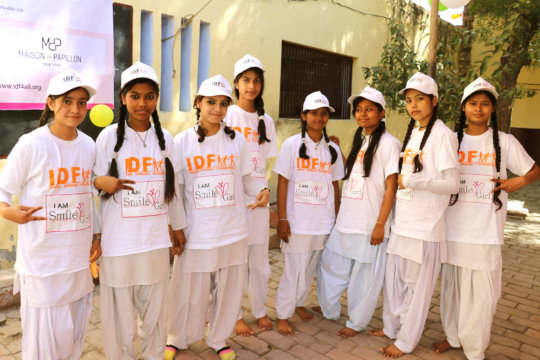 Thank you donors and well wishers for your generous support to this campaign, over the last quarter we were able to impact the lives of many underprivileged girls and women who live in the slums of Agra district, Uttar Pradesh (India).
In our previous reports, we have mentioned that we have partnered with more than 10 schools for addressing the pressing issues related to the adolescent girls' health, hygiene, and wellbeing. So far, approx. 800 school girls are registered with this campaign as our direct beneficiaries and if we talk about indirect beneficiaries in which we can include the mothers, sisters and friends of our registered girls than we have touched more than 1600 girls and women in few months.
With the starting of new financial year and our 2nd Phase out strategy, we are in process to explore our work in new communities of Agra district to impact the live of the girls and women through the campaign.
What we achieved:-
During previous months, we have successfully conducted many activities to aware girls and women towards their healthy living and well being.
A short summary of our activities are given as below-
We have been striving to conduct awareness workshops in our partner schools and targeted slums based in Agra (India). Many awareness generation workshops were conducted in last few months towards the physical changes and menstrual hygiene management associated with the girls' wellbeing and quality education. The workshops were participatory in nature where the engagement of the girls marked the great impact to disseminate the information in an effective manner. During the interaction with the girls, we found that most of the girls use waste cloths to absorb their menstrual blood whether it is a cotton cloth or a synthetic one, just because they cannot afford sanitary napkins and some girls don't give priority to their periods' hygiene. Furthermore, in some cases, they had lack awareness on how to use sanitary pads. Whilst the majority of girls were initially hesitant to speak about their experiences, they opened up to the IDF team through the Quiz Card activity. By allowing them to write their questions instead of asking out loud, we were able to get much more engagement and frankness in our discussion. So far, more than 10 workshops were organized in different partner schools and target communities.
Assignment of Smiley Girls- Roles and Responsibility:
According to our strategic approach, 10% girls from partner schools have been selected to constitute the Smiley Girls Club and they have been nominated as the Smiley Girls. Each Smiley Girl was representative of a group of 10 girls including Smiley Girl itself. Smiley Girls were assigned to bring the problems of their group members to their school facilitators (active teachers of the partner school) and they are responsible for monitoring health of their group members. Smiley Girls work as a bridge between us and the girls.
We have been in the process to appoint some of the active women from the target communities as "SAKHI". SAKHIs work as the facilitators in slum areas where they bring the health related issues/ problems of women and girls of their community those can't come to partner schools. They were selected on the basis of their knowledge about menstrual hygiene and sincerity & dedication towards their task completion. SAKHIs help us in conducting workshops in communities by gathering women and girls of their communities.
A health camp was organized in month of February 2017 at B. L. Verma Memorial School where 115 girls from B. L. Verma Memorial School and S. S. M. Inter College were participated in more enthusiastic way. Girls' health check up was done by Dr. Rekha Gupta, one of our expert panelists under the campaign. During the Health camp, the gynecologist addressed the girls issues related with their menstrual health and she examined some girls who were suffering from the severe problems associated with their menstrual & physical health. Girls asked many queries related with their health issues, in the other hand, those girls who were not able to discuss their problems loud - wrote their problems on Quiz Card during the session and gynecologist answered them. Our gynecologist suggested medicines to girl who were facing major problems. Not only had this gynecologist also suggested healthy habits to be adopt during menstruation.
Construction of toilets in schools
Under the project, we also stresses the importance of school toilets which are built to accommodate menstruating girls specific needs for privacy, space, washing facilities and correct disposal or cleaning of menstrual pads. However, separate toilets will give facilities and privacy to girls at the schools to change their sanitary pads/materials easily and hygienic way.
At the time awareness workshops and surveys, we found that most of the girls do not attend school during menstruation because the inaccessibility of separate toilets in their schools or if some schools have toilets but they are not in functioning. In a way to provide privacy and respect to girls during their menstruation, we have constructed 8 new toilets in 3 different schools- B. L. Verma Memorial School, S.S.M. Inter College and Primary School of Nagla Mahadev. In a way to promote WASH practices in schools we also installed wash basins in schools to make healthy habits of hand washing with soap.
Way Forward
Spreading the wings in new community:
As we are heading to the financial year & our 2nd phase out strategy, we have been in a process to broaden our areas of working in new slums/ communities. We have been establishing partnership with schools at Devri Road and emphasis to reach more than 5000 girls by the end of this year. Devri Road is one of the slums in Agra and the majority of population is associated with shoe making. The sanitation conditions of the surrounding areas are negligible.
Smiley Kits are ready to distribute
In coming months, the Smiley kits will be distributing to the girls who are registered under the campaign. The kit contains all required hygiene items which are important during periods like sanitary pads (eco friendly), vaginal wash, panty, soap & information booklet.
In coming quarter, we will establish partnership with other schools and planning to impact more girls through this campaign.
Success Story
Rajkumari, aged 15, started with her cycle in 2015.That time she had soiled her clothes and she was completely unaware of the concept and hence was taken aback. Fortunately, she has an elder sister who has helped her a lot since then.
Lack of proper knowledge about menstruation is the main reason why it is maligned with so many taboos. According to Rajkumari's friends, a woman menstruates because of drinking tea. All such idiotic explanations do more harm than good. Lack of proper support and help from the elders through these times cause a lot of easily avoidable stress. This 'knowledge' has been given to them by their uneducated elders. Though she does not usually miss school during menstruation, Rajkumari feels a lot of discomfort, since there is no proper washroom with water facility in her school.
To counter the above myths and misplaced perceptions, IDF conducted an awareness workshop in her school, starting with explaining the girls what exactly is menstruation. This was followed by information about menstrual hygiene, covering changes that happen and explaining to them the absence of logic in the taboos around menstruation. Construction of separate washrooms for girls with running water supply is also something which the IDF is continuously working hard to achieve.
You can also contribute to this cause by donating through Global Giving platform or by spreading the message to your friends & relatives.
Thank you!