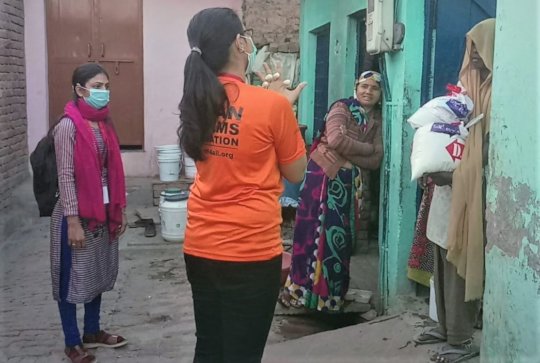 Dear Friend!

Greetings!
I hope you are safe, healthy and motivated in this time of the pandemic.
In this time of uncertainty and pathetic COVID-19 pandemic, the entire world is facing the most critical time ever with thousands of deaths and killing of hope, confidence and possibility.

India is one of the countries that is affected by the coronavirus. Everyone knows that as of now, there is not a single medicated treatment available for combating this coronavirus. Social distancing, health, hygiene and awareness are the practices most needed for saving yourself and your families during the COVID pandemic.
There are many institutions and authorities like governments, administration, Police, health experts, health workers and NGOs are dedicatedly working day and night to combat corona; in fact, all such bodies are warriors.
I am delighted to bestow with you that Indian Dreams Foundation (IDF) is a such NGO which is taking care of communities and populations where this NGO has a presence for the last 13 years.

Apart from immediately lockdown situations, there are numerous pressing issues like girls education, menstrual health, hygiene, and well being of adolescents girls and young women. Due to lockdown, everything is on suspension, and people living in these communities are out of money and struggling for survival.
These communities are passing through the day to day challenges, because of lack of financial resources, lack of necessary facilities, and looking forward to the support for surviving in this time of disasters.

In this time of crisis, IDF team is diligently working on the fields and running a "COVID-19 Relief Campaign" in the targeted slums of Agra with a target to support 5000 families in the five slums of Agra with immediate support delivery.
IDF team is providing grocery kits, health kits and dry milk supply to children to the targeted families. Apart from these supplies, IDF team members are also working on communication outreach and providing awareness on health and hygienic practices, and the consequence of social distancing in this time of the pandemic.

Our team members are also spreading awareness among girls and women towards their menstrual health, hygiene and WASh related education through IDF's women connect centre's toll-free helpline.
All such heroic stints are doing dedicatedly because of our committed team that include board members, staff and volunteers to take responsibility as warriors and be committed to serving the communities and spread humanity.

We are grateful for your continued support, trust and motivation that drive us forward to combat Covid-19.
Thank You
Links: