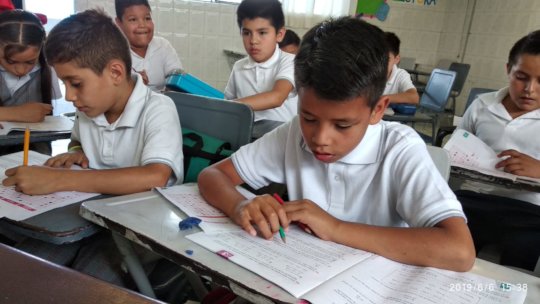 Dear Friend
We are very happy to share with you some of the most important achievements of Albergue Infantil Los Pinos' project "Education can change 93 children's lives in Mexico", which were possible thanks to your generous support
1. Integral formation inside and outside the classroom
- 93 children received quality formal education in official schools during the 2018 -2019 school year.
- Thanks to the accompaniment of their educators, the children and young people have developed better study habits, the results of which are reflected in their academic performance and the improvement of their homework and school work.
2. Improving school performance
- As a result of the support received by the educators, 82% of the beneficiaries increased their grades: the overall average at the end of the school year was 8.0, an increase of 1.4 tenths over the beginning of the school year.
- 81% of children and young people successfully completed the school year and advanced to the next grade.
- Three children currently in sixth grade were chosen to be part of the color guard at their school because of their good performance; helping to improve their self-esteem and safety.- 8 of the Albergue's children were recognized in their elementary school for their good school performance.
3. Specialized attention to specific cases
- During this period, 100% of children and young people diagnosed with special educational needs, received special education therapy once a week, successfully completing the 2018-2019 school year.
- These therapies have been crucial for the development of the children and youth benefited, helping them to improve their grades and favoring social and emotional aspects, which has contributed to improve their self-esteem and their relationship with their peer group, since by developing basic aspects of learning, have gradually also reduced the situations of bullying they face.
4. Support and promotion of Exact Sciences
- 70% of children and young people develop skills in exact sciences, through their participation in the workshops of Mathematics, Physics and Chemistry.
- The support that children and young people have received in these subjects, allows most of them to see them with pleasure, which is reflected in their grades, and in the admission to high school and university of 100% of the young people who applied.
5. Back to School
- 100% of the children and teenagers in the hostel returned to classes with everything they needed for the school year: school supplies, necessary didactic material and a complete uniform.
Conclusions:
Although these results are very positive, they have not yet been generalized in all of our beneficiaries. There are still many areas of opportunity to be solved, which we hope to improve with the educational strategies to be implemented.
We thank you for your time and interest in the children of our Albergue and we reiterate our commitment to you to make the best use of the resources that you kindly gave to our cause.
Links: