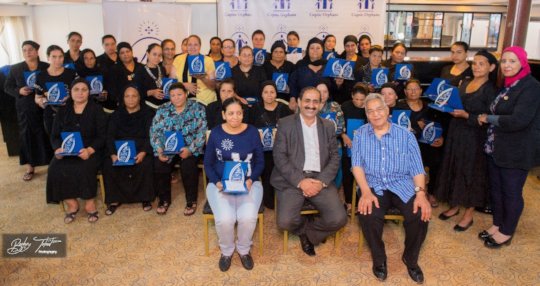 By God's grace and your generous support, we have been blessed to be an instrument in the transformational journey of many widowed mothers through our B'edaya microfinance program. Through your generosity, we have witnessed remarkable changes in many mothers lives—turning from desperation to optimism and frustration to faithfulness. This year, the B'edaya program enabled 37 widowed mothers turn their dream projects into realities.
On July 7, 2018, Coptic Orphans celebrated the conclusion of our third round of the B'edaya microfinance initiative, by honoring the mothers who were awarded loans and received their final project disbursements. The ceremony took place in Upper Egypt, and we were honored with the presence of a number of dignitaries and high officials from the government and other development organizations who joined us to celebrate the mothers and their achievements. The mothers shared their success stories, including how they were able to overcome obstacles faced during the implementation of their projects, and spoke of their future dreams and hopes to see their businesses continue to thrive.
At the ceremony, many of the mothers shared how their B'edaya loans helped change their circumstances and lives. I'd like to share with you a story about Nabila, one of our strong B'edaya mothers.
Nabila is a diligent woman; she was ardent to provide her five children with a decent life after their father's passing seven years earlier. Two years after her husband's death, Nabila began selling livestock feed to recover from their financial hardship without her husband's main support. Nabila used to sell livestock and split the profit with the merchant who supplied her with the goods. She gained a lot of experience in this field and wanted to continue independently in this business by making her own profits.
B'edaya empowered Nabila to purchase the necessary quantity of livestock goods in order to launch her own independent business. After starting her business, through the net profit she received from her project, Nabila was able to pay off all of her family's debt! She was also able to save money for her children's future. Nabila described her success by saying "I now feel like I am smart and have learned to be a successful manager. I know when to buy new goods, and when it's time to sell them. My children are so proud of me and even help me during their free time."
We are so proud of the mothers and their successes! Thank you for your generous support, prayers, and for believing in our work and mission. Your support has encouraged these mothers and made them feel valued, respected, and enabled them to be confident women in their communities, and supportive mothers to their children!