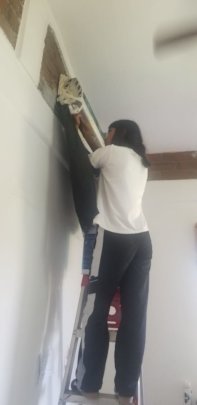 Thanks to your generosity, our project goal is closely in sight. There are two main components to the project:
a) Trades Training for youth
b) Funding for a Casa Hogar Social Worker
Trades Training at Casa Hogar has been very edifying for the participants and Casa Hogar. Training themes have included electrical circuits, soldering, plumbing, garden irrigation systems, videography and air conditioning. This past Saturday we started a new course, bicycle repair, which attracted the attention of many more residents including younger students.
These training courses provide the youth of Casa Hogar practical life skills, exposure to basic maintenance concepts and an opportunity to identify if the trade is of interest to them on a professional level.
In particular, our teens were attracted to the business opportunity of air conditioning service and repair, due to the high reward to investment ratio, to-home service and relative low time investment.
In fact, one of our teens is already assisting our air conditioning service contractor.
Our Social Worker has played an instrumental role in facilitating family-visits onsite and in-home. Since June we have had 11 children re-integrated with their family members (for the most part, grandparents, aunts and uncles).
With school classes being taking from home, we have additional time available on weekdays to invest in formative sessions discussing values, health and emotional well-being. We are definitely on the right path.
Thank you for your continued contributions into the valuable lives of the children and teens of Casa Hogar de Cabo San Lucas.