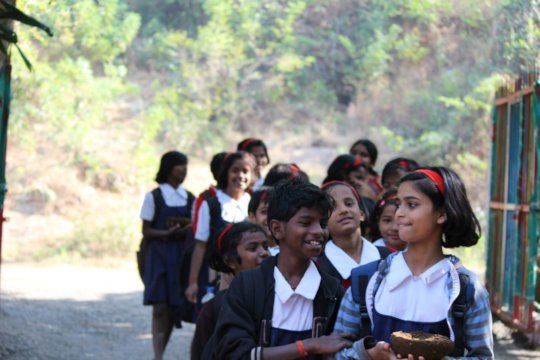 SAMPARC Children's Home has children of the age group 5 to18 years. Mostly the children come from very difficult situations/backgrounds, being neglected, abandoned and unwanted. At SAMPARC they receive love, care, and affection of family environment, education, Counseling support and confidence to become responsible citizens and contribute to the development of the Nation.
Every aspect of child care is meticulously planned and taken care by the qualified staff and counselors working with children right from nutrition, hygiene, quality education, behavioral improvement, proper environment, comfort, regular health checkup along with confidence building measures, vision development and proper guidance for future. Regular training programs, workshops and sessions on various topics are arranged for the children in the Children's Home along with exposure visits for overall development of the children.
After attending school children receive tutoring in the children's home and receive special education support in Spoken English, General Knowledge, Reasoning, Math's, Computers along with training in Sports. SAMPARC is able to provide all these facilities to the children with the support of individual sponsors and donors. Mrs. Ratna Banerjee, Founder Trustee also plays a very important role for care, guidance, psychological well -being of the children and coordinates with the staff in the best interest of the children.
SAMPARC Children's Home Details:
SAMPARC Children's Home, Bhaje : No. of Children's : 138
SAMPARC Children's Home, Poynad : No. of Children's :45
SAMPARC Children's Home, Shel-Pimpalgaon: No. of Children's : 39
SAMPARC Children's Home, Bal Asha Ghar: No. of Children's : 51
SAMPARC Shishu Kendra – Kolkata: No. of Children's : 26
SAMPARC Kalyanmal Kevalmal Singhvi Balak ashram – Gangani, Jodhpur: No. of Children's : 42