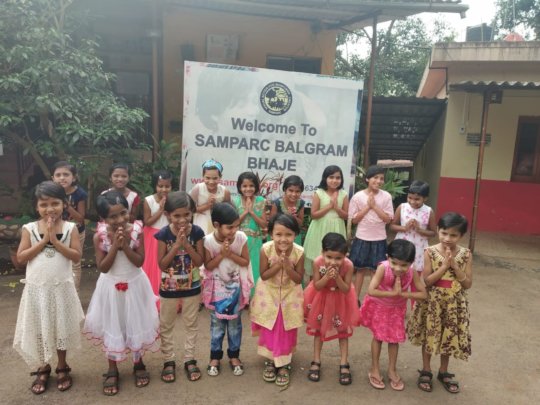 Development of the Children not only means growing up Year after Year but also Physical & Mental Development along with Education & Skill Development.
SAMPARC Balgram – Bhaje is taking care of such Orphan & Needy Girl Children since last 28 Years providing Food, Shelter, Education, Health Care and all other possible amenities for their overall Development to sustain in the main-stream society with Dignity.
Mrs. Ratna Banerjee – Trustee, SAMPARC is coordinating the Project with Project In-charge, Counsellors, House-mothers, Kitchen Staff and other Helpers. At SAMPARC Balgram – there is no compromise in terms of Food & Nutrition. Presently, total 160 Destitute Girls are residing at SAMPARC Balgram – Bhaje. Most of the Children come with very poor background – Orphans – Single-parent Children – Children of Convicted People or Children of Sex-workers. Naturally they suffer from Mal-nutrition. So, the primary challenge is to cure them from Mal-nutrition, giving them Nutritious Food along with good food-habit which can lead to Good Health.
At SAMPARC Balgram, the Diet Chart is adviced by Doctor and expert Dietitian. Food Committee of the Bal-Panchayet (Children's Committee) plays important role to decide the Daily Menu.The daily food contains Pulses, Grains, Vegetables, Sprouts, Leafy vegetables, Fruits and Milk having right proportion of Carbohydrate, Protein, Fat, Vitamin & Minerals.The Children get Breakfast, Lunch, Evening Tiffin and Dinner.The regular diet of each child consists of 200 gm Wheat, 150 gm Rice, 40 gm Pulses, 50 gm Sprouts, 200 gm Vegetables, 200 gm Chicken (every Sunday) 2 Eggs (every Friday) along with 200 ml Milk every day in the evening along with seasonal fruit like Apple, Banana, Orange, Papaya, Watermelon etc.Children get Special Breakfast every Sunday like Idli - Sambar, Pav Bhaji, Misal Pav, Sabu-dana Khichdi etc.Pure Drinking Water is ensured by Water-purifier which is maintained properly by regular servicing.Food is prepared in cleaned Kitchen and the Dining Hall is also cleaned with Sanitizer every time after Food is served to maintain all sorts of Hygiene issues.
During this Period, overall Health of the Girls was Good enough except some minor problems of Cough & Cold which were taken care of by the visiting Doctor. Some Girls were provided special Diet for their Low Hb Count. They are improving day by day.
All the Children celebrated Ganapati Festival, Dasera and Diwali and enjoyed with full enthusiasm. They have got new dress in Diwali and also have got special delicious foods / snacks during the days of Festivals.
Educational Progress of the Children is up to the mark. All of them have appeared in Half-Yearly Examination and the result is awaited.Special attention has been given for some Girls who are in need of Special Coaching in Difficult Subjects.Apart from Traditional Education, SAMPARC always encourage the Children towards Sports – Games and Extra-Curricular Activities – Cultural Activities.Some of the Girls are good in Singing, Dancing, Recitation as well as Anchoring of the Cultural Program. They attend Yoga-workshop in the Balgram. They participated in different Programs and achieved appreciations from the Audience and Organizers.As a part of Extra-Curricular Activities, these Girls took part in Cleaning of Balgram, Preparing Rakhi, Greetings Cards, Envelops, Paper Bags, Dia Making etc.
After the Festive Season, all the Children are now concentrating in studies and have appeared in Half-Yearly Examination.
To know more about SAMPARC, please visit www.samparc.org
You can also follow us on Social Media through following links. -
Facebook – https://www.facebook.com/Samparc1990/
Instagram – https://www.instagram.com/Samparcindia/
Please visit SAMPARC Balgram and Bless the Children for their better future….
Looking forward towards Your Kind Association and Support for the Children in the coming days ahead.
Thanking You,
Yours sincerely,
Amitkumar Banerjee
Founder Director / Secretary
SAMPARC – Social Action for Manpower Creation
Links: