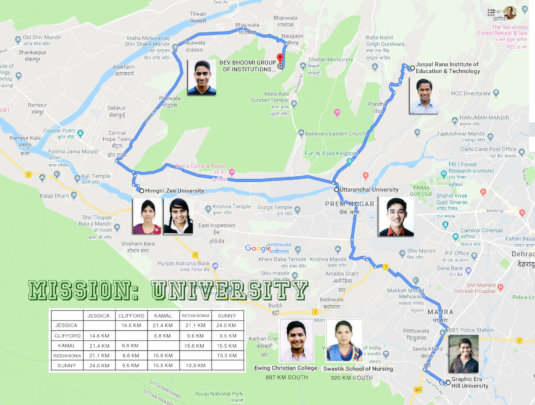 As the month of June comes to an end, I wanted to give you all a snap shot of where the project stands at the moment. At more than $22,000 raised, we are well past year one and moving to get year two fully funded. Thanks to each and every one of you. Whether from large or small donors, this project only happens because people like you care about these kids.
Of the ten kids we started out with...turns out two will be ineligible to attend school this fall. Coreena and Ellie, need to retake exams in 12th class and will then be preparing to be part of the Mission: University class of 2020 if they choose to be.
Of the remaining eight...
Clifford will be attending Uttranchal University studying BioTechnology this August.
Sunny will be attending the prestigious Dev Bhoomi University, one of only two schools in our state recognized by the Council of Architects in Delhi.
Jessica will be attending Graphic Era University, majoring in Journalism & Mass Communications. She had to make an entrance video which can be viewed here if you're interested.
Kamal was accepted to Jaspal Rana Institute for Education and Technology to become a physical education teacher.
Sonia and Reeva were both accepted at Himgiri Zee University where Sonia will work towards a BA in Social Work and Reeva will study Travel & Tourism Management. (Reeva had a change of direction mid stream.)
All of these schools are in Dehradun, which is a beautiful college town in the mountains, cooler in summer, lite snow at times in winter. The kids are excited to have some familiar faces not too far away. The attached map was made to help them orientate and have it all feel a bit more real.
A bit further south, Basanti was accepted at Swastik School of Nursing, which is a huge deal as nursing students typically require a science back ground, and Basanti studied art in 12th class.
Job is our last undecided. He recently took an entrance exam for Ewing Christian College in Allahabad and is waiting to hear results. If he gets in, he'll be in a prestigious Government insitution studying history and political science...but we'll just keep our fingers crossed for now.
School begins for most all kids mid August so we still have some time. For now, thanks again for helping to make this happen. The kids are so psyched to get started and be the first in their families to attend college!
With love,
John