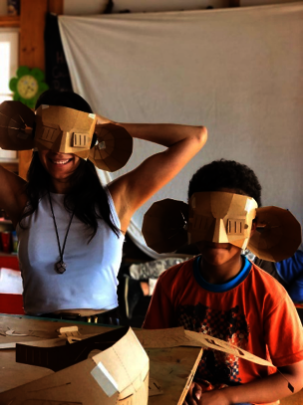 Dear community, after several months of demonstrations in the country, we are sad to say that the political and social situation in Chile has not presented improvements. This continues to generate some complications for the Ludoteca, due to the security scenario that we are facing in the city of Valparaíso, where demonstrations are being generated almost at all times, so that the children attending the Ludoteca of another hill that Cerro Merced may have difficulty arriving, which also generates the absence of Chilean and / or foreign volunteers.
Despite these difficulties, the Ludoteca in charge of his team, headed by Professor Loreto, opens the doors day by day from Monday to Friday, between 4:00 pm and 7:30 pm, to receive the children. Thus, since October, multiple and diverse workshops have been held for both children and the community of Cerro Merced in Valparaíso. One of the most important was the Ludorestaurant, where children prepare delicious dishes for the community. Also, two meetings were held for the protection of children, exactly on November 15 and 29, where they worked in collaboration with other organizations in the Region where there was the creation of a community radio, puppet games, theater, Craft workshop, circus, rap and free games, by the Ludoteca Team and other volunteers outside the organization.
In addition, clown workshops, workshops for the development of games and experimental toys, the monthly recreational activity that this time was destined outside the Region, exactly in the center of creation of La Ligua, the workshop of games and creative processes and as It is usual, on the last Friday of each time, the birthday celebration was held for all children born between October and December.
It is important to mention that under the current social and environmental context, considering the fires that have affected the community, a training session was held for the community on emergency pedagogy under the guidelines of Waldorf education.
Your donations allow us to continue contributing to the emional development and integrating values such as generosity, self-control, respect and care of the environment in children and the community that attends the Ludoteca Merced. We are grateful for your collaboration that has allowed us to continue helping the children of Valparaíso. We appreciate considering telling your friends and family about our project by sharing the link to our GlobalGiving project on social media, or just bring us up in conversation. We'd love to hear the story about why you've picked our project, and we think your friends would too.
Thank you!