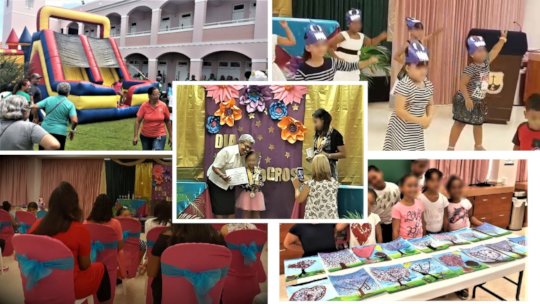 During the past school year 2018-2019, Hogares Teresa Toda provided services to a total of 31 girls and adolescents victims of different types of abuse and the impossibility of custodial care by their own family. Of these girls and adolescents, 20 managed to complete the 2018-2019 school year as residents under our care. A total of 7 girls did not complete the year because they were returned to their biological homes, or with family resources and some relocated to other residential programs. Another 4 girls were not enrolled in schools because they entered our program at the end of the school year.
Fifteen of our residents were enrolled in private schools and 9 in public schools. In addition, a total of 3 residents benefited from private schools specializing in special/individualized education.
As part of the services provided, all the girls and adolescents served benefited from tutoring and supervised studies from Monday to Thursday from 4:30 to 6:30 pm. These services were provided in a purely educational environment with the aim of promoting effective study habits. As a result:
· 80% of the residents obtained a GPA between 2.8 and 3.5 while 100% approved all basic skills and were promoted to the next academic level.
· An improvement in the academic performance was noted between the first academic semester and the second semester (from 84 average to 89%).
· Four of our residents managed to be part of the Honor Roll of their respective educational centers.
· 100% of the residents who required services of the Special Education Program of the Department of Education, received the therapeutic services of; speech and language, psychological, occupational and other related services.
· One of our residents completed high school with an average of 3.5 and was accepted at the University of Puerto Rico.