Dear Friends of Water for South Sudan,
Thank you for your continued support. Thanks to donors like you, we are able to continue our work in South Sudan, transforming lives by providing access to clean water and hygiene education.

2015-16 Season
We finished the 2015-16 season with 23 new wells, for a new total of 282 wells drilled since 2005. When a village receives a well, and hygiene education, everything improves. Health improves for all, especially for children under the age of five, who are so vulnerable to water-borne diseases. Life dramatically improves for girls and women when they are freed from the arduous task of walking for water every day. Economic stability improves for a village when a market is able to develop. Educational opportunities also grow when a village gets a well.
The Value of Hygiene Education
Since 2014, the WFSS hygiene team has traveled with the drilling team to help villagers improve hygiene practices in every village in which we drill. The hygiene team trains a team of eight people (four men and four women) who can then train others. The WFSS team works with the trainers to identify areas in need of improvement. Better hygiene helps expand the impact of clean water, and leads to health benefits for all.
In Gogrial West County, in the village of Gaikou, a village man named Gau told us that his community did not know that contaminated water made them sick.
"After Water for South Sudan drilled a well for us and trained us about water and hygiene management, we realized that we were drinking water with germs and we had bad hygiene at our homes before. From now on we will call a meeting to tell everybody about water and new hygiene promoting ways, as taught by Water for South Sudan hygiene team, which is the first time for us to receive well/borehole and new hygiene promotion training. I appreciate Water for South Sudan, administration and management where ever you are, thank you so much for help."
Success of the Past Informs our Future
As we look to our successes of the past 11 years, we have come so far, and look forward to continuing to serve the people of South Sudan. At this writing there has been unrest in the capital city of Juba, and we join the world in advocating for peaceful resolution of all conflicts in South Sudan. Our team has been safe at our Operations Center in Wau and are able to continue planning for the upcoming season.
Our teams are continually working to improve processes and outcomes, using the experiences of each season to inform future planning. Pans for 2016-17 include drilling up to 40 new water wells, rehabilitating the cement platforms on some of our older wells, and continuing to provide hygiene education in every village in which we drill.
This year we have begun researching sanitation solutions in South Sudan. Just as many people do not have access to clean water, many more do not have access to any kind of toilet facilities. We are researching how we can begin to address this great need and are planning to develop a pilot project, possibly a latrine system for a school.
Thank you for your support, and for sharing our story with your family and friends. We are deeply grateful for your generosity which funds our work. Water for South Sudan relies competely on private donations, and to date has not received any government funding. Individuals, schools, civic groups and faith-based organizations all support our work. Our donors come from all 50 US states and 33 other countries.
Thank you for being a part of the WFSS community.
In gratitude,
Lynn Malooly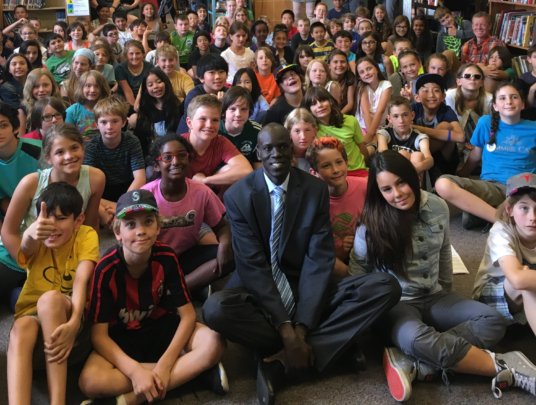 Links: