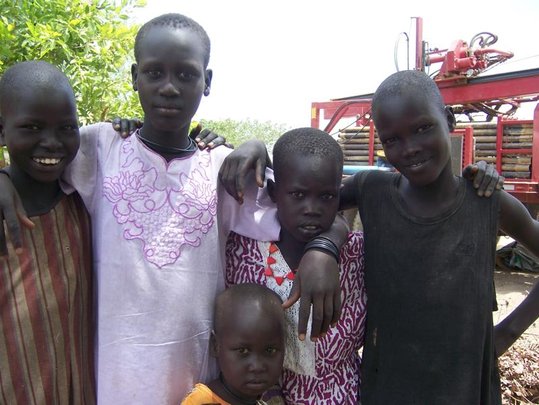 Hello Friends of Water for Sudan,
It is now the rainy season in South Sudan, so all drilling has stopped. We ended the drilling season in May with 28 new wells, bringing our grand total to 104 wells since 2005.
So the rainy season allows us time to do our other work! Construction of a new secured compound for our vehicles and materials has begun in Wau. Much needed repairs have also begun on our vehicles. We have two drilling rigs, but this past season we were only able to use one as our newest rig, the Deep Rock 150 Drilling Rig, incurred electrical and computer malfunctions-- possibly caused by the extreme temperatures in South Sudan.
Our founder and president Salva Dut traveled back to the US this summer and brought needed parts back to South Sudan. Salva will continue to oversee construction of the compound and equipment repair.
Planning has begun for this season's drilling, which should start in late November. We hope to drill at least 30 wells this coming season. Our focus is on installing deep water wells with hand pumps in the Republic of South Sudan's "Returning Sudanese Settlement" (repatriation area in Bar al Ghazal, south and southeast of Wau); and installing wells with hand pumps in villages that do not have any clean water presently and are located in the areas of Equatoria and Bar al Ghazal.
Thank you for your contributions to Water for Sudan. Thanks to you we are able to bring fresh, clean water to the people of South Sudan.
Gratefully,
Lynn Malooly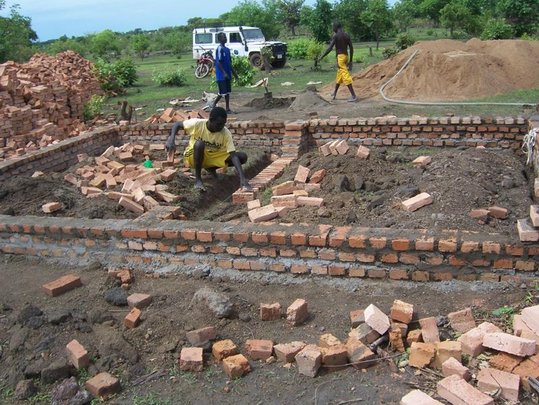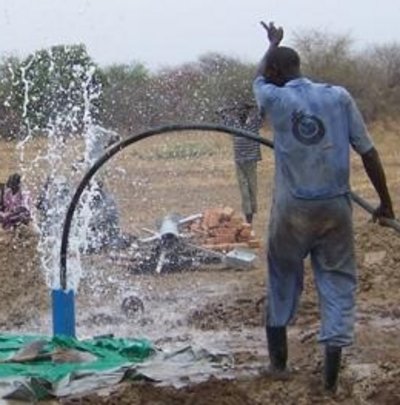 Dear Global Giving donors,
Our goal of $15,000 has been reached and our "Global Giving" well will be drilled this coming drilling season (2011-12). Thank you for your generosity in funding this well! The Water for Sudan teams have just finished the 2010-11 season, drilling 28 wells this year, which brings our grand total to 104 wells since 2005. While the WFS crews were never in danger, they did need to wait several weeks after the January 9, 2011 referendum, in which South Sudan voted overwhelming to become independent from North Sudan, to be certain they could drill safely. Our founder and president Salva Dut was back in the US briefly this spring and is now back in South Sudan, constructing a new compound for our drilling rigs and equipment. He is very much looking forward to independence for his country and is glad he will be in South Sudan for their independence day on July 9. While we have just finished the 2010-11 drilling season, preparation has already begun for 2011-12, which will begin in November or December. Thank you for being a part of our success. We look forward to continuing our mission of bring fresh clean water to the people of South Sudan. Look for a new Water for Sudan drilling project to be posted soon on Global Giving.
You can always contact us at salva.dut@waterforsudan.org, or check out our website at http://www.waterforsudan.org/ Follow us on Facebook- http://www.facebook.com/WaterForSudan and Twitter http://twitter.com/#!/waterforsudan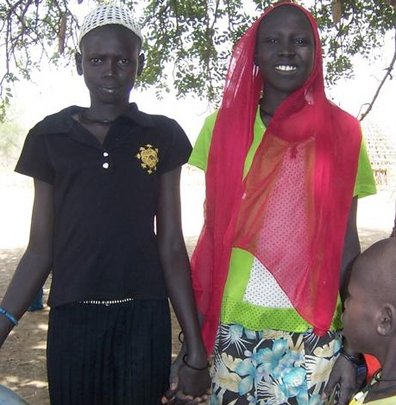 Links:
Dear Global Giving donors,
Greetings from Rochester, NY. Our president and founder Salva Dut has returned for a brief trip to the US to attend to various business matters, so we can share some details of this year's drilling season, which is coming to a close.
Water for Sudan, Inc. has drilled 21 wells so far this year. We are very pleased to have done so well in an uncertain time. Salva and his crew were able to drill before the January referendum, and then needed to stop for a few weeks as they watched the situation unfold. Happily the referendum passed easily. It took a few weeks for Salva to know for sure that it would be safe for the crew to resume drilling.
As Salva attends to business in the US the crew in Sudan will continue drilling through the end of the dry season in May.
Our "Global Giving " well is almost fully funded! So far we have raised $13,528 toward the full cost of a well-- $15,000. We are now only $1,472 away from completing this project.
Many thanks for your help in bringing fresh clean water to the people of South Sudan.
Interested in learning more about WFS founder and former "Lost Boy" Salva Dut? You might be interested in Newbery award-winning author Linda Sue Park's new book, "A Long Walk to Water." The book is aimed at middle school aged readers but is certainly a worthwhile read for adults too. Here is an interview with Linda Sue and Salva http://www.youtube.com/watch?v=GkxkisRUmMM
Many thanks for your support.
Sincerely,
Lynn Malooly
Links:
WARNING: Javascript is currently disabled or is not available in your browser. GlobalGiving makes extensive use of Javascript and will not function properly with Javascript disabled.
Please enable Javascript
and refresh this page.