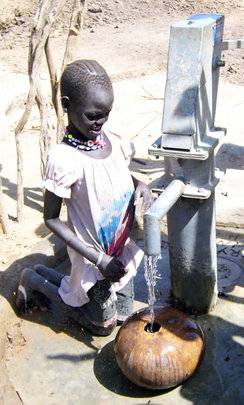 Dear Donors of Global Giving,
We are very excited about our partnership with Global Giving. With donations through Global Giving, almost $12,000 of $15,000 to drill a new well has been raised. That is 80% toward our goal to drill one well! Thank you. Through your generosity Water for Sudan, Inc. is able to fulfill our mission of providing safe, potable water to Southern Sudanese.
Water for Sudan anticipates drilling the well dedicated to Global Giving in the late fall of 2011. This well, along with many others, will be located new Wau in the Bar El Ghazal "repatriation region." This area is being developed for returning expatriated refugees from Kenya, Ethiopia and Northern Sudan. The Government of Southern Sudan (GoSS) has asked us to drill many wells in this newly developing area. Once these areas have water, GoSS can then bring in other services such as clinics and schools.
Water for Sudan is very excited to report that our current drilling season is successful. As of early February, we have drilled 12 of our 30 wells goal. This brings our 5-year total to 88 wells. Water for Sudan can only drill during the dry season, December through May. Wells cannot be drilled from June through November, the wet season; roads are impassable and trucks are not able to travel through the mud.
This year we anxiously watched as the people of Southern Sudan went to the polls to determine their future in the referendum for independence. We were so pleased that the voting process went smoothly, and that the people of Southern Sudan will now begin their journey as a new country. Salva Dut, President of Water for Sudan, was in the country and a witness to this historical event. Salva was profiled in the January 2011 national PBS "Need To Know" show. See http://www.waterforsudan.org/news/ or the PBS website http://video.pbs.org/video/1726685656
Each day hundreds of thousands of people in Southern Sudan drink water-borne, unsanitary water they have spent hours walking to gather. For their very survival people are forced to drink from these contaminated waters.
With your continued partnership and the generosity of Global Giving donors, you help us bring fresh, clean water to the people of Southern Sudan. Thank you.
Links: