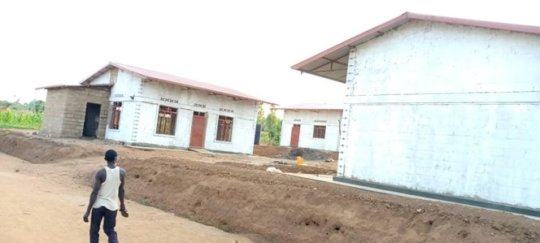 Journey House Actions Rwanda
Journey House Actions Rwanda (JHA), in partnership with a local construction company, is working on the final touches of our new Early Childhood Development (ECD) Center including painting and designing the children's playground for both games and child stimulation activities.
During the COVID 19 pandemic many local Rwandans lost their jobs, and in our small economy, women lost even more jobs due to lockdowns and the resulting economic crisis. During this crisis, our Center focused on supporting and employing local community members with a special emphasis on employing women and teenage mothers. The ECD construction project provided employment to more than 300 workers of which more than 60% have been women.
JHA continued to support the community of Gashora during the pandemic and the new ECD Center has already spearheaded several activities even though it is not yet fully completed. The Center has already attracted more than 200 children who come to play and participate in activities at the Center. We feed eggs to 200 plus vulnerable children at the new Center to fight malnutrition.
The leader of the Karutete Village, Mr. Celestine, said "This new ECD Center has come as a true blessing to our community and we are extremely excited to see our children joining the new Center. My only concern is that the Center won't be able to accommodate all the 3000 plus potential beneficiaries who need services, all at the same time."
Upon completion, the new ECD will be able to accommodate 250 children of Gashora village. JHA is already conducting household outreach to make sure that enrolled children beneficiaries fit the eligibility criteria JHA established to prioritize who is served first since the Center will not be able to accommodate all potential beneficiaries. JHA will focus on the most vulnerable children in the most vulnerable households so they have access to early childhood education as a foundation for breaking the chain of poverty in their lives.
One of the mothers to the already enrolled children, Mrs. Mukashyaka, said "Our children are more open minded since they joined the journey of success and the increased support from Journey House is very critical to the growth of our families."
With gratitude we would like to thank each and every donor who contributed to the construction and operation of our wonderful new Early Childhood Development Center. Your investment will transform the lives of the most vulnerable in our community. We are most humbled by your kindness.
Rogers Kimuli
Executive Director
Journey House Actions Rwanda