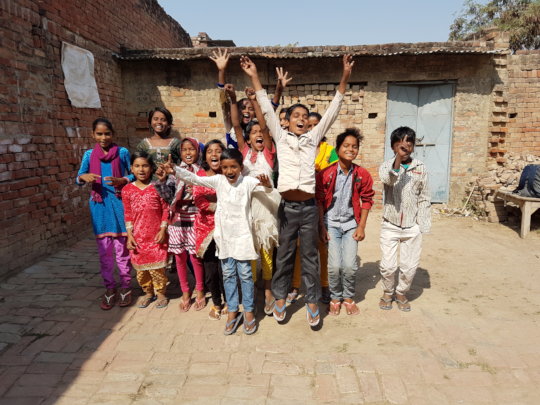 In the current academic year (April 18- March 19), E&H Foundation is covering education of about 7000 children through the 'Gyanshala' and 'Bharti School' models.
We are running a total of 217 classes in Farrukhabad and Lucknow districts of Uttar Pradesh (U.P) in collaboration with Gyanshala, covering 5774 children from Class 1 -3 and rest from Class 4-5. Total coverage in Farrukhabad is through 138 classes covering 3645 children under the program from Class 1-3, approximately 50% of the whom are girls.
Our first project report, 'Globally giving for Ishika's dream' gave you an insight into our program on the field and an intimate look into one of our Class 3rd students, Ishika and her family based in Farrukhabad, Uttar Pradesh, India. Post-November, Ishika and her fellow classmates have undergone their Mid-term exams and have demonstrated tremendous learning outcomes.
This month's report focusses on their results and a general overview of our program, especially of Classes 1-3 and key activities undertaken since December 2018.
Colouring Bright Results for a Brighter Future
Mid-terms were conducted in three subjects i.e. English, Hindi and Mathematics for Class 1 students and for four subjects i.e. English, Hindi, Mathematics and Projects for Class 2 and 3. Maximum marks were 40 for all papers and 30% was passing score.
I am happy to report that out of 3344 students who appeared for the mid-term examinations for Class 1-3 in November, 69% of them have scored marks between 80-100%. Their hard work and good result are due to the constant motivation of teachers and supervisors as well as the efforts of motivated parents supporting their kids in the pursual of attaining a quality education and sending them to class regularly. The first image attached shows an overview of students' performance in the mid-terms.
As one can infer from the data in the image, only 2% have scored below 40% marks. E&H Foundation and its filed partners are constantly trying to improve processes on the ground to attain 100% performance results. We want to impact every student's life is in a positive way, where they gain maximum learning and exposure by coming to class and continuing their education. This called for intensive community engagement and facilitating and creating further opportunities for field officers to motivate parents.
Community Engagement for Quality Education
A four-day workshop was organized for field supervisors in Farrukhabad during 20th-24th January. Field supervisors play an intricate role in the operations of our on-going classes. Along with teachers, they ensure the efficient functioning of our model on the ground. Supervisors are at the front lines of our program, serving as the link between the students & teachers and the communities encompassing the parents of the children as well as potential members of the community who are considering (or resisting) sending their kids to classes.
One of the most challenging tasks for these supervisors, apart from maintaining 70% average attendance of students, is engaging the parent's community in school and extracurricular activities. As 80% of our students are the first members of their families to go to school, sometimes they are left with little to no support with their education at home.
For this purpose and to empower field staff to communicate and motivate the community effectively, E&H foundation and Gyanshala organized a four-day training workshop in January this year, which was attended by field officers from Farrukhabad and Lucknow.
Overall objective of the training was to prepare the field staff to engage with the community, proactively and enable active participation and engagement of parents in their children's education and further strengthen their involvement in running of classes by forming parent committees, leading to increased attendance of children in classes and contributing to enhanced overall learning of students.
The training was an immersive experience with everyone collaborating and working on ideas to engage the community on the ground. All supervisors are currently working on their self-targets and developing communication skills to engage with the community further. Their progress will be communicated in the upcoming reports.
From September until March this year, E&H Foundation has raised $8263 from 64 donors by partnering with GlobalGiving. We are grateful for each one of our donors and especially to our recurrent supporters who are committed to the cause of quality education. With this, we are extremely close to our goal of raising $10,500 that will go towards the education of 175 children covering 7 classes.
E&H aims to raise the balance funds before the beginning of the academic year 2019-2020 in April and seeks your continued engagement with our project Educating 175 Underprivileged Children in India.
Together, we will continue our quest for quality education of underprivileged children in India