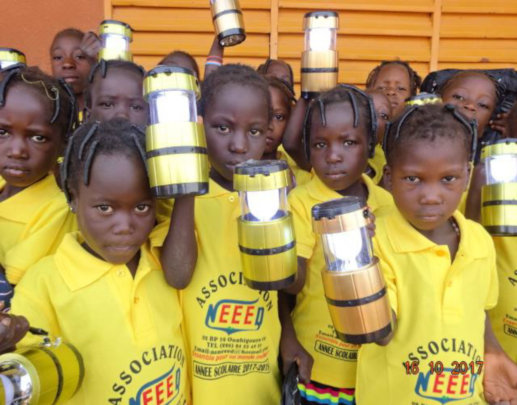 . Since 2007, GlobalGiving donors have generously supported the Lambs Support Girls' Education Project in northern Burkina Faso. 4,386 6-year old girls from 204 villages have entered primary school, thanks to the support of donors who invested in these village girls' education. Villagers in this region are subsistence farmers who are unable to send their daughters to school. At a one-time cost of $80 per girl, donations support the purchase of a T-shirt and skirt, basic school materials, a lamp to facilitate studying at night, and a lamb which the parents are responsible for raising. Each year thereafter, parents sell their daughter's lamb, purchase and raise a new one and use the profit for the purchase of their daughters' school materials for the new school year. Through this self-help sustainable strategy, the initial $80 investment sends a girl through 13 years of primary – secondary school.
These girls have done amazingly well in school. 84% of girls enrolled in primary school through the Lambs Support Girls' Education Project have passed national exit exams at the end of primary school, qualifying them to continue on to middle school, compared with 64% of their peers throughout the northern region. These girls have continued to excel far beyond their peers in middle and secondary school and a number of them have qualified for scholarships for postsecondary education/training. All it took was an initial investment of $80 and the girls and their parents took it from there.
By 2016, the project had responded to nearly all of the then-interested villages in the region and therefore ceased fundraising for it. HOWEVER, beyond the academic success of the girls who have entered village primary school thanks to your GlobalGiving support, the project has been instrumental in causing a sea change in the attitudes of villagers who had not previously taken girls' education seriously. More villages have built local primary schools out of local materials (see photo). In the past six months, Association NEEED, the local NGO that initiated and manages this project, has received requests for assistance from 14 new villages to enable the enrollment of an additional 200 girls into primary school next year with the assistance of the Lambs Support Girls' Education Project.
Such a simple concept and such a successful girls' education endeavor! Please help support village girls' education in northern Burkina Faso!
For further information, contact me at smplopper@aol.com.
"There is no tool for development more effective than the education of girls". Kofi Annon, former U.N. Secretary General