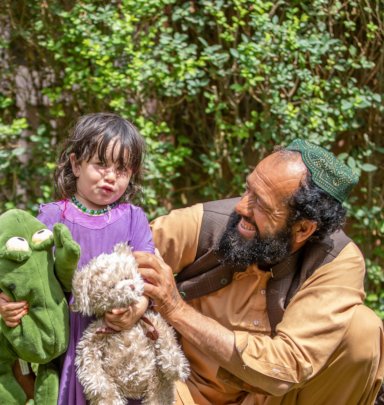 Support Afghans to diagnose Blood Cancers


Afghanistan is amongst one of those countries which has 81% patients who suffers to blood cancer every year due to lack of sanitation and medical treatment access which is a big hurdle for the people's life.
Afghanistan has very limited or no facilities for timely and proper diagnosis of lethal diseases including Leukemia (Blood cancer). This results in loss of lives and heavy burden on families due to delays in detection of cases and treatment. On the other hand, in Afghanistan there was no facility available for diagnosis of blood cancer and genetic disorders. FMIC launched its cytogenetic testing facility in 2020 and now physicians are referring patients but they are unable to afford testing. FMIC took lead role by initiating the first ever cytogenetic testing in Afghanistan to ensure right diagnosis sand prognosis of blood cancer and genetic disorders.
The French Medical Institute for Mothers and Children is the product of a unique four-way partnership that includes the Governments of Afghanistan and France, the Aga Khan University (an agency of the Aga Khan Development Network), and the French humanitarian organization La Chaîne de l'Espoir.

Yearly Afghan people are facing many challenges while traveling to different neighboring countries like Pakistan and India. Thus they spent a lot of time and money. But now they are satisfied and happy from FMIC services because now without extra burden they can do their treatment at FMIC with less expenses and no burden at all.

Since its establishment in 2006, FMIC has so far provided tertiary health services to over 1.6 million patients from all parts of Afghanistan in the form of admissions and clinical visits. In diagnostics, FMIC has performed almost 4.6 million laboratory tests and 0.8 million radiology procedures. Being the first ISO certified hospital in Afghanistan, awarded in 2009; we are now working towards getting the gold seal of Joint Commission International Accreditation (JCIA) for quality and patient safety. FMIC is the first hospital in Afghanistan to perform Nerve Transfer Surgery.

FMIC's Patient Welfare Program is in place since the establishment of FMIC. The program is aimed at supporting those patients who do not have the budget to bear their healthcare expense. FMIC has spent over $40 million so far in providing the medical and surgical care to those in critical need. We are highly grateful to the generosity of our donors for their support to the patient welfare which ultimately helps us serve the most deserving and deprived segments of the society.
FMIC patient welfare program helps the poor patients for their health care when they are unable to pay for their treatment. With the current growing demand each year, the hospital is in dire needs and support to continue this life-saving endeavor.

We are highly grateful to the generosity of our donors for their support to the patient welfare which ultimately helps us serve the most deserving and deprived segments of the society.
On a daily basis, FMIC ensures that no patient leaves the hospital untreated because of lack of money. For many patients, even a $10 expense is an obstacle to healthcare. Envision a child or mother suffering from life-threatening diseases in an impoverished and war-affected zone. Imagine that just a few dollars contributed by you can help save lives and improve quality of life for many. For example, $10 will pay for an initial visit to a doctor, $15 will pay for one-night stay of a patient in general ward, $65 will pay for one night stay of a patient in the Intensive Care Unit. We do appreciate your continued support and cooperation!
With the beginning of our cytogenetic services; we have already started impacting lives. Naveed (7) diagnosed with blood cancer was referred to FMIC but the correct type of diagnosis was possible only through cytogenetic test hence he received the right treatment otherwise he could have lost his life due to wrong treatment. We believe that this project is a key step towards saving lives in a country where people are suffering due to conflict for decades. This will also correspond to SDG-3.
Karim Success Story:
Karim (13) hails from a village in Sar-e-Pol province, Afghanistan. He was studying in grade 7th with brilliance in all subjects. Meanwhile, this little boy was curious to see how petrol catches fire. In early 2019, he somehow got hold of a 3-littre bottle of petrol and tried to ignite it with matches. Suddenly the flames captured him allover and the right side of his body got burnt and put him in critical condition. The scorches on his body made his life miserable and he needed emergency care. He lost movement completely since the muscles were damaged due to "Grade 3 burns."
His father (Mohammad Nabi) took him to different hospitals in Mazar province, but to no avail. One of his relatives knew about FMIC and advised Rasool to give it a try. Karim was then brought to FMIC in August 2020, as a last resort.
Dr Homayoon Ghairatmal, one of the renowned Paediatric surgeon at FMIC performed a surgery of skin graft and contracture release 10 times during 3 months of Karim's stay at FMIC- ICU to rescue Karim from the trauma. This paid off and Khal recovered fast. His excitement was worth noticing when he started moving, talking and walking again without any pain. Little Karim received financial assistance from Enabled Children Initiative (ECI) and FMIC Patient Welfare Programme.
On December 24, 2020, he visited Dr Homayoon for the second time and the 11th surgery of skin graft was done. According to the physician, the patient is healthy, but he needs some physiotherapy and probably an elbow joint replacement to release the bone contracture.
Karim's father was so happy that his little son is healthy after facing the odds. In a recent conversation with FMIC communications team, Karim himself narrated the story of his adventure while advising other children not to play with flames AT ALL!
Resources
https://www.fmic.org.af/Pages/Home.aspx
FMIC official website
FMIC official Facebook Page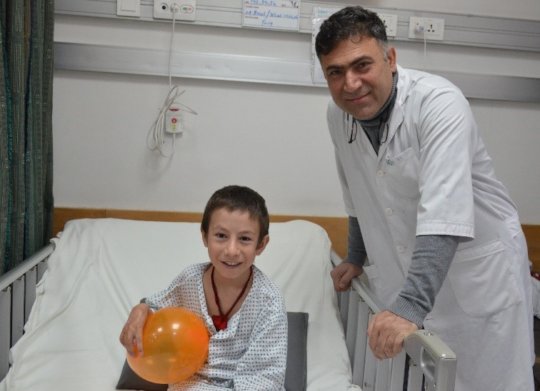 Links: