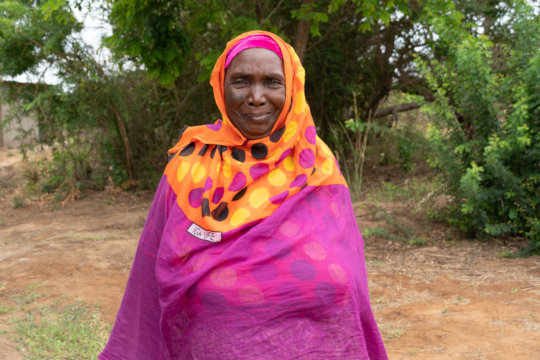 Thank you for your support of land rights work across Africa! As of June 2019, you are joined by 60 other donors and collectively you all have raised $6,278 to support this program. Your donation to this project is helping millions of rural households in Liberia, the DRC, Zimbabwe, and Tanzania get stronger rights to land. With secure rights to land, farmers can make climate-smart investments, communities are better able to resolve land-related conflicts, and families can boost their income by selling extra produce.
Spotlight on Asha:
In the village of Vilabwa in Tanzania, Asha told us about the importance of land titling for women in her community. After her husband died, Asha's father-in-law allowed her to stay in her husband's house. Asha has no documents or title to her land and relies on informal community recognition of her right to live there. But according to customs of the Zaramo tribe, if she remarries she could easily be forced off the land with no legal recourse—she has seen this happen to other women in her village.
In 2017, an electric company cut a mango tree near Asha's house and it fell on the roof. Now the roof leaks, and while the village ward counselor has promised several times to help repair it, nothing has been done yet. Asha thinks if she had a land title, it would help her escalate the issue and find resolution sooner.
Landesa is working with local partners and the national government in Tanzania and elsewhere to ensure that women like Asha are recognized and respected as land owners.
Updates from Landesa in Africa:
In the Democratic Republic of Congo, Landesa has completed an analysis of the legal framework around women's land rights to support our local partner, Mercy Corps.
In Liberia, Landesa staff conducted Monitoring & Evaluation (M&E) trainings for local partners to help increase their capacity around developing Theories of Change and evaluating project successes. Our Liberia team also participated in a workshop with a coalition of other NGO's who are working to implement the 2018 Land Rights Act which guaranteed rights of all Liberians to own and manage land for the first time in 170 years.
In Tanzania, Landesa has launched the pilot phase of a social enterprise project called the Social Licensing Platform. This online tool will facilitate connections between corporations and local CSO's to guide responsible investments in land. After the pilot phase, this project will expand to other countries.
Tanzania Program Director, Dr. Monica Mhoja, was recently awarded the Bertha Challenge Fellowship, awarded to 10 activists around the world to support their work around land, housing, and justice.
In Zimbabwe, Landesa facilitated a five-day training for 38 members of the Zimbabwe Land Commission, 17 of whom were women, on Alternative Dispute Resolution (ADR). The training provided useful tools for ZLC members on various methods of mediation, land governance frameworks specific to Zimbabwe, and dispute resolutions ethics and simulations.
Thank you so much for your support for land rights across Africa. Together, we will continue to champion secure land rights for millions of the world's poorest women and men, providing opportunity and promoting social justice. For additional updates on our work around the world, please, visit https://www.landesa.org or follow us on social media.
With gratitude,
Eleanor Trenary
Philanthropy Officer & Project Lead
Links: