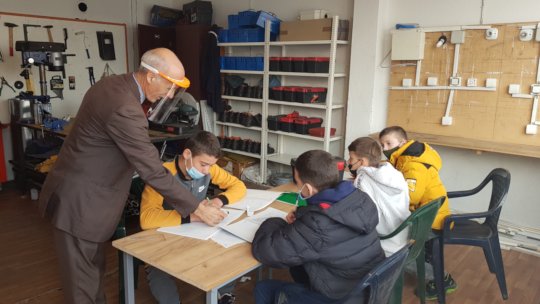 The school year has been running for a few months now and we see that the students are getting used to their group, their trainer and their skill.
A couple of weeks ago we asked all the trainers how they see participation in the project impacting their students. Out of all the stories they told there are a few element that return time after time. Students who are quiet, insecure, have low self-esteem are turning into students that actively participate with confidence and enjoy their time with the other students. On the other hand we hear of many students that start the course but don't seem very interested. They show up because their teacher ar school or their parents have told them to take this opportunity offered to them. After a few weeks many of them turn into motivated students who have a sense of pride about what they have learned.
Diana, the trainer of the sewing course, told us about Marita: She was a very quiet girl and had no trust in herself but over time we saw her friends working well and listening to my advice, she became more motivated. Now she has gained faith in herself and she asked her parents to buy her a sewing machine, because she is enjoying her new skill so much.
Shaban, the trainer of the elektro course, told us about Bledi: In class he was only a spectator, didn't seem interested to learn at all. His father had obligated him to go, but he had no desire himself to participate. But after seeing how the other boys in the group were interested, he started listening to my explanations and developed a interest for this skill. Now he likes the profession a lot and is making plans to go to technical school to make electrical engineering his profession.
It is encouraging to see how well the students respond to learning a practical skill. For many of time this is their first time, due to the fact that schools in Kosovo are untill age 16 completely focused on theoretical learning. For many of them school has always been hard and they haven't been performing well. For them to see that they are able to learn something and be good at it is so important. Important for their feeling of self-worth. Also important in the decision-making for their future, that they now see a little more bright.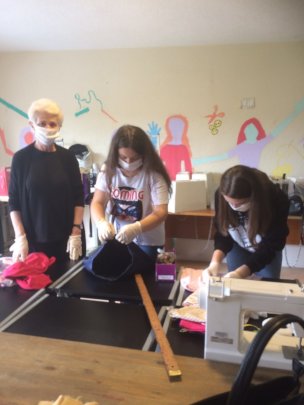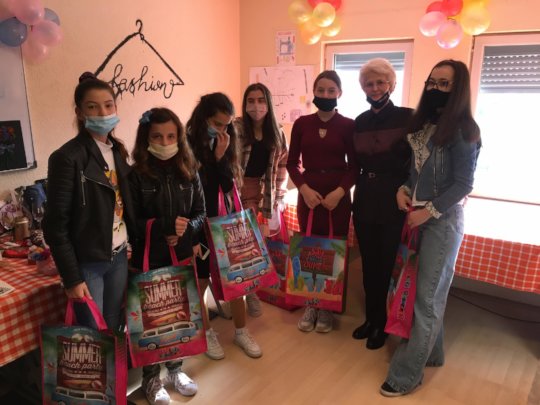 September and October have been extremely busy months. Normally the students of one year finish their course before the summer and in November a new year starts. But as everywhere this year is looking a bit different. The students of last year just finished their course. On Saturday they had their graduation, which also looked a bit different. Normally the students have a chance to show of their skills; the products they made to their parents and teachers from school. We all gather together and have one big ceremony and celebration. But of course this year we had to adapt so we could still celebrate the student's achievements while staying safe and respecting anti-corona measures. All courses had their own little ceremony with only staff present. 57students graduated and we still had a wonderful celebratory time.
At the same time we have been recruiting new students for upcoming school year. The schools we work with give us names of students that might benefit from the project. Normally we visit every student in their house. This way we get a picture of the family and their living situation. But of course this year we had to adapt, doing 15 consecutive visits during a pandemic is something we wanted to avoid. Luckily we did get to meet the students and their parents in our office. This way we could explain the project well and we are happy to say that 49 students will start their chosen course in November.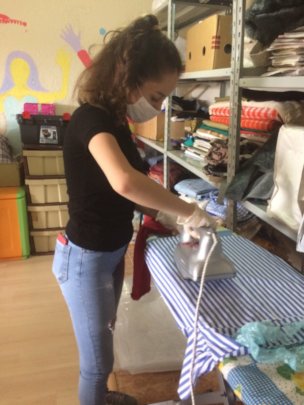 No doubt that this year turned out a little different as expected, every single person in the world will probably agree with me.
Due to the pandemic the government of Kosovo decided to close all schools for indefinite time, since the vocational skills project is focused on these same students we decided to follow the schools in this decision. For a few months the project has been closed while the country was in lockdown. By now things are getting back to normal. Students who are graduating from middle school this year went back to school to prepare for their exams and so we decided to give these students the opportunity to finish their course before the summer. Students from lower grades will have this opportunity in the months September and October.
This way we opened the trainings centre for a small group of participants, making distancing measures possible to maintain. One of the advantages of these small groups is that we see a lot of creativity from trainers and students in ways to finish the course and the most important parts of the curriculum. Faton is the only boy that if finishing the berber course before the summer. Being an excellent student, his trainer who is also a small business owner, didn't doubt for a second and invited Faton to do an internship at his berber shop. This way Faton will get some work experience at a berber shop, while he can cut his friends' hair under supervision of his trainer. His mom had already told us how her hallway turned into a salon during lockdown, while the normal salons were closed Faton was making sure his family members were getting haircuts anyway.
WARNING: Javascript is currently disabled or is not available in your browser. GlobalGiving makes extensive use of Javascript and will not function properly with Javascript disabled.
Please enable Javascript
and refresh this page.