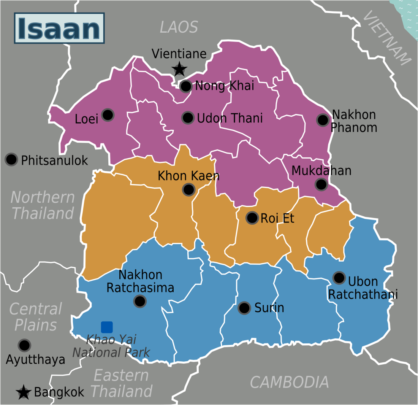 Dear Friends & Supporters,
Thanks to the support and donations that we have received to since July, we were able to complete our second workshop for this campaign. Please read on to hear about what we have been able to accomplish over the last three months:
On 15 August 2017, Pratthanadee Staff traveled to Huatapanwittayakhom School in Ubon Ratchathani province where they completed the Better Me: Claim your Rights Workshop with 56 girls between the ages of 13 and 18. In total, for this campaign, we have now trained 101 girls at two different schools, and have already scheduled another training for November with a new school.
Ubon Ratchathani province is located in northeast Thailand in 'Isaan.' The economy of this region is agriculturally based, and advancements in farming technologies and machinery have resulted in increased jobs for men, but few opportunities for women. Seven of Thailand's ten most impoverished provinces are located in Isaan, including Ubon Ratchathani where Pratthanadee's second office is located in Ubon, and it is from this office that we manage and run our 'Better Me' for Girls program.
Girls growing up in poor provinces, such as Ubon, usually do not have access to the training or skills that they need to be competitive in the rapidly advancing marketplace of Thailand's capital city, Bangkok. As a result, they often find themselves in low-paid, unstable work, or the sex trade, damaging their self-esteem and their health.
It is for these reasons that Pratthanadee focuses our workshops with girls in this area of Thailand. We reach teenage girls before they move to Bangkok, and provide them with the skills and guidance they need to protect themselves and plan for their futures, helping to ensure that they are able to break the cycle of poverty and avoid pitfalls that could put them in future danger.
We equipped the girls who attended our workshop with the skills to recognize their rights, protect themselves from harm, and plan for a better future. Through our three-hour workshops in schools, we help girls to understand:
How to stay safe if they should decide to live or work in Bangkok,
Their rights and learn about laws that are there to help protect them,
How to protect themselves through basic self-defense,
How to report crimes against them,
How to access further help and training, and
How to plan for a safe and successful future.
In order to gather information on how impactful our trainings are for girls who participate, Pratthanadee staff conducts pre- and post-testing. The Huatapanwittayakhom School training resulted in a 23% increase in girls being able to identify a violent crime committed, even by a family member. As well, by the end of the session participants showed increased understanding about the kinds of online information shared and behaviors that could put them at risk of being targeted by predators.
Our staff members demonstrating some basic self-defense moves to workshop participants.
As well, our staff observed that the beneficiaries were particularly keen to learn about basic self-defense and showed a mastery of the moves that were taught to them.
The direct feedback from the girls was perhaps the most telling. For example, one girl wrote: "I am so glad to attend this workshop. I learn new things and gain new knowledge. I learn how to protect myself with basic self-defense. I want to have this kind of activity again. I really like it."
Another girl noted that, "I really like it. It was so fun. I gain more knowledge about how to avoid the danger situation and use basic self-defense."
Overall, our most recent project was a tremendous success, and we are eager to start a new project soon. However, we need your support to make that possible!
Please share our campaign with your friends, family, coworkers, and social networks. Or consider making a monthly donation to help us reach our goal! Only with your help, can we teach another 56 girls to claim their rights and protect themselves in November.