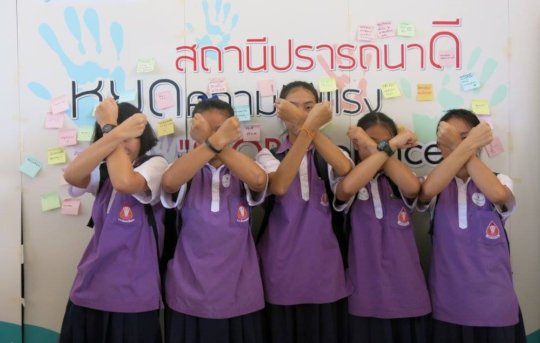 Since July 2017, we have reached over 3,000 high school students through our 'Better Me: Claim Our Rights' workshops in Ubon Ratchathani. The objectives of the half-day event are twofold: raise awareness of the rights of girls and women under Thai laws, and arm them with the tools to protect themselves. Our target audience are normally high school girls between the ages of 14 and 18. On some occasions, we have opened it up to boys as well so that they have an understanding of what is acceptable and unacceptable in their interactions with their female school mates.
Over the three-hour session, we cover a lot of ground including identifying risky situations such as sexual harassment, child labour and abuses, dangers on the internet, domestic violence, and human smuggling. We also provide the girls with basic self-defence training, and resources they can tap on in times of trouble.
From our observations, we can tell most of the girls we have trained are acutely unaware of what constitutes sexual abuse and domestic violence. By some of the accounts we have heard, acts that are clearly domestic violence are, in their eyes, normal and tolerable behaviour, even when they were on the receiving end of these abuses. With regard to sexual harassment, almost all did not know there was a continuum of abuse that ranges from physical to mental. And for those who had experienced some form of sexual harassment or abuse, there was a feeling of shame and guilt, and then silence.
It has always been heartening to hear from students that they find our 'Better Me' workshop useful and informative as it prepares them before they move to big urban centres such as Bangkok. It is our aim that through awareness raising, these young girls from the northeast of the country will be more prepared to navigate the big urban centres, such as Bangkok, that they tend to migrate to for work after high school. With knowledge of their rights under the law, they will hopefully not find themselves in the same predicament as their predecessors who get trapped in abusive relationships working as undocumented workers in the informal sector in the capital city.
Students' Feedback: It was a good workshop as I gained new knowledge and learnt basic self-defence. I want to join a similar workshop again.
Our work would not have been possible if not for the multitudes of donors who have supported us through the GlobalGiving platform. A lot more ground needs to be covered though, and we hope you will continue to support us in reaching out to thousands more in rural Thailand.
With gratitude,
Pratthanadee Team