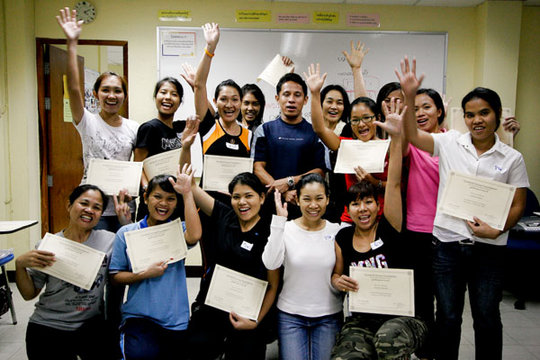 The Goodwill Group Foundation has been invited to participate in the GlobalGiving.org Challenge to raise funds for the new office in Ubon Ratchathani, the second poorest province in the Northeast region of Thailand, a during the month of September. We have been challenged to raise USD 4000 total between September 1 and September 30 from over 50 donors. Now we have received totally USD 1820 from 32 donors. The remaining funding is USD 2180 from 18 donors.
For friends who have already donated, we would like to sincerely thank you for your generous donation. We know the economy is tough, so thank you so much for investing your hard-earned money in our cause. Every donation helps ensure that we can continue helping disadvantaged women and our community.
We have been working hard in order to improve the quality of life of disadvantaged Thai women via our services. Large numbers of women in Thailand are economically and socially marginalized. Goodwill believes that in order to improve their quality of life, they must first improve their education, have access to skills training, and be able to tap into career services. In August of 2009 Goodwill developed an Impact Analysis based on a survey of 180 students. Our findings demonstrate that:
• 36% of our students found a better-paying job because of Goodwill • 40% of our students achieved greater social integration • 40% of our students became more confident • 25% of our students achieved greater self-esteem
The analysis confirmed the true value of Goodwill's work. The following are some of our students' quotes:
"Through Goodwill Group Foundation, I was placed in a stable job which has helped improve my life and allowed me to support my own family. Thank you so much Goodwill Group Foundation." Prapasri Jailak (Pat)
"I wouldn't be able to talk with my boss if I didn't take English class at Goodwill. I don't have to use body language anymore. I got to know many people and have a lot of friends. I have a good time whenever I come to Goodwill." Supawadee Prommanii (Dee)
We encourage you to help out and make a donation in September as we make a strong push to move forward with launching our new office in Ubon Ratchathani. Donations can be made at the website: www.globalgiving.org/6084
Please consider telling your friends and family about our project, share the link on your blogs or social networks, use the tell-a-friend feature on the project page to email your network, or just bring us up in conversation. For more information please contact us at goodwill@goodwillbangkok.org
Thank you very much for your time and support.
With gratitude, Goodwill team