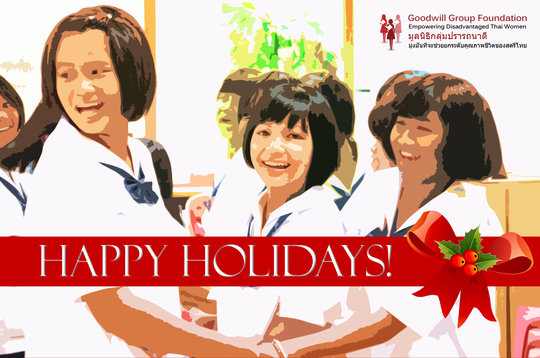 On behalf of all the staff and students at Goodwill Group Foundation (both Ubon and Bangkok branches), we would like to thank you for your support and wish you Happy Holidays & Happy New Year. Over the last two years our Ubon office has worked hard to develop relationships and trust with our community and has seen tremendous results from our workshops. We expect the new year to be just as successful as this past year.
Since our last update we have continued our life path and career workshops in the village schools. Recently, we spent some time discussing changes to the workshop's name, in order to fully encompass the workshop's objectives and content. We decided to change the workshop's name from "Surviving in the Big City" to "Preparing for Success". As a reminder to you, these workshops train young girls on how they can effectively and successfully prepare for their lives after graduating from secondary school. Goodwill believes this workshop fills a critical gap in the teaching system within the village schools because many of the schools do not provide such educational instruction. Without such training, young girls are left with inadequate understanding on how to prepare for life after secondary school. Additionally, the young girls are severely limited by their poor family financial situations leading many to feel even more desperate about their future. Because many students desire to move to the big city in order to pursue these post-secondary opportunities, the workshop also covers necessary information required to transition safely from rural to urban areas.
In the last three months we conducted 18 "Preparing for Success" workshops training over 800 students. According to our most recent Impact Assessment on this program, we found that girls in Grade 9 (ages 14-15) increased their knowledge by 25% after attending our workshop and girls in Grade 12 (ages 17-18) increased their knowledge by 17%. The demand for Goodwill's training workshops continues to increase as more schools and villages hear positive feedback from one another.
We would like to thank YOU for your generous contributions. We look forward to conducting more activities and achieving even more success in the upcoming year, and that success is not possible without your help!
From all of us at Goodwill,
Thank You!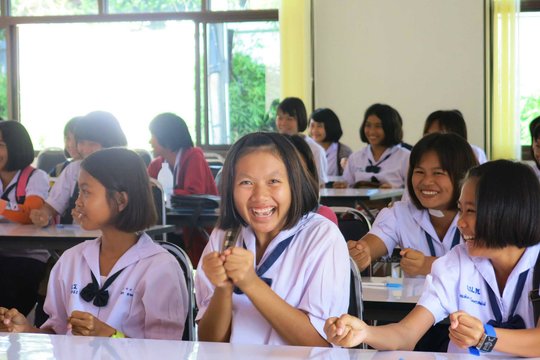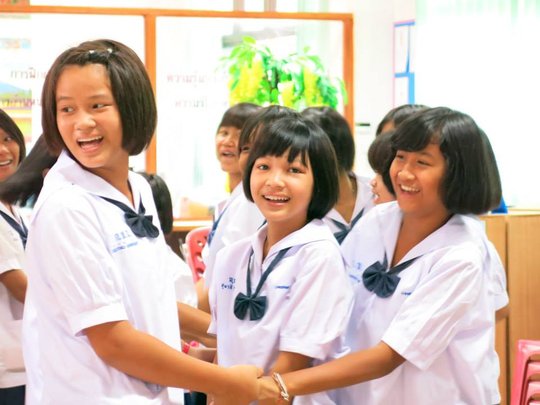 School is back in session and our Goodwill Ubon office has been busy at work conducting workshops at various village schools. Since our last update in June we have already conducted over 30 workshops reaching out to over 2,500 girls on how to safely migrate from rural to urban areas, one of our most popular workshops in the Ubon province. This workshop provides information on how to find a good and safe job, advice on how to deal with potential hazards of living and working in Bangkok, and contact information for government ministries, public services and NGOs that they can reach out to for assistance in Bangkok. Also, the workshop provides information on how to attend an open university, which allows students to study and work at the same time.
In other amazing news, Goodwill Ubon just celebrated our two year anniversary at the end of August. Since our inception in August 2011, we conducted more than 100 workshops and trained almost 6,000 girls in village schools. We have also found that out of the girls who participated in the workshop who failed the pre-test questionnaire, more than 90% passed the post-test questionnaire after completing the workshop. This is amazing impact we are proud of, and we are certain that we have much more to look forward to in this upcoming 3rd year. Furthermore, the demand for our services continues to grow and we are always in need of your support!
We would like to thank YOU and all our supporters for your generous contributions and for walking alongside us for the last 2 years. We look forward to conducting more activities and achieving even more success, and that success is not possible without your help!
From all of us at Goodwill, Thank You!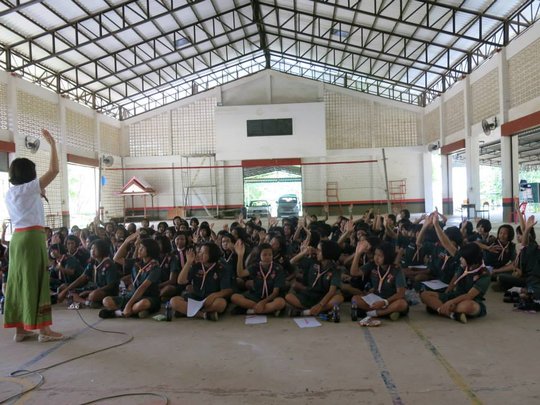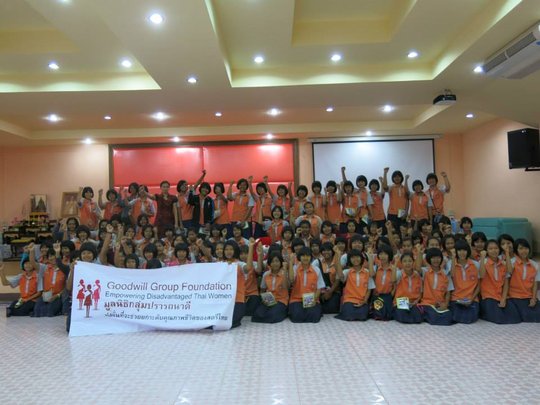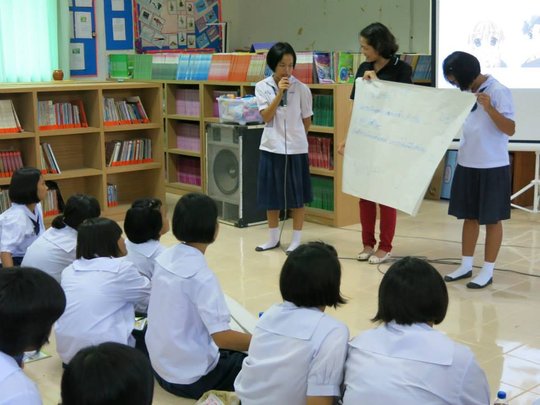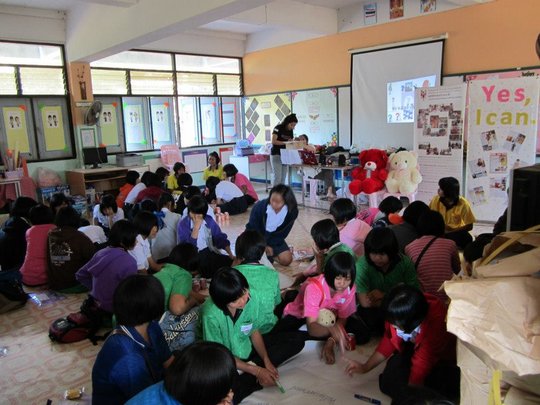 To our Awesome Supporters,
We are very pleased to update you of our activities from the past 3 months, particularly, our ongoing workshop in Ubon Ratchathani: "Life Path and Leadership Workshop."
This workshop covers information regarding university, vocational, and other education options after high school, including concrete ways to pursue and succeed in higher education. It presents all relevant information about pursuing further education after high school and what kind of career paths one can embark on after graduating.
Also, the workshop provides information to students who are unable to attend university after high school (due to various socioeconomic and personal reasons). It covers career path options, ways to pursue safe and stable employment, relevant labour laws and other information relevant to developing careers.
After the three training workshops, six students were selected from each of the 5 schools (30 students total) to participate in the intensive training workshop, which teaches the students the skills to share information with fellow students on issues relevant to education and career paths. The students were also trained to serve as mentors to younger students and links between Goodwill and the schools.

Student leaders were selected based on the following criteria: successful completion of all three workshops; stated interest to be leaders (along with stated motivations); high performance during workshop activities; self-discipline, confidence, and knowledge (gauged during workshop activities as well as from teacher recommendations). In addition, we consulted with teachers and school staff during the selection process to find out each candidate's academic performance and attendance records, as well as any other information that was relevant to their success as student leaders.
As always, we are so grateful for your continued support, and we look forward to sharing more with you in our next Update Report.
From all of us at Goodwill, Thank You!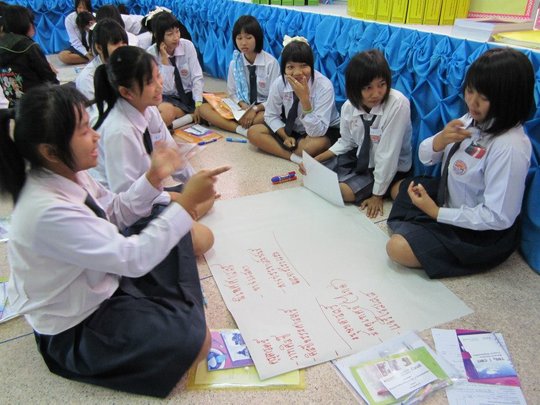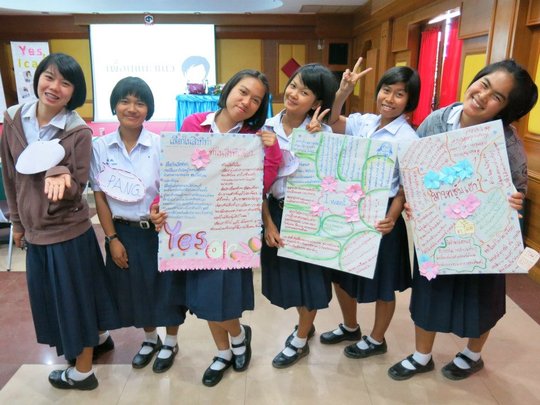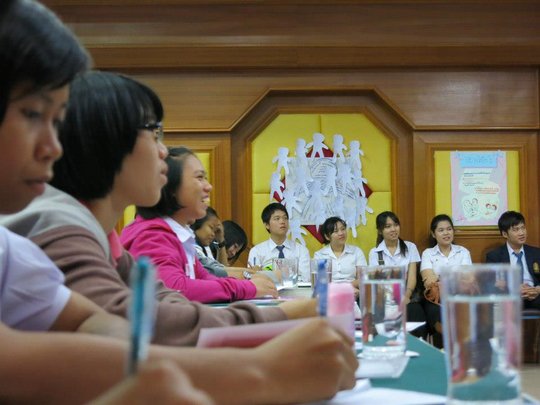 WARNING: Javascript is currently disabled or is not available in your browser. GlobalGiving makes extensive use of Javascript and will not function properly with Javascript disabled.
Please enable Javascript
and refresh this page.