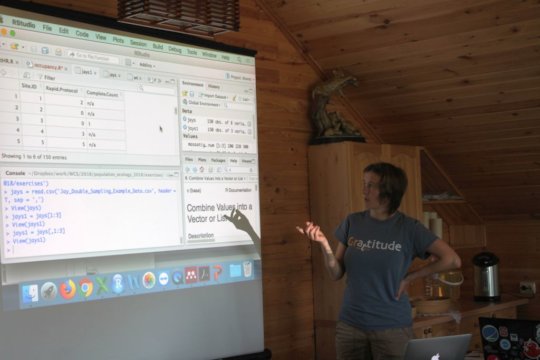 Two workshops for tiger specialists were conducted in Terney during the past two months.
First in several years a workshop on geo-information technology and spatial analysis, 'intro to gis', was held in Terney on April 15-21, 2018. Participants spent 7 days working with free software qgis. To make learning efficient, every participant analyzed their own data.
Participants included professionals from various protected areas of the Russian Far East as well as students of Far Eastern Federal University.
The workshop aimed for beginners as well as advanced users willing to learn new software, new methods and tools of spatial analysis.
During the workshop, participants learned how to work with vector and raster data, create and analyze maps. At the last day, everyone presented an analysis of their own spatial data as a final project of the workshop. With this new knowledge both specialists and students will be able to conduct and process their research data more effectively which will contribute to Amur tiger conservation and conservation of its prey species.
On June 5, our Sikhote-Alin Research Center hosted one more 5-day workshop – a workshop on population ecology. This time we taught population ecology, namely methods to estimate population abundance and then analyze these data.
'How many individuals are out there?' that is a question which is often asked by researchers and public. However, it is a very challenging task to obtain realistic estimates of population density. We discussed transect and plot surveys, methods of capture-recapture, spatially-explicit methods, and survey of animals when individuals are not recognized. For rare and elusive species, such as Amur tiger, occupancy analysis was introduced.
Population growth rate – one more important parameter which conservationists and ecologists often analyze. To answer questions about population trends, attendees learned how to conduct population viability analysis. It was great to see that every participant was eager to learn challenging math and various models necessary to conduct PVA. All exercises were done with programming language R.
Our belief is that education of scientists and future ecologists is extremely important to ensure the survival of rare Amur tigers because knowledge of the species and their ecology is crucial for their conservation. We want to thank all donors for supporting this project!