Dear Project Wezesha Supporters,
Wow! This was a tremendous summer for Amahoro Secondary School. The work on the ground this summer was productive, important business relationships were strengthened, community support was leveraged and co-founder Lucas Lameck learned a tremendous amount about being a project leader.
In terms of school construction progress, we are happy to report that all four blocks of the school are at various stages of development.
The first block with four classrooms and two offices have completed walls and roofs. The village and town leaders, along with Lucas and I, have made good headway toward garnering government support for the completion of these classrooms. The leadership in Kigoma Town has rallied and offered to complete this phase of the project by providing doors, windows and floors.
The remaining three blocks are all under construction. Block two contains four classrooms - walls and roofs were completed this summer! Block three has a complete foundation for all four classrooms and bricks have been purchased for the walls on these rooms - to be completed very soon! Block four foundation is underway currently and plans are set for the cement to be poured before the rainy season sets in.
Together, our co-founder Lucas, our intern Katy and I spent time working with village leaders to ensure that everyone is aware of the complexity of village development and the need for collaboration. We highlighted challenges that had arisen over the year and acknowledged the efforts made by supportive community members. I spoke to them during a meeting - giving a 'speech' in Kiswahili that you can view on our site. In this talk, I emphasized the importance of their continued support and the value this school will have on their bright, enthusiastic children. It was well-received and served to strengthen our shared commitment to the project.
Lucas came into his leadership role with Project Wezesha because he was motivated, invested in children's education and proficient in English. His training for leadership was non-existant; but over the years through his work with Project Wezesha, Lucas has learned how to assert himself, keep a budget and conduct meetings with leaders who are often his elders. This summer, we identified some significant mentors in the town leadership who gave Lucas invaluable insights about conducting business and fighting corruption. It has been remarkable to watch him develop in this role and of course, without him - Project Wezesha would not exist.
On behalf of the villagers whose children will attend Amahoro Secondary starting January 2014, the leadership who value your support and Lucas, who has grown as a man and leader in his community, I want to say - without you, none of this would be possible! Asante sana (thank you very much) - you make all the difference.
With gratitude,
Rai Farrelly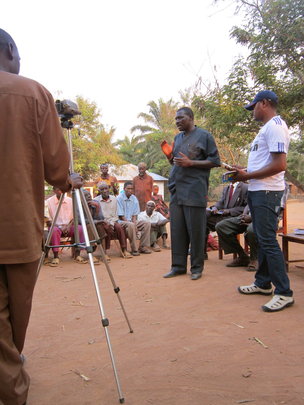 Links: