Thanks to the generous people who believe our project is progressing positively and for helping out our youth in grading themselves as skilled trainees.
This project has provided excellent educational opportunities to the growing youth for holistic growth and development, which will put them on the path toward breaking the pervasive cycles of poverty and also have bright future in their career.
Once again we thank Global Giving for the incredible support. To work it out the task among rural youth with even more aspects effectively.
Hopefully, trusting your support, for the upcoming days....
True Story :
Kubenthiran's father has bedridden the family for a year. Since that period onwards his mother took care of their family. She earned daily wages as an unskilled labour. As though in the hardship, she tried her best to support his son education along with his father's medical treatment. Day by day, the circumstances seem to be worsening. On that particular situation, SPPD team advice, which on the contrary diverted his interest towards pursuing a skill, and the opportunities that are available just at his reach.
"I am thankful to the people supporting this programme, and the opportunity it has given me for training. In a couple of months, I will be a certified trainee, with which I can seek my career in prestigious hotels. Wherever I am in life I will remember the education I have obtained from this training here – I will hold onto it."
We are grateful to all our donors who have accompanied us in this journey by contributing their hard-earned money in supporting these youth to acquire skills.
STRENGTHEN THE LIFE TO BE HAPPIER
We have been uplifting the life of HIV/AIDS affected parents and begotten children to be healthier by the support of donors. The nutritional packs which we provide have an effective impact and help their body to response for their treatment.
Physical traumatic of HIV/AIDS parent are helpless for the source of income. The Nutritional diet lends a hand to increase the duration of life and to be stronger . Therefore we are eagerly seeking the support of donors; to bestow much more effective impact to live a life secure and without hassle.
TRUE STORY
Vivek (name changed) is studying 11th grade in the Zamindar Higher Secondary School at Thuraiyur. He has a younger brother who is studying 10th class. His father Tharman (name changed) is infected with HIV and he has been undergoing treatment at the Government Hospital, Trichy for the last 10 years. Fortunately none of the other family members are infected. The children of the family are getting profited from the interventions of SPPD since the year 2010.
Vivek's (name changed) father owns a small tailoring shop with a single sewing machine. In the monthly nutritional kit he gets a package comprising of 30 litres of milk, eggs 30 nos., green peas 1 kilogram, pigeon pea 1kilogram, Nutritional drink (Horlicks) ½ KG and Datefruits 60 pieces. According to the family members of Vivek has been greatly benefited by the nutritional supplement provided by SPPD all these years. This has gone a long way in keeping the CD4 count on a good level of him with the nutritional supplements.
This has ensured Vivek to be free of any major opportunistic disease. The family members say that considering the poor income of the family, but for this monthly provision of nutritional items, the health and the continuation of education of Vivek would have been in jeopardy. And hence they thank the Donors who have made in possible through GlobalGiving and SPPD profusely.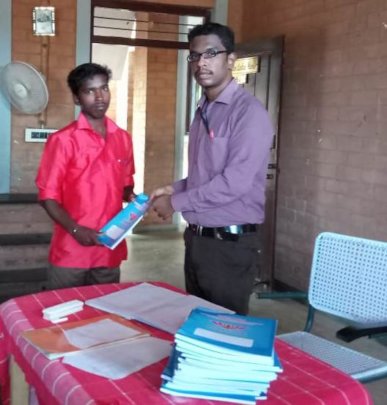 Your contribution to our project through Global Giving has a huge impact on the educational support for the rural children of our locality at large. We see this as a new beginning and believe more progress is possible which upshots a future full of promise and hope.
We take this wonderful opportunity to sincerely thank you for your continued support in this project (Educating for 100 poor rural children in India). Your kindness and generosity has enabled to reach out to the students who are in need of our help.
Through our programme we have been able to reach this targeted population, poor, less educated, early school drop outs to progress and change their standard of living in this society.
For the academic year 110 youth are been enrolled to hospitality courses. The funds raised so far through the Global Giving platform have helped us provide students with free lunch, travelling allowance and their required educational material.
True story
Manivasagam's father passed away when he was three years old. Her mother is working as a labour for a daily wages. His sister is in grade 9. His mother is the breadwinner of the family. Due to financial short comes; Manivasagam was demanded for early employment to support the family. In spite of their hardships his mother was interested in educating her kids.
"I was very interested in pursuing Hospitality Course but the only drawback was the distance from my residence to the institution which I felt will be an added burden to my parent. The orientation given by SPPD team, "Earn while you study" had drawn my interest to this institution, and now I'm pursuing Hospitality Course.
I'm thankful to the donors for their support. The free lunch, travelling allowance and educational material support offered has considerably lessened a part of the educational expenses to be met out by me," says Manivasagam.
WARNING: Javascript is currently disabled or is not available in your browser. GlobalGiving makes extensive use of Javascript and will not function properly with Javascript disabled.
Please enable Javascript
and refresh this page.