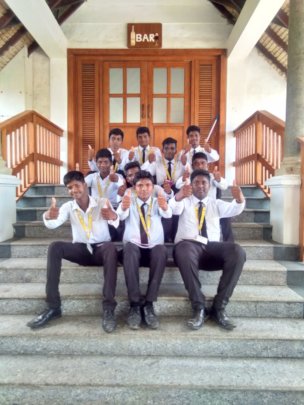 Your contribution to our project through GlobalGiving has a huge impact on the educational support for the rural children of our locality at large. We see this as a new beginning and believe more progress is possible which upshots a future full of promise and hope.
For the academic year 198 youth are been enrolled to hospitality courses. The funds raised so far through the GlobalGiving platform have helped us provide students with free lunch, travelling allowance and their required educational material.
True story
Name of Student: R. Damodharan Age: 19 yrs
When he was hardly two years old his father had passed away. His relatives from his paternal side had driven away his mother and his younger sister from the house where they were staying. His mother Dhanalakshmi was left alone to take care of his baby sister and himself. His mother took it in to her strides by staying in a small rented house and managed the family with the income she could make as a tailor. Maintaining the family was very hard for his mother as the income was very minimal.
Upon Damodharan completing his school final of 10th class, a women SHG member belonging to the village recommended him to take up the course in Hospitality. For this extremely poverty-stricken family the free lunch provided at the institute, uniform set and travel reimbursement all had proved to be God sent. During the first year of the course Damodharan got opportunity to work as intern at a star hotel at Mysore. Similarly, he worked as an intern at a reputed hotel in Kerala as well.
Thus, apart from the such above mentioned helps the stipend earned by Damodaran went a long way for the family to make up for the fees paid for the Institute. Hence his mother along with his sister want to convey their gratitude to SPPD and GlobalGiving for this big help. His mother says proudly that while many of the school mates of her son are still either studying or jobless, but her son has had the wonderful opportunity to come up early in his life.
Name of student: S. Manikandan Age: 20 yrs
Manikandan belonging to the village of Thathampatti is studying 3rd year of Bachelor's degree in Hospitality trade. Their family consisting of his parents and his younger brother are residing in a small tiled house. His father was working in a teashop in his village earning meager income. To add to their woes, his father had developed varicose veins which is an occupational hazard afflicting person having to stand for long periods of time. His father being a worker making tea, he had to stand for long time and hence had suffered the condition. Together with this, his father's alcoholism had led to pancreatitis. Due to these conditions he had to quit job and remain at home. Hence during the last couple of years, only Manikandan's mother had been single handedly taking care of the family with the little income she could make by taking up the odd jobs in the village.
Under these circumstances, his mother got him enrolled to hospitality course. During the last 3 years of his course, Manikandan has had the opportunity to do internships at reputed hotels in places like Kerala, Coimbatore and Tirupur. In this final year of his course the hotel at Tirupur, where he had been doing his internship absorbed him as a full-fledged staff member during the internship period itself by offering him salary of Rs. 8500/- per month instead of stipend. He is given the privilege of taking leave to fulfill the mandatory academic obligations to complete his Bsc. Course.
Manikandan's brilliant performance during internship has ensured this position. Now with the money earned by Manikandan, her mother has been able to take care of not only his course fees but other expenses of the family including his father's medical treatment. And hence his mother and Manikandan profusely thank GlobalGiving and SPPD for enabling their family to attain such far better financial position.