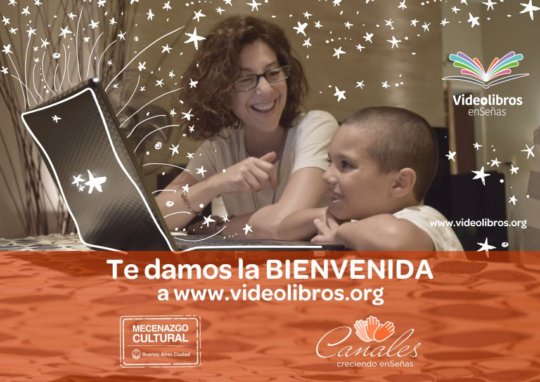 Videolibros.org is being renewed so that more and more deaf children can access children's stories.
Come and visit us!
In this new stage, Videobooks seeks to welcome children and youngsters from more countries by including books read in different Sign Languages more titles in Argentine Sign Language and above all, a more personalized experience. These three goals have been achieved by a change of image and the design of a new platform that has been elaborated by the team of deaf and hearing working together in Canales Asociación Civil.
The new webpage is much easier to use and it lets users participate by rating the stories. It includes the possibility for users to select a book through categories in order for readers to concentrate on the topic they prefer, and it also offers some activities that are recommended for children after reading. Access is totally free and open to those registered at www.videolibros.org.
Registered users now can collaborate with the platform as their tastes, opinions and the way they make use of the Videobooks will influence the expansion of the project, which means that they are somehow participating in the future design of this videolibrary. They can also easily share the stories on social networks and invite others to participate.
In addition, other Sign Languages have joined the library: 10 books in LSPy (Paraguayan Sign Language) and 4 in LSU (Uruguayan Sign Language) as well as 10 new books in LSA. In this way, deaf children of Paraguay, Uruguay and Argentina will be able to access literature, compare the different sign languages and share the stories with hearing people, since the Videobooks have voice-over in Spanish.
The Videobooks' project was declared to be of cultural interest by the Government of the City of Buenos Aires (Article 12 - Annex of Decree No. 886/07), acquiring a new impulse that it also made possible to carry out an impact evaluation of the sign language stories in the educational environment, and a communication campaign in Argentina.
To develop and produce the Videobooks in LSPy, the Videobooks creators worked together with a team of deaf people and interpreters of LSPY- Spanish, well versed in the language and the deaf culture in that country.
In the case of Uruguay, the Canales team also joined a team of deaf and hearing people from that country, who participated in a multi-day training workshop on how to develop accessible materials.
Videobooks plans to continue incorporating books into its videolibrary to fulfill the right of deaf children to access literature in an accessible language.
Why is this project important?
For the majority of deaf children, no one tells them stories in an accessible language, as the hearing people around them (relatives and teachers) do not know sign language.
More than 90% of deaf children have hearing parents who do not know the sign language of their country; this is the main barrier to the natural development of their children's language.
Early acquisition of sign language favors the learning of a second language (the language of the surrounding area, in this case Spanish) and access to written language.
The main obstacle to the development of abstract thinking is the lack of a natural language in the first years of life.
If deaf children do not develop a language, they are excluded from access to information.
Deaf children need to be in touch with deaf adults to develop their identity and feel respected.
If deaf children access reading in their natural language, with the help of adults or other children, they will have better opportunities to be readers and greater access to information.
Sign languages are not universal: each country has its own. In addition, sign languages are unwritten, which means that for a deaf person, learning to read and write implies doing it in another language.
If deaf and hearing people share the same literature, it strengthens the bridges of mutual knowledge and respect for each others' cultures.
What si Videobooks?
www.videolibros.org is a free and open Internet site where deaf children find books read by deaf people in sign language, their natural language. In this way, children are not excluded from access to literature and from the pleasure of reading. The videobooks have voice-over in Spanish so that we can all share the same readings.
Important figures:
o In Argentina there are approximately 950,000 deaf people of whom
95,000 are under 20 years old (2010 Census).
o In Uruguay there are 25,771 deaf people (according to the 2011 INE Census.)
o Paraguay's Deaf Center estimates that there are between 30,000 and 70,000 deaf people in the country. The country does not keep official numbers on this.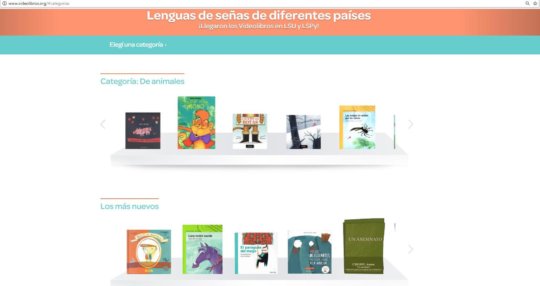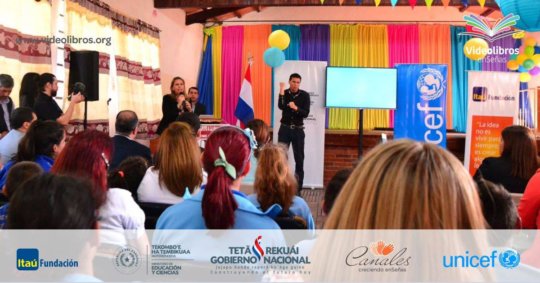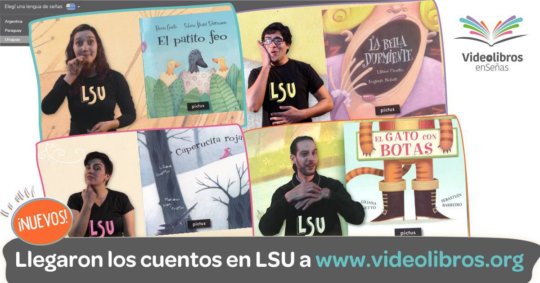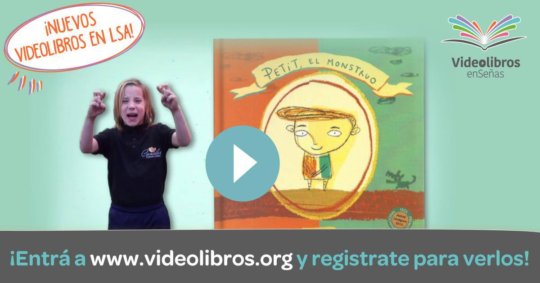 Links: