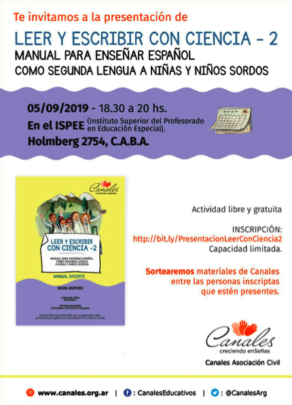 A printed text for teachers, colorful illustrated activities for children that can be projected or printed, videos in LSA recorded by deaf people and ICT activities, all in one.
We are launching the first textbook to teach Spanish as a second language for deaf children. The book contains 6 units designed for children to learn Spanish through different types of activities as shown in the pictures.
"Reading and writing with science 2" was created to accompany the literacy process of deaf students in the third and fourth grade of the primary level. It is an innovative material that continues the series initiated in 2017 by Canales Asociacion Civil to teach Spanish as a second language, with a communicative approach and through the use of Argentine Sign Language.
The first textbook was based on the field of arts: circus, photography, drawing, mimics, etc. This time, the textbook is organized from the sciences field. It includes six units of graduated and progressive complexity, which describe different moments during a camp carried out by a group of deaf students in southern Argentina as a year-end trip.
These girls and boys need to understand an unknown geography and to find answers to the natural phenomena they observe in the environment. They interact and investigate through experiments and a series of texts, questions such as why the sky is blue, where is the sugar that I put in my coffee that I can't see, why is there wind, whether or not there are hot water rivers and much more. In the exchanges, they acquire the necessary linguistic tools to integrate the everyday language to interact and the specific scientific language in order to access the curricular contents demanded by schools.
This innovative textbook will be officially presented September 5th In the Auditorium of the Professorate of Special Education.
Thank you for being part of it!!