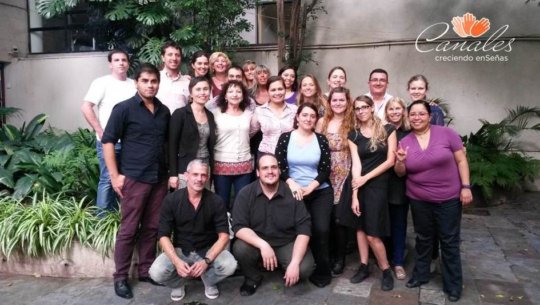 We have been invited by UNICEF to work on accessible educational materials for deaf children
The Videobooks reached many parts of the world and became referents for the realization of other educational materials for deaf children. We are proud that an institution as renowned as UNICEF has called us to present our books in Sign Language as a model for the development of accessibilty for deaf children.
The invitation is part of an initiative by UNICEF for the production of accessible formats of the manuals children use at school for all disabled children. The main objective is that all children, regardless of whether they have a disability or what type of disability they have, have access and use the same reading materials as all children.
The "Universal Design for learning materials through digital textbooks accessible" program, is an initiative led by UNICEF to establish guidelines for the production of digital textbooks that are accessible to children and adolescents who are blind or visually impaired, deaf or hard of hearing, that use a second language at school, or children who have an intellectual disability and / or learning difficulties.
This year, UNICEF requested to Canales the organization in Buenos Aires of a meeting with deaf education experts, representatives of the deaf community and sign language interpreters of Paraguay, Uruguay, Mexico and Argentina. The meeting lasted 3 full days in which 20 people worked to develop a protocol that serves as the basis for the realization of educational manuals in different sign languages.
Last August, we participated in a meeting in New York organized by the department of disability at the central headquarters. The goal was to share the results of the meetings held in Buenos Aires for deaf children, in Uruguay for blind and low vision children, in Brazil for children with intellectual disabilities and learning problems and in Paraguay for children whose first language is Guarani. In this meeting also participated people of the Unicef office in NY, people Inclusion International (Canada) and India.
Why is this project important? Because based on this protocol we are going to be able to produce accessible and quality educational materials for all children with disabilities.
What are the characteristics that must have an educational material for deaf children?
It must be respectful of sign language grammar, the content should not be simplified, and above all, the same deaf people should participate in its production.
This is another step we are taking in Canales for deaf children in Argentina and around the world to access books and literature!