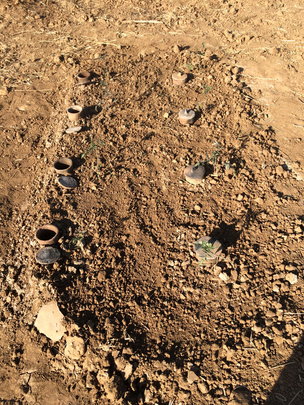 Dear supporters
Your support of the Victory gardens project is developing an wider intereste that can potential be useful to upscale it to a wider application and diffusion. The Mater thesis on the use of clay pots that was inspired by the project has become fruitfull.
Amanuel Gebru has been a volunteer at out victory gardens project in Ethiopia. He was inspired by the concept of the Victory Gardens project because he saw the potential transformative ability of the concept of using water filled buried clay pots as efficient irrigation technologies to grow fruits and vegetables in the dry-lands. The technology helps communities to produce fruits and vegetables and lead to food and livelihood security. As last reported the volunteer was admitted to the Masters Program at the Ethiopian Institute for Climate and Society at Mekelle University.
Amanuel decided to contribute to the idea of the project by choosing his MSC thesis on the design of locally made clay pots (bar-shaped) and economic potential to grow vegetables. The title of his thesis is "Evaluating water and economic productivity of bar shaped clay pot irrigation technology under small scale Swiss chard, pepper and tomato growers' condition in northern Ethiopia." He has now completed his thesis and successfully defended it on June 14th, 2015.
The objective of his thesis is "to assess the yield response, water productivity and economic performance of a bar shaped clay pot design for selected vegetables". The specific objectives have been "to compare the yield and yield component responses of bar shaped clay pot sub-surface and furrow irrigation system by comparing the water productivity of bar shaped clay pot and furrow irrigation and to compare the economic performance of bar shaped clay pot irrigation and furrow irrigation application". Amanuel's field site was in a plot located at Mekelle University and harvested vegetables multiple times in a year and collected detailed data to compare the productivity of clay pot irrigation and conventional watering system on crop yields as well as water saving.
The planting procedure used was vegetable seeds and seedlings were planted at "0.05 m apart from the wall of the pots in both sides in the case of Swiss chard and one side of the pot in pepper and tomato. The furrow has also its own dimension and it was similar in both tomato and pepper that is 0.2 m width of lower furrow and 0.3 m upper width and the plant was placed at an average 0.25m. Whereas 0.1m width of lower furrow and 0.2m upper width of the furrow then seed were dropped at 0.15 m width of the furrow in the case of Swiss chard." Here are the findings of Amanuel's research research.
The yield increased in clay pot by 51%, 32% and 30% in Swiss chard, tomato and pepper respectively.
Water saving capability was 40.55%, 41.74% and 41.18% in Swiss chard, tomato and pepper respectively
Water productivity of bar shaped clay pot was 10.9 kg/m3, 4.17 kg/m3 and 1.83 kg/m3 in Swiss chard, tomato and pepper correspondingly that is by far superior than furrow irrigation practice
Economic return of clay pot in Swiss chard with net benefit of 374,761.8, 226,066.2 in tomato and 182, 846 Ethiopian birr in pepper and this was much higher than the net benefit from furrow irrigation practice after six season harvest by forecasting
This is very important for the diffusion of the technology with multiple effects. The clay pots for the research were made by a local rural woman. The findings are great confirmations to the extension community and development agents to share with farmers to improve their income and diversify their family nutrition. We would like to thank you
Amanuel's main advisor was Dr. Araya Alemie of Mekelle University and the research and Amanuel's study was funded by the Rockefeller Foundation grant. He is also gratefull to Dr. Amanuel Abraha, Director of the Ethiopian Institue for Climate and Society for his support and leadership.
Again, thank you for your usual support.