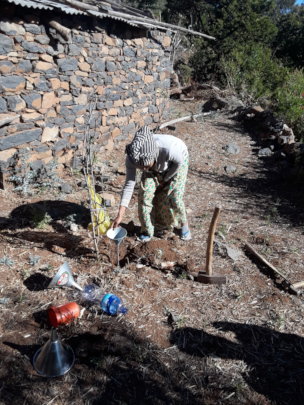 Dear supporters and partners,
As promised, I spent some time in the village in the first two weeks of January 2020. I returned to the village after a couple of years. Funding constraints had slowed our project activities. The plants in the demonstration project are still surviving but I observed that they needed more care. The teacher who used to live there and cared for the trees had moved to another location. One of the roof water-harvesting systems has been wrecked and needed repair. However, the concrete surface water harvesting system was made by the people to gather water from the roof instead of the surface. The people used local skills to connect the roof with the reservoir (see picture).
Despite our absence, I was not disappointed with what I saw. Many participants have cared for their apples and others have included other fruit trees. There are pomegranate, lime, and guava in the backyards of some participants. Ato Haile Mariam's homestead has many fruit trees and has built a water harvesting system. The reservoir was full of water when I arrived. Others have incorporated such vegetables such as cabbage and tomatoes. Ato Haile Mariam is an exemplary leader and we awarded one hand pruner.
Discussions with the community showed a high demand for a more focused and bigger water harvesting system and additional seedling and seeds. I distributed seeds that I took from Boulder and it was not enough. We are planning to travel to the project before the rainy season in the summer and plan an effective upscaling of the project.
During the recent trip, we demonstrated the potential use of funnel direct root irrigation system. The clay port irrigation system is shallow, and the funnel direct root watering system will help the trees push their roots deeper and grow. We also demonstrated the potential to harvest moisture from the air using metallic funnels during the months when the air precipitation is high. We learned from the people that air humidity is high during the dry months of October, November, and December due to moist air coming from the red Sea. We will have a chance to make the experiment next year.
We also learned that success has its enemies. We were told that monkeys and scourers are eating the matured apples to the disappointment of the growers. They can't kill the wild animals because they are protected and we have to find out how they can protect their fruits from these animals.
I sincerely appreciate your support. If it was not for your continued contributions, the project could not have been sustained. The current support from GlobalGiving and its partners is a testimony of your financial support.
Again, thank you very much.