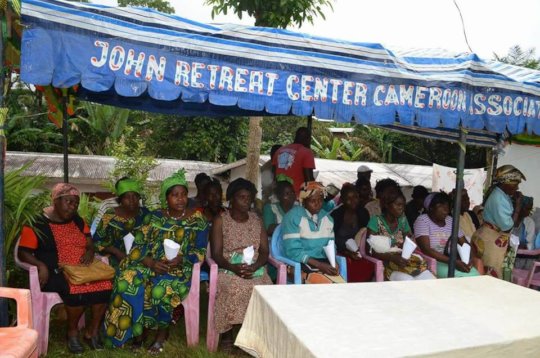 HIV/AIDS Project update Report by JRCCA President
Updates from the field
By Gideon , Celine , Will, Valery , Project Team Members
HIV/AIDS Project
February 11, 2019
Good day and I hope that this report will meet everyone in good health and spirit. The purpose of this report is to update donors on our efforts to implement our HIV/AIDS mobile project in the Zang Tabi Taah, Meta Mbengwi North West Region in Cameroon, Africa for the people within 28 villages in the remote jungle area in Meta Cameroon in which family members, teenagers and children are suffering from the horrific effects of HIV/AIDS.
Sadly, we have to report at this time that the military conflict in the NW and SW Regions in Cameroon continues to make it unsafe for our team to implement our mobile health unit in the area of Zang Tabi Taah, Meta Mbengwi North West Region in Cameroon, Africa. Our team had to abandon our work in the area and evacuate to an undisclosed safe area outside of the Meta area. The JRCCA health team has continued to be inspired and determined to provide basic HIV/AIDS health care and training while on the run and in hiding from the military conflict. We are committed to assist the families to reduce the impact of HIV/AIDS in our villages and communities. Several of our Health Team members had to leave their homes with only clothing on their back during the night. Working in the area with the on-going military crisis is unsafe for our health team at this time. While in hiding we are maintaining basic health care for our displaced families.
Despite the danger of traveling in the region we have been informed that Nancy Azah and her husband Njong who were killed during this crisis will be replaced at the hospital and we will be able to continue to collaborate with the hospital to provide services for our clients in rural areas in the future when the crisis is over.
.
The Cameroon Medical Council says, due to the ongoing conflict, the exact number of medical staff who has fled the two volatile regions is unknown. More than 300 civilians and security forces have been killed in Cameroon's English-speaking regions since 2016, when separatists launched their drive for an independent state they call Ambazonia. The United Nations says at least 200,000 people have been internally displaced in the conflict and tens of thousands have fled to neighboring Nigeria as medical staffs abandon hospitals in Cameroon's troubled region in a report by Moki Edwin Kindzeka.
On August 28, 2018 we succeeded in moving families and health team out of the deep forest in Zang Tabi Meta NWR to an undisclosed site where they are safe from the gun shots but are facing other adversities living in a foreign area in their native, Africa.
The health team reported on their Education training and awareness on JRCCA HIV/AIDS Project conducted on December 15, 2018. JRCCA Team in Yaounde on the run held an educational training class led by Madam Valery on HIV/AIDS Education and Awareness. Presentation started with word of prayer by the President and followed by a welcome and introduction of Valery one of the
JRCCA Health Committee team member in charge of JRCCA HIV/AIDS project.
Who thought us on the definition and how to prevent it and stay healthy? Valery then thought the team about the definition of HIV/AIDS . She defines it as Acquired Immune Deficiency Syndrome. She said HIV is the virus and Aids is when the antibodies are infected. She stated that the first step to train people who go on the field and educate the people to know their status and decide. Once clear, it should be avoided by all continuous educating the people and conducting annual check. She was assisted by Madam Will and Madam Comfort who are both members of the health committee. It was agreed that they will be conducting their training while on the run so as to prepare and trained personnel, put their plan together on how to implement when the they returned to Zang Tabi Taah Meta villages where the HQ is located after the crisis is over.
Present at the Meeting where:
Comfort
Loveline
John
Ruben
Will
Richard
Ruth
Rose
Meanwhile our Staff from the field indicated that is still not safe to return to Zang Tabi where we will l conduct our training of staff that will assist in the sensitization, education and assist victims or affected. In the meantime, while on the run we are continuing our training while celebrating Thanksgiving, Christmas, New Year, we also plan our meetings, visiting and working with groups and communities in Yaoundé.
We also continue to pray for peace to come and received those who come to visit us and listen to our plights like Patrick, Patricia, Beatrice , Walters, Mundi , Charles etc.. More updates to come. Our challenges are many but we are thankful to God for our sister organization JRFIUSA and the many good people out there who are praying for us and providing us with the sustainable support that make us continue our humanitarian efforts today and after this is over so we can return back to working with our communities in the Jungles of Meta that are in dare need of our services and efforts.. God bless you all.
Report submitted by President Ma Comfort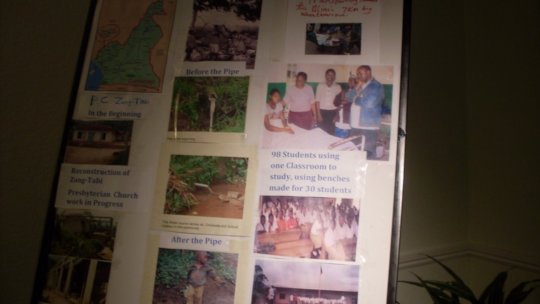 Attachments: