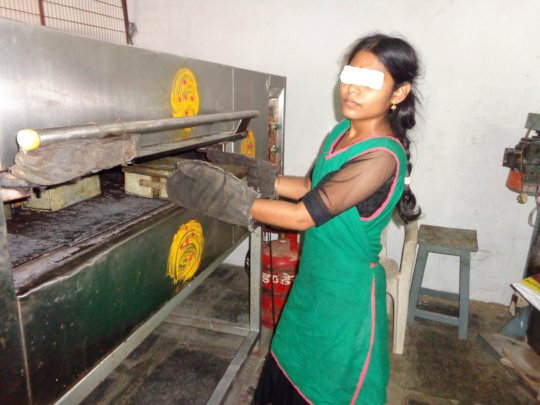 Thank you so much for all your support so far and we will be keeping you all updated with the progress 17 year old Rani worked at a Spinning Mill in Guntur Dist, to supplement the income of her poor family. While working their she befriend Krishna, a boy who stayed in the neighborhood of her workplace. Krishna tricked Rani with a lucrative job offer and brought her to Prakasam Dist.
She was sold for Rs. 20,000 to a brothel keeper in Markapuram. Rani could not comprehend the quick chain of events & the consequences, but eventually felt that she had reached a point of no return. When she had lost all hopes, one sunny day, after about seven months of living like a sex slave, she was rescued by the Police.
Today Rani has learnt skills like Jute bags and Bakery Products making at Asha Sadan and is waiting for her home placement order. She wants to go back home and start life afresh….
"Many days of my life have already gone by," says Rani. "But now I want to do good work in the time that's remaining."
Rani is motivated to succeed thanks to your compassionate support. She is willing to overcome her unfortunate circumstances to provide a better life for her and her children.
Thank you for changing her life.
*Rani's identity has been changed to protect her and to keep her safe
14 years Chandrika (name changed) was trafficked from a village in East Godawari dist, when she was barely in her teens. She was forced into prostitution at Annavarappadu in ONGOLE, when she was 14, by the Madam, whom she was sold to. She was rescued from the inferno, by a dynamic police officer, who is her "godmother" today, when she was 15. Initially, after coming to Asha Sadan, she could not control her emotions and had waged a single handed was against the whole world around her. Gradually, she changed herself. She has done vocational trainings in Bakery & jute bags stitching in our rehabilitation home. She had deposed brilliantly at Court, as a witness and her trafficker was punished…….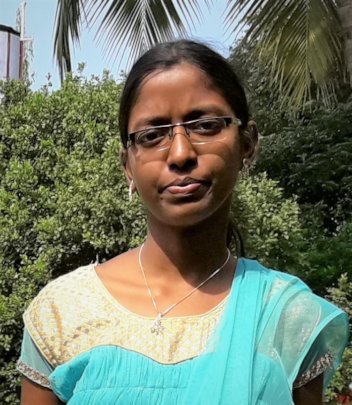 Sravani ,pictured here, is a sixteen years-old girl who has benefitted from the services and activities offered by the project.
Sravani ,who belongs to Chirala of Prakasam Dist, lost her parents six years ago when she was 8. Her mother was a sex worker when she was alive. Sravani has two younger brothers. One of her relatives who is a daily wage labour has nourished these children for some time. He couldn't feed them no longer. Sravani also started working as a domestic child labour to provide her brothers with food. A volunteer from the area has reported this issue to HELP-CHILDLINE 1098. HELP-CHILDLINE Team rescued the girl along with her brothers joined in Asha Sadan home run by HELP Organisation, with the order of Child Welfare Committee. ASHA sadhan admitted Sravani in local formal high school for continuation of her education in English medium. She passed 10th standard with flying colors securing 9.8 grade points in 2018. Subsequently, Sravani was joined in the Intermediate 1st year (10+1) at Residential College near Ongole. She emotionally balanced and mingled with rest of the children in the college and enjoying her education with joy.
Now I am very happy and fully concentrating on my education. I would like to complete Engineering and settles in Job. The life skills training provided by HELP-ASHA SADAN helped me a lot in developing my self esteem and resilience power to face any challenges in the life. I always remain thankful to HELP-ASHA Sadan and it's supporters for giving me a new life of joy and hope in my life. Thank you so much - Sravani.
WARNING: Javascript is currently disabled or is not available in your browser. GlobalGiving makes extensive use of Javascript and will not function properly with Javascript disabled.
Please enable Javascript
and refresh this page.