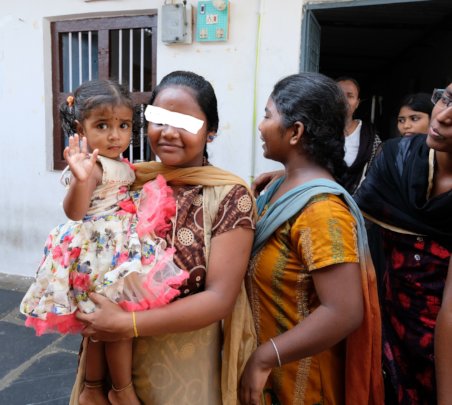 At the outset, we would like to extend our cordial gratitude for your generosity that prop up the distressed lives of individuals towards a dignity of life who indeed felt "It's really an expedition from dusk to dawn for me" says Divya*.
Divya wish to shape her future with the helping hands of the people like you where she could cope up with the challenges and pave a way forward with a spirit of optimistic hope towards fulfilling her dreams. She wish to utilize the resources auspiciously offered by you and make her best efforts to stand on her own with courage and confidence.
Divya never expected that she entangles in such a vicious cycle believing the false promises by him who finally through in to a nebulous fate without her knowledge and conscience. Further, she never expected that her destiny demands her to sell her body for sustaining herself and her child who indeed innocent with blossom childhood.
She married at fourteen and her husband left her after five years when she given birth to her second child. No choice to be the bread winner for her children. One of the tenants named Babitha at Chilakaluripet influenced Divya to make money investing her body and earn to keep concern over her children and her life.
After sometime, Divya rescued from brothel and referred to our HELP run Asha Sadan Rehabilitation Home for basic needs, trauma counseling and to learn skill training as part of rehabilitation services. She is trained in making jute bags in home that motivated her to leave out of the sex work. Now, she could enjoy the joyful days she is being spent in shelter home and accelerating a step forward towards a bright light of her life because of your immense support.
Divya expressed her deep hearted gratitude and wish to remain so grateful to GlobalGiving with its donor who supported her for a great positive change in her life.
We will let you know the further progress. Thanks a lot for your SUPPORT in changing lives.
* Divya's identity has been changed to protect her and to keep her safe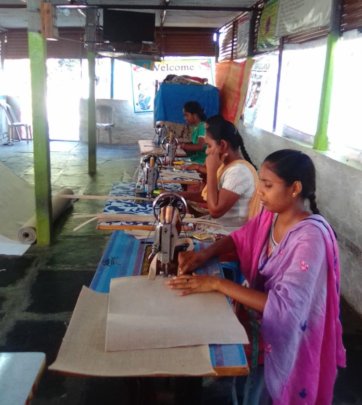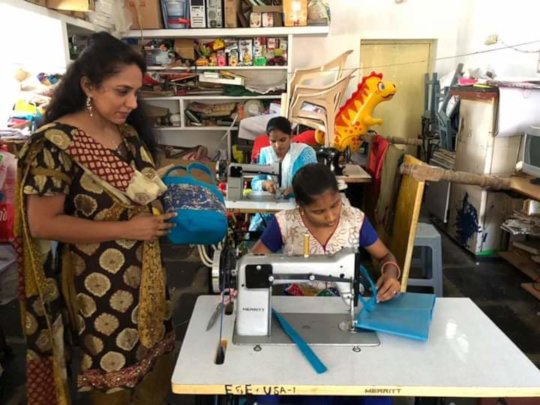 "Many days of my life have already gone by," says Madhavi. "But now I want to do good work in the time that's remaining."
18 year old Madhavi was married off to a much older man at her age 15, who already had a wife. She tried her best to adjust into her "so called" marital life, but failed. She went back to her father, who refused to take her in. She came back to the nearest Railway Station, where she met a decent looking stranger, who upon hearing her pathetic story, offered her a job as "domestic help" in Madanapalli. Madhavi had no choice, she agreed to the proposal. Once in Madanapalli, the man sold Madhavi to the flesh traders. She was subjected to various forms of sexual violence, over there. However, one day a client of her, who had sympathies for her, helped her to escape from the clutches of her "madam". She was taken to a Police Station and was sent to Asha Sadan eventually under judicial orders. She had both physical and mental health problems, it took her a considerable period of time, to come back to normalcy. She had learnt "embroidery" & "Jute Bag making" and looks forward to a decent future……
I always remain thankful to HELP – Asadan and it's supporters for giving me a new life of joy and hope in my life but now I want to do good work in time that's remaining. Thanks so much – Madhavi
* Madhavi identity has been changed to protect her and to keep her safe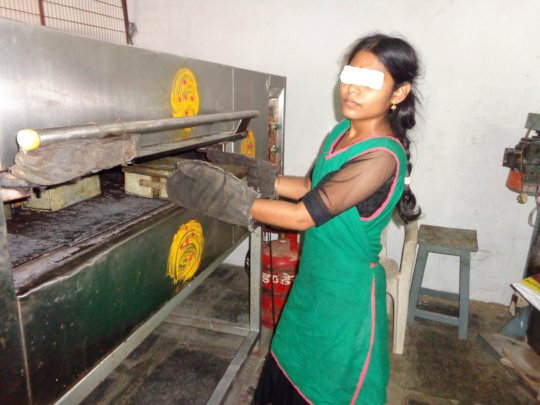 Thank you so much for all your support so far and we will be keeping you all updated with the progress 17 year old Rani worked at a Spinning Mill in Guntur Dist, to supplement the income of her poor family. While working their she befriend Krishna, a boy who stayed in the neighborhood of her workplace. Krishna tricked Rani with a lucrative job offer and brought her to Prakasam Dist.
She was sold for Rs. 20,000 to a brothel keeper in Markapuram. Rani could not comprehend the quick chain of events & the consequences, but eventually felt that she had reached a point of no return. When she had lost all hopes, one sunny day, after about seven months of living like a sex slave, she was rescued by the Police.
Today Rani has learnt skills like Jute bags and Bakery Products making at Asha Sadan and is waiting for her home placement order. She wants to go back home and start life afresh….
"Many days of my life have already gone by," says Rani. "But now I want to do good work in the time that's remaining."
Rani is motivated to succeed thanks to your compassionate support. She is willing to overcome her unfortunate circumstances to provide a better life for her and her children.
Thank you for changing her life.
*Rani's identity has been changed to protect her and to keep her safe
WARNING: Javascript is currently disabled or is not available in your browser. GlobalGiving makes extensive use of Javascript and will not function properly with Javascript disabled.
Please enable Javascript
and refresh this page.