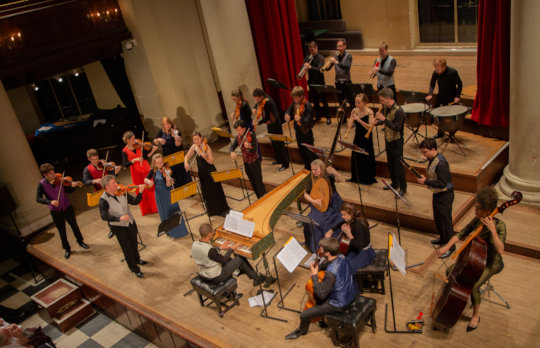 Dear Supporter,
Thank you for your generosity in supporting La Serenissima's Artist Relief Fund. I am delighted to say that we have raised more than £10,000 to create the fund through the support of our GlobalGiving crowd and from other donors who have donated directly to La Serenissima. And thanks to monthly donors and others, the fund is still growing.
As you may remember, when we launched the campaign, we did not know the scale of the closures to public-facing activity and we also didn't know what the Government's response to the crisis would be for the self-employed. All our team are freelance and so we needed to prepare for the event of there being no support for the self-employed. Happily, the Chancellor's package has helped our team through the months of March-May and will do so (to a lesser extent) for the months of June-August 2020. This has meant that so far, no one has needed to apply for a hardship grant from the fund.
However, we anticipate that all of our remaining concerts in 2020 will be cancelled or postponed (although we haven't had confirmation of this yet) and the outlook for performing in large groups in public is bleak whilst social distancing is required. Consequently, we anticipate that many of our musicians will need some kind of grant from the Artist Relief Fund during the Autumn or early part of 2021 if they are to survive the impact of the pandemic.
Consequently, we continue to invite support to the fund in the hope of it growing over the coming months. We have created a LS Players' Committee to inform decision-making around the Artist Relief Fund and to help us keep in touch with our wider group of musicians about how they are coping with the situation.
As one of the UK's performing arts organisations who are not a National Portfolio Organisation, we must await news from Arts Council England to discover how we may be able to benefit from the Chancellor's recently-announced Arts rescue package. This support will be crucial to enabling La Serenissima to weather the impact of Covid-19 beyond the Autumn. If you wish to make a donation directly to La Serenissima to help us keep going, please email camilla@laserenissima.co.uk as we would be hugely grateful for any additional help you can give. We are hoping to create new recording projects to provide work for our team and keep La Serenissima's music available to audiences whilst we can't play in public.
In the meantime, please keep an eye on our website which will be upgraded soon and consider signing up to receive our newsletter if you haven't already. Our new album Extra Time will be released on 31 July and features music by Albinoni, Brescianello, Matteis The Younger and Vivaldi. You can follow Adrian's daily editing challenge through our social media channels too.
Thank you for your support. Everyone at La Serenissima is very grateful.
With our best wishes,
Camilla & Adrian
Links: