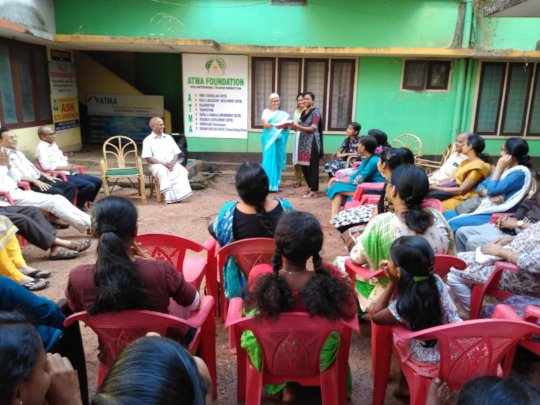 "Our duty is to do more than protect these girls – we should strive to empower them, help them stand on their own feet, holding their head high and holding out their hand to support others around them", C K Suresh, Director of ATMA Foundation had this vision for his team when the ATMA Gurukulam Girls' Home was started in 2012.
And it was a success achieved, when Swarna Devi, our senior-most girl at ATMA Gurukulam, cleared the 4 year BSc Nursing programme with flying colours.
Swarna was an average student, who cleared her 10th exams with reasonable grades, and opted for the science stream. Compassionate and helpful by nature, and guided by the career counselling sessions at ATMA Gurukulam, she chose to pursue her interest in nursing. After completing Plus Two, she got admission into the prestigious Govt College of Nursing, Thrissur.
Now, after 4 years of committed and consistent efforts, she has achieved another milestone for herself and for ATMA Gurukulam – she has become the first professional to qualify from ATMA Gurukulam. She is soon to start her one-year internship in the medical college, after which she will be seeking employment as a full-fledged staff nurse.
Ever the dreamer, she has set her eyes upon a lucrative nursing career in the govt sector, and is preparing in full swing for the exams and interviews.
As we share this joy with all our well-wishers and donors, and the GlobalGiving team, we look forward to creating more success stories, brighter futures and happier lives!