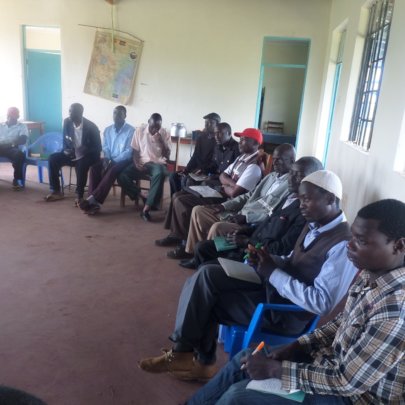 Program activities 2018-2019 fiscal year
Program Number of Trainings Male Female People living with disabilities
HROC Basic 42 412 427 1
HROC Advance 1 10 8
AVP 15 184 116
Civic education 11 710 390
Community Dialogue 3 113 97 2
Mediation 2 12
*****
Report on recent workshops
Type of The Training: Alternatives To Violence Project (AVP) basic Workshop
Dates: 14-19/10/2019
Place/Venue: Nomorio Kapsokwony
Participants: male 21 Female 22 Facilitators 3
Workshop Description
Violence is now an epidemic. It's no longer just an inner crisis but it has become a major concern for all communities especially Mt Elgon. Young people are more commonly using violence as a solution to their problems and think very little of the consequences. Nomorio village has experience violence which is triggered by past violence experience, incitement from the politicians, unemployment, availability of small arms and school dropouts. Most young people opt to use violence as means of airing their grievances. Transforming Community for Social Change (TCSC) has been on forefront in intervening in the midst of erupted violence and unrest among the youth. Two AVP trainings were contacted this month. We looked at prevention and intervention of violence among the youth.
Testimonies
"I have started acknowledging and voicing what I do well and what we like about others. I have also realized how important as a youth in creating a positive environment which promotes peace and say no to violence" . Creative Charles.
"As a youth I have had challenges communicating leading to misunderstanding. Good and bad listening will build my skills of observing and perceiving more importantly listening to others and respecting their opinions,recognizing communication barriers,and developing awareness of non-verbal communication" Peaceful Patrick.
"I enjoy this AVP training because of the games,in which everyone wins, everyone gets to play and the group is challenged towork together" Mercyful Mercy.
"In role plays and problem solving exercises,it helped us to find solutions to problems and conflicts in every day relationships. I learnt that I can dea lwith conflict in a way that is positive andcreative which introduce a positive side of ourselves to others and develop our community" Polite Peter
*****
Type of The Training: Healing and Rebuilding Our Community (HROC) basic Workshop
Dates: 14-19/10/2019
Place/Venue: Nomorio Kapsokwony
Participants: Male 29 Female 18 Facilitators 3
Section of male participant in HROC basic training in Nomorio
Workshop Description
Trauma healing has been one of our key program in Mt Elgon. The need for more for this kind of trainings help us to continue provide healing support to groups that have undergone trauma at both individual level and communal level, a group of elderly men and women from different faiths.
Testimonies
"We have undergone problems. We suffer silently and no one has ever come for our rescue. When my husband died 3 years ago, this training has help me to understand trauma more deeply and also knowing many root causes o ftrauma" Jenniffer
"Trauma is a sickness. Many on this mountain are sick. Some don't know if its trauma. They take painkillers everyday which has contributed to many other illnesses. It was not easy for me to talk after sharing my loss. I feel better" Micheal

"I love this program. I also liked how facilitators cared for us. Let this not be the end of program. Come again" Doreen
"I have started my journey of healing. I have my neighbor and I think this training will also be help her" Gladys
"I have always had a feeling of sadness and discouragement. Listening to all these stories and what my friends have gone through, I feel a sense of belonging. We need to remain together and support one another and keep checking on each other every day." Beatrice.
Recommendation and Evaluation.
Continue promoting peace through this program
Build recue centers for people who have experience trauma especially women and children
Bring facilitators during our harvest time, we will provide food.