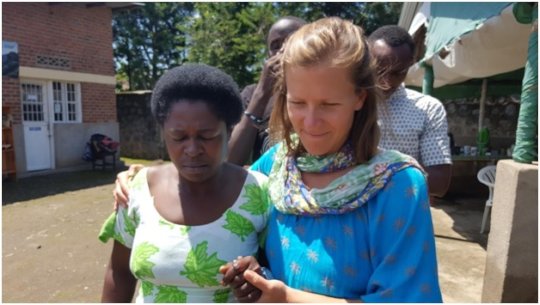 Healing and Rebuilding our Communities (HROC) International workshop in Rwanda Musanze Feb. 02-22/2020
Facilitators: Serete Peter, Anena Terry and Solange Maniraguha
The first Basic
In all international Healing and rebuilding our community workshops we always give participants an opportunity to attend a basic HROC workshop with local community members to help them have an introductory sense of how things are done in terms of the context and the methodology in delivering a workshop. In three days participants will recognize and understand Trauma, learn skills of dealing with their personal trauma, carefully begin their personal journey of healing, recognize that life continues after traumatic event and help them reconnect with their communities and rebuilt society.
During the basic workshop participants were drawn from 6 countries, we had 5 from Zimbabwe, 1 from Democratic Republic of Congo, 1 from Nigeria, 6 from Rwandans and 1 from Kenya. The workshop was conducted by three facilitators from Kenya, Uganda and Rwanda with the help of a Rwandan translator.
Local leader from the office of civil registration in the sector opened the workshop officially and assured both local and international participants of their safety and appreciated the collaboration between HROC Rwanda and the Local administration. "I welcome you all in Rwanda, we were told about your coming, Rwanda is peaceful, we like visitors, you are free to move around and visits beautiful sites here in Musanze, with thank the organizers for collaborating with local Government, this shows that for us to heal and have peace, we need to work together" Community leaders play an important role in identifying and inviting potential participants to a workshop. The process is done in fairness and balance in the selection process. During the process it is important to ask questions about the person's symptoms and experience before immediately accepting such a participant, to ensure that the person is stable enough to participate in the workshop.
Experience and testimonies from the participant varies depending on the depth of understanding and the level of transformation towards healing, three day may not be enough, however the module is design to help individual on the underlying philosophy that each person and society has the inner capacity to heal and an inherent intuition of how to recover from trauma.
"I appreciate the methodology and how the module has been simplified to deepen our understanding, the meaningful examples were helpful, given my own time to share my traumatic experience was so enriching"
"I have been working with traumatized people in my community, I find it useful especially the support given to me by you, I felt not judged, my opinion was respected, and more importantly I was involved in all process"
"Am Glad I was given time to share my traumatic experience, sometime you feel you are alone, I have decided not to go back home again because I don't want to meet my neighbor who killed my family members, when I was listening to people share, it gives you courage to share your own pain and find ways of getting help, I need more time and hope I will work on my fears and more importantly I will need help from facilitators"
"Facilitators gave us opportunity to share our thought and insight on our own understanding of trauma".
The Training of Trainers
After all international participants have attended a basic HROC, they embark on a two weeks long, during this time we manage to prepare new facilitators to facilitate a basic HROC workshop, deepen their understanding of trauma, trauma recovery, listening and the role of trauma healing in reconciliation.
With mentorship of a lead facilitator the program help to develop and practice basic peer counseling and listening skills, so facilitators are accomplished healing companion in their communities
At the end of two weeks the new HROC facilitators develop and practice basic facilitation skills
In order to push into the intense and difficult journey of trauma recovery and healing, participants, facilitators and healing companions alike must have strategies, rituals and sources of strength that can serve as anchors, for many years in all our international trainings participants have come out with creative ways that keep each person connected to him or herself, to one another and God. Without these, we can lose ourselves in sea of pain and helplessness.
Some faced challenges during this one
We are sharing some of the challenges met during this one training. Some are new, others are not, but just keep coming as challenge.
-Unfinished constructions at the Hroc Center that pushes us to take some of the participants staying at the hotel. This is more challenging, when you ask people to walk after having diner, and it is late in the night.
-Using an apprentice facilitator(s) and don't pay them anything is not fair. Spending three weeks and going back home with empty pocket… It is really challenging.
Testimonies
Eugenia (from Zimbabwe): It is so powerful to have this kind of training. I cant wait to go back to Zim to do some Hroc workshops. It is a based community approach for sure. I have learned so much from you(facilitators), and learned from the approach itself. For us in Zimbabwe, when we do workshops on trauma healing, we train victims themselves, and the perpetrators, or vice versa. Now I see the importance of bringing them together. I appreciate so muc Hroc Philosophy. Very rich and touches everyone in the community. I think we will organize a Hroc training of trainers back home, and have more facilitators, because the work is huge and needed.
Mike (from Zimbabwe): Its just too much! Its rich and easy to learn. I normally work with others in a group, but now I see how much this Hroc approach touches the grass roots. Thank you my organization for bringing me to this one. We are still going under political pressure in our country. People are still in the cycle of violence. We have so much to do!
James (Nigeria):" Let us not loose hope". There still time and space for someone to get healed. I was waiting for this one training to happen so that I can attend. I have founded myself to be here because I needed too. My fellow facilitators from Nigeria have interested me when they shared some of the things they have learned from the same kind or training, now I can testify it myself. I am just wondering how we can cooperate with other facilitators from my country as they seem to be away from me. But I still believe we can do something. I myself got helped to go through my personal journey of healing. Thank you so much Hroc.
Recommendations for way forward
1.HROC IT participants database
2.International follow up activities
3.Being open to some adaptations if there is a need for the country/context
4.HROC facilitators gathering to be organized.