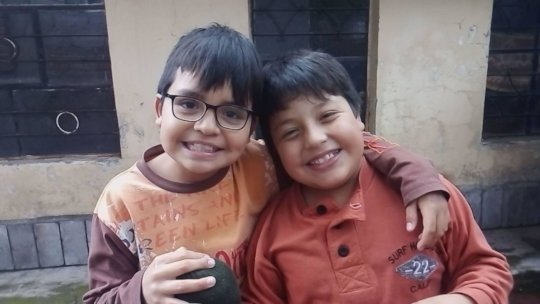 In a recent report from Gladys, Programme Coordinator at CENIT, she writes that "every Ecuadorian family has suffered the loss of friends or relatives to Covid-19. It is terribly sad."
The situation in Ecuador has not improved since our last report, but CENIT staff have been working hard to support the children and families who participate in their programmes. Please read on to find out more about what they have been doing to help…
CENIT have distributed emergency food parcels to families twice a month since April. In July, staff conducted home visits and helped students to prepare and submit their portfolios of work to make sure they could pass the school year. The students of the vocational training centre, which teaches tailoring, participated in virtual classes during lockdown so they were only able to pass the theoretical part of the course and will have to undertake the practical part from November to July 2021.
CENIT staff work face to face with small groups on some days and through online teaching on other days. They visit children and families regularly at their homes and workplaces. They stay in touch through phone calls, video calls, WhatsApp messages etc. In the markets, they have identified many more children working and begging.
The new school year began on the 1st September with a virtual event. Teachers have given out folders of schoolwork for children who don't have access to online learning. The tutoring programme is also functioning virtually, but small groups of children can attend CENIT for help with homework if they can't access the online learning. CENIT have some local volunteers helping with this.
In September, CENIT also started a new project with the support of the Harris-Fraser foundation. Families were given 15 credits (to the value of $50) to help them restart informal work and small businesses.
Unfortunately, it has not been possible to work in the San Roque market as the incidence of Covid is so high there.
CENIT have benefitted from the help of volunteers from universities in Quito but have had to temporarily suspend their volunteering programme for the rest of this year.
ViaNinos continues to support CENIT and the incredible work they are doing in extremely difficult conditions. We were delighted to collaborate with Rotary clubs in the UK, Germany and Ecuador to provide 3 laptops for CENIT to support the online learning.
With many thanks for your support.