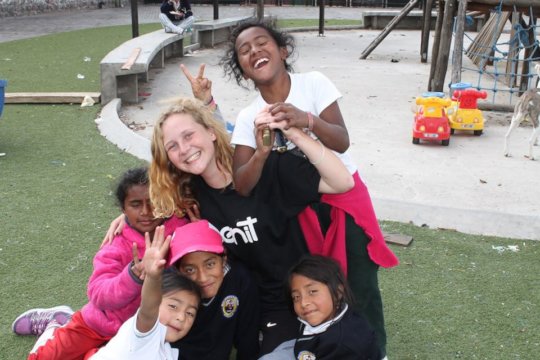 Thank you for supporting CENIT's street outreach programme!
At the end of last year, CENIT celebrated Christmas in style thanks to a special programme organised by students from the Central University of Ecuador. The children at CENIT also enjoyed the annual Pase del Niño, a religious festival involving a lively procession around the local area.
2020 looks set to be another busy year at CENIT… have you ever thought of volunteering? CENIT are looking for passionate and skilled volunteers to support CENIT's projects old and new. Suitable for someone interested in grassroots social development, NGO outreach, or nonprofit management.
CENIT are currently preparing for International Women's Day in March (one of the biggest events of their calendar). Keep an eye on their facebook page over the next few weeks to hear stories of inspirational women and girls who are an example to us all.
CENIT's staff care for vulnerable children day in and day out. Recently they have been practicing a little self-care too, thanks to a yoga session run by Peace-Corps volunteers! CENIT staff also began an exciting new training process to strengthen their methodology. In the first session, they assessed the specific needs of the school and community and started building a foundation for change. Let's see what comes next!
Once again thank you for being part of the fight to eradicate child labour. Together we can get more children out of dangerous working environments and into school.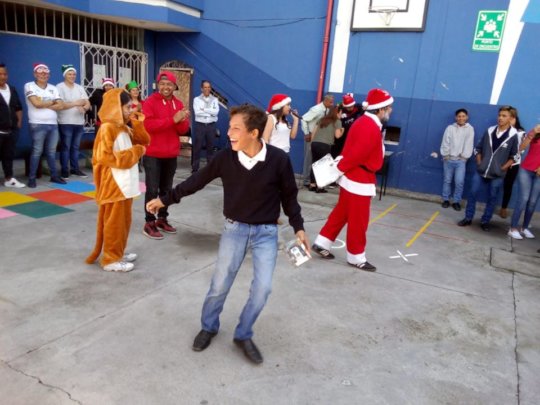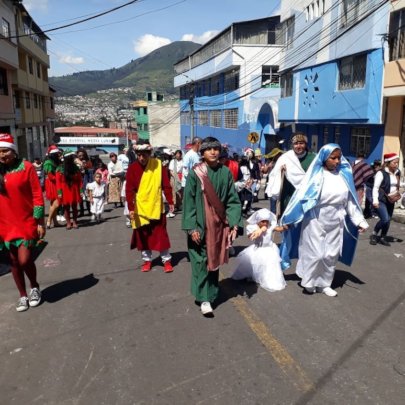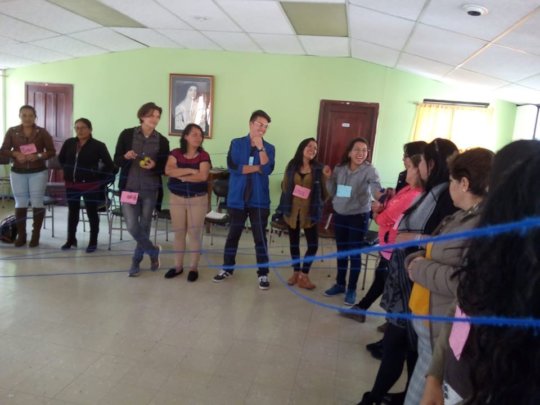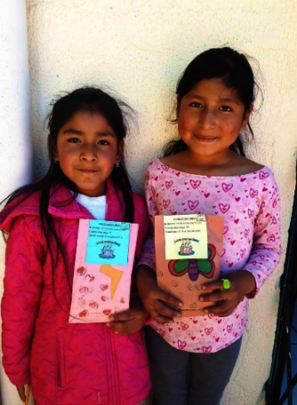 2019 was another successful year for UBECI and their work to help working children access education and basic healthcare.
The number of children enrolled in UBECI's market playgroups and workshops increased from 686 in 2018 to 770 in 2019.
To mention just a few of the achievements for the year…
Opening of the UBECI Children's Reception centre
Further development of the curriculum of the market playgroups and workshops programmes with the support of educational psychologists
In 100 workshops the children were taught the importance of creativity, values, organisation and discipline, cooperation, just to mention a few areas of focus…
8 workshops focussed on topics such as
- encouraging parents to show affection towards their children to foster their confidence
- the importance of ensuring their children don't drop out of school and return to work losing
their chance of receiving an education
8 campaigns benefitting the children, including
- School bags (80) and Pencil case (156) campaign
- Social-affective workshops
- Dental prevention for 280 and Dental care for 22 children
- Birthday campaign
- Christmas present campaign (clothes and sweets)
1 more member of staff to provide greater support to the children
UBECI Reception Centre
In 2019 UBECI opened its first Reception Centre following an evaluation carried out in 2018 on future activities needed to consolidate and strengthen its programmes, which identified the need to establish a reception centre open and accessible to the children on all working days.
The Centre was opened to tend to children who are in the markets on a permanent basis, with the aim of reducing their working hours and increase their awareness of the importance of studying.
Activities at the Centre are intended to improve the children's quality of life through a focus on:
- Logical thinking
- Mathematical thinking
- Writing
- English
- Music
- Bodily expression
- Plastic arts
- Gender and prevention
25 children between the ages of 4 and 12 attend the Centre on a daily basis.
Homework help provided at the Centre is key to ensuring that the children remain in school, as most parents are illiterate and can't help the children with school work.
We'll keep you posted on further progress…
Thank you again for your support… It allows ViaNinos and UBECI to continue with their valuable work in the markets of Southern Quito offering children a brighter future! Gracias!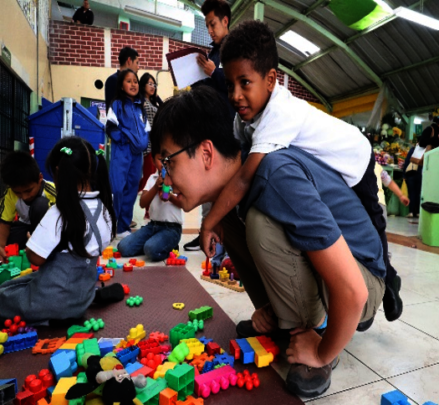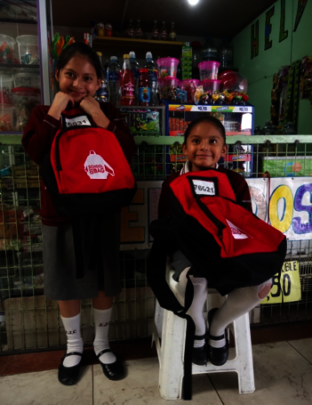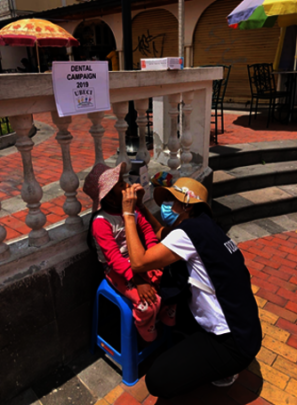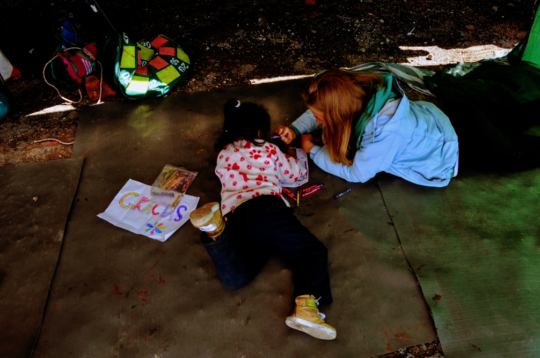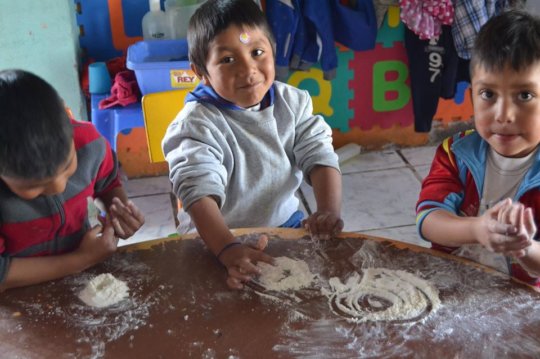 The street outreach programme facilitates the first contact that CENIT has with working children. Outreach workers identify vulnerable children and approach their parents or legal guardians to find out more about their situation. They also provide information about rights and responsibilities as well as services available.
Outreach workers invite these children to join the market playgroups where they participate in educational, recreational, cultural and sporting activities. In this way, they are able to build trust and better understand the problems and family dynamics.
Follow up work with families enables the outreach workers to offer support in the areas of healthcare, legal advice, education and social care. Through collaborating with public and private institutions, they enable children to realise their rights. For example, a frequent problem that they encounter is poor oral health, so they accompany children to the dentist for treatment.
Outreach workers also support children back into the school system. These children have dropped out of school for various reasons. CENIT's special school enables children who have missed out on some of their schooling to cover 3 years of primary education in 11 months. This accelerated programme helps them catch up and opens doors to secondary and further education or training.
For example, Mauricio, a young person who works with his mother in the mornings and goes to college in the afternoons. He is very motivated to pass his exams, progress and help his mother and brother in a more sustainable way.
Thank you to the fantastic outreach workers at CENIT for all they do and thank you, our supporters, for making this possible.
WARNING: Javascript is currently disabled or is not available in your browser. GlobalGiving makes extensive use of Javascript and will not function properly with Javascript disabled.
Please enable Javascript
and refresh this page.