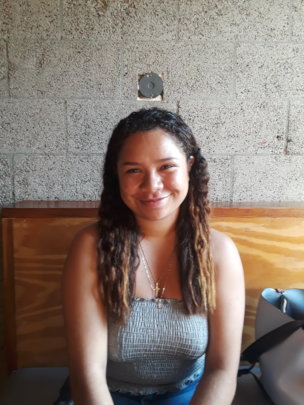 In April of 2018, at a Venice High School POPS meeting, as we talked about the upcoming book launch for the 2018 POPS Anthology, In the Key of Love, Leahnora asked if instead of reading from her poem, "Forgotten," if she could dance. "I'm going to college in Barcelona next year," she said. "A dance college." Of course we told her she was welcome to dance, and I confess I imagined something amateur, but when she took the stage at the Coconut Grove Theater, she astonished all of us with her grace and talent. As she sailed across the stage, I knew I wanted to learn more about who this young woman was and what had brought her to POPS.
And she told me her story. She has been studying dance since she was four years old, and in so many ways she is her mother's daughter. Mom grew up in Guatemala and attended a prestigious arts high school in Idyllwild, California before going on to attend Bennington and ultimately joining a professional dance company. When we saw Leahnora dance, we all understand why she, at the age of 15, was accepted by the outstanding LA County High School of the Arts (LACHSA); she was one of just 24 accepted from thousands who applied.
But despite her mom's support, her talent, the joy of dance, there were dark forces at work in Leahnora's life. For 14 years, her dad has been in and out of her life, and his criminal activity colored much of her life's experience. "We knew where we could walk and where we couldn't from the earliest age," she says. "Because of gangs." She describes herself and her friends of childhood as "troublemakers." In fourth grade, she was kicked out of her elementary school for fighting, and at the new school she attended, gang affiliations and race issues became vividly clear, separating kids from old friends. In Middle School, Leahnora was popular with kids and teachers, but she still chased trouble, and at 12 she was arrested for the first time.
Leahnora says that "Everyone was happy for me when I was accepted at LACHSA," but she found herself in 9th grade feeling out of her comfort zones. To get to school she had to wake at 5 every day to carpool. All morning she took classes, and all afternoon she danced, and when she began to see her old friends on social media—together and having fun at the beach, in the mountains, at parties—she longed to return to her neighborhood, and to attend Venice High.
She dropped out of LACHSA and returned to Venice for her sophomore year. At Venice, a couple of old friends introduced her to POPS. "POPS was a saving grace," she says. Otherwise things weren't going well. She came to school mostly to attend POPS meetings and wound up that year failing all her classes. She had to attend the Continuation School in her junior year, and she says, "I was living a lie. My friends at LACHSA thought I was being homeschooled; my friends at Venice thought I'd gone back to LACHSA." She did manage to get straight As at the continuation school. She was inspired to return to Venice--in large measure because she wanted to return to POPS where she found understanding, support, and inspiration.
She was moved by her friends' experiences with POPS and especially their writings. Leahnora decided to write about her childhood, her dad, her incarcerated friends so that she took could to better understand her life's experience. "It was hard to write. When I sent in that first poem, it was even harder, but once Mr. Danziger [the club's teacher sponsor] read it, I felt this huge weight lift off my shoulders. POPS is the reason I went to school. POPS is the reason I graduated."
Leahnora turned 19 this past September, and now she is in Barcelona, in college, and dancing. Still, she writes to say she misses POPS, and she wants, with all her heart, for POPS to spread. Just last week she wrote from Barcelona with a new poem--a poem, she says, she wrote to help her understand herself even more. This one will be published in the 2019 Anthology, and we all hope Leahnora once again will dance for us!