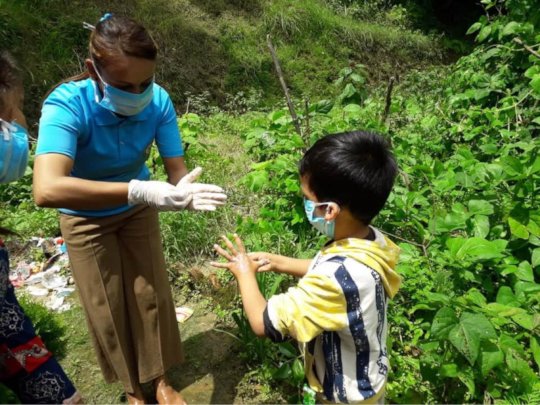 If you support our other projects you will have seen the updates on the fantastic work our staff have been carrying out at all the schools in Kavre with all the children who attend Kushadevi School. Vital work that cannot be done without the support of amazingly generous donors like you. I know we say thank you every newsletter but truly we want you know how grateful we are. At times like these, when as a small charity, we have lost so much income, public donations are making all the difference.
During the ongoing Lockdown (now into the fifth month) all our staff and students have been provided with sanitation packs and reusable masks. Our staff participated in and then led workshops for all the students and families learning how to stay safe and reduce the risk. They have also all been given home learning packs, stationary and mobile teaching support from our staff. Every week staff have called or visited to check in on the school families. Non of this possible without your help. So thank you. 'Dhanyabhad'.
Apart from the obvious risks of contracting the Coronavirus the impact of lockdown is immeasurable and will have knock-on affects for probably years to come. Not only are the schools and business closed but crops have been left unattended, many badly damaged by locusts this year and flooding has damaged the roads and buildings. Many of the parents who are daily wage workers have lost their income completely. Children and parents have been at home, many without internet connection and access to smart phones as we have here, so don't have the ability to conduct home learning as easily. The support you give has helped alleviate the situation, keep the children and their families safer and ensured that all of the students have continued their learning.
We sincerely hope that you have all stayed safe during these difficult times and all the team are sending you healthy and positive vibes as we make our way through this pandemic together. All our school communities have gone back into a strict lockdown this month as cases across each of the communities have rise sharply. We are sending them our very best wishes and thinking of them at this difficult time.
The outreach work is continuing and will do so until everyone is back in school. You were amazing in your help to make it happen. Thank you.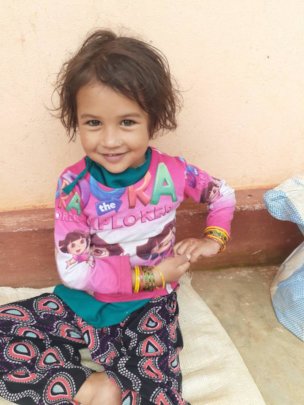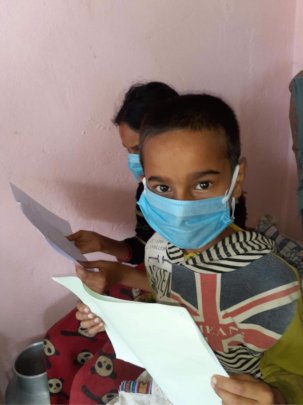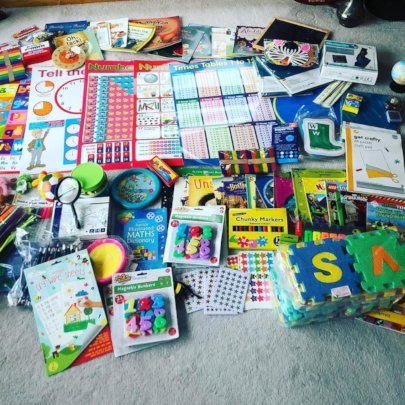 Links: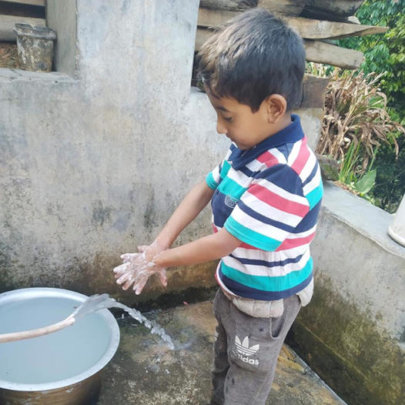 Hello to all of you, our wonderful supporters! We hope you are well and keeping safe and connected right now. Despite the unusual and difficult times we currently face, activities, education and support is of course still happenng accross all of our schools.
As I'm sure you can imagine, Coronavirus has been at the forefront of the majority of our work over the last months. We have been working very closely with our team in Nepal to monitor the situation. The Kavre district has seen a spike in the number of infections over the last two weeks. As we are sure you have also been feeling, many of our students and their families are experiencing anxiety - with so much unknown, fear of the impact of the lockdown and also of course, the risk of becoming infected. Although all schools are closed, our teaching staff are in regular contact with students and their families, not only with school work but also to listen, offer support and connection for families who are especially isolated.
We are therefore very aware of the struggles many of our students and families are now facing, with many of them experiencing job loss and unable to keep up with loan repayments and everyday expenses such as food costs. This has been a big concern for us and a significant part of the work in the last few weeks. You may be aware of the emergency fund that Freedom to Learn have set up and we are using this money to support the families who have been hit the hardest by Coronavirus situation by supplying them with essential food packages, seeds to grow crops and educations packs to continue home learning for students.
We have experienced amazing support from many or our supporters as well as the fantastic generosity from Milford-on-sea Primary School who took on the 2.6 Challenge and raised an incredible £1,897!! We can't thank you all enough for your support during this testing time. And we wish you and your families all the very best. Stay well and stay connected.
With all our best wishes,
Everyone on the Freedom to Learn Team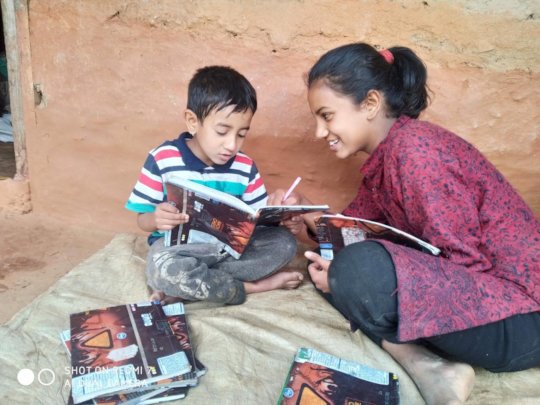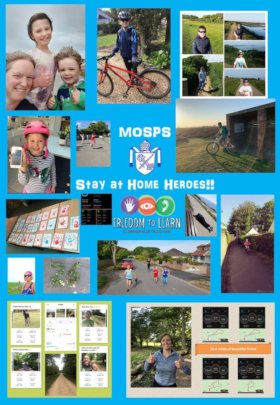 Links: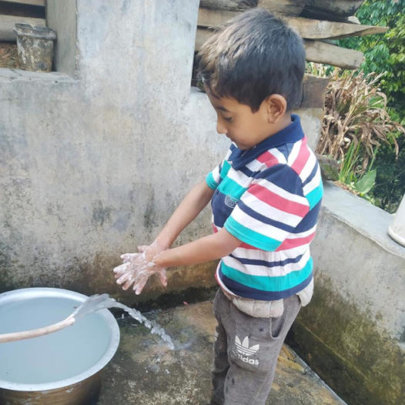 A lot has changed since we last spoke to you. We first would like to express our well wishes to you and your loved ones during this unusual time. Our thoughts are with you all! Our daily lives have changed massively here in the UK but also for our friends in Nepal. Our Schools in Nepal have all closed and lockdown is in place as the government responds to reducing the spread of Coronavirus.
We have been in regular contact with all of our student's families and checking up how they are doing. Our teachers and Nepali programme manager have spoken all of the families to see how they are managing. Many of the students families have expressed their concern as they are low on food and soap as well as many families having experienced job losses. This is a scary time for both the students and their parents but they are a resilient community - as they proved so well after the Earthquakes in 2015. With cases confirmed in Kushadevi now they know what they are dealing with and are following the Lockdown rules.
Freedom to Learn have set up an emergency fund in response to the feedback from families. We are working to ensure that all our families have access to food, soap and educational resources for the children. The response we have experienced from this has been incredible. We have been especially amazed by Milford-on-Sea Primary School who have taken on the 2.6 challenge and managed to raise just over £1800! All of this money raised is being used directly for the families we work with to reduce the pressures that they are experiencing that has come with Lockdown.
Thank you for supporting Freedom to Learn. We are working hard to support all of our families and students during this time.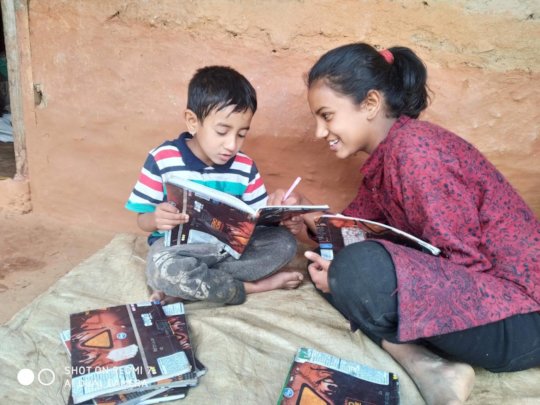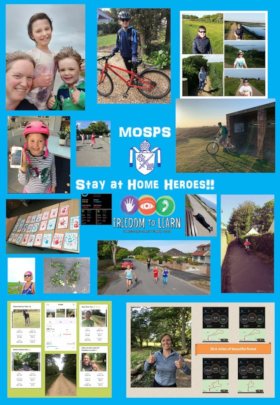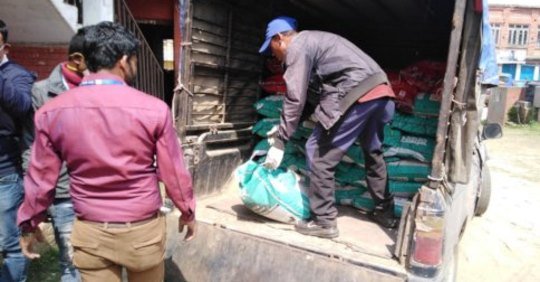 WARNING: Javascript is currently disabled or is not available in your browser. GlobalGiving makes extensive use of Javascript and will not function properly with Javascript disabled.
Please enable Javascript
and refresh this page.