Although summer break at Dzherelo Centre means fewer children on site daily, it does not stop the work here. Dzherelo Centre's pool is ready for Hydrotherapy!
Consider the reasons why jumping in a lake or sea feels so good! Relaxation, comfort, cooling off, most of us have our reasons for enjoying a day by the water. In the last school year, the children of Dzherelo Centre have benefitted from the use of Hydrotherapy and connections with physical therapy teams. The children have participated in a wide variety of therapeutic water activities designed to relax them while strengthening muscles and developing self- confidence.
The number of children has increased by 24 in the last school year, thus proving community support and need for the program. Parents have been excited to see their children expressing joy while receiving therapy. Exuberant sounds are heard through the hallways, so one always knows when a session is occurring.
"The pool is cool because it's for children and it helps them with their illnesses. It is interesting how water helps conditions or problems with stress. It is obvious to me that a hydrotherapy pool should be here at Dzherelo," claimed Nastia, a new volunteer at Dzherelo Centre.
Here's an article published in North American Journal of Medical Sciences (NAJMS) discussing the use of Hydrotherapy: https://www.ncbi.nlm.nih.gov/pmc/articles/PMC4049052/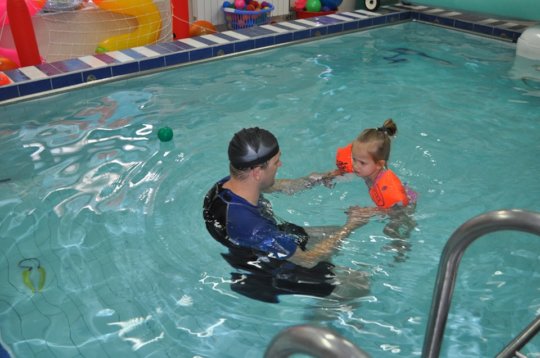 Since January, 24 more participants have enjoyed the benefits of Dzherelo Children's Rehabilitation Centre's Hydrotherapy program. The youth have worked with the physical therapist in developing their health plan. Parents have comments on how nice it is that their children get to forget the weight of their bodies while in the water and working while playing.
One participant with Cerebral Palsy symptoms, Dima*, who is 12-years-old, really enjoys the hydrotherapy sessions. He likes feeling weightless and likes to splash. Unbeknownst to Dima, his splashing is strengthening and toning his arm muscles, which helps him be able to move his wheelchair better as he improves his range of motion.
Another participant who has Autism, Sasha* and is 8-years-old, uses the water as practice for different sensory experiences. The water therapy helps with his learning to balance his senses with motor functioning. Sasha has benefited from hydrotherapy in that he can better tell how his body fits into spaces, and moving around in water creates a controlled vestibular situation that is safe for him. He has a sense of mastery as he practices kicking and reaching.
Without donor support, Dzherelo's Hydrotherapy program could not exist. The program has worked diligently to make children comfortable while they grow and become stronger. Thank you to all who have contributed and support this program.
(*names changed due to confidentiality)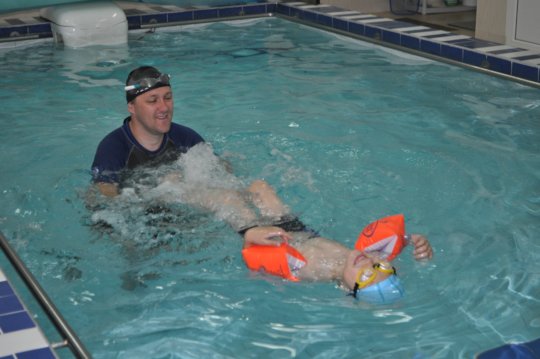 Links:
As I recently walked down the hallway, there was a loud laugh followed by a splash. Wondering who jumped in the pool, I realize there was a new participant in the Hydrotherapy program. Dmitro,* a 12-year-old young man who has Cerebral Palsy, had thrown some of his exercise equipment into the pool. He was being entering the pool with the therapist and his mother, who decided to assist in the session. Natalia* was ready to get to work as she focused on learning how to stretch her son's muscles and take his physical therapy to new levels.
Parental involvement in therapeutic services has improved more than just morale. Parents are able to replicate some of the exercises outside of hydrotherapy to their daily life. Therapists are modeling movements and how to set boundaries with the children, so that parents learn from actively participating with the hydrotherapy program. Although one can debate the role of parents in their children's therapy, so far most parents at Dzherelo Centre are able to learn and communicate better with their child with severe special needs. Additionally, parents are using the pool, which is a treat for them, too. Quality time with a child is always a god thing.
So far in 2019, we have seen an increase in children obtaining services from physical therapy and psychology departments, including Hydrotherapy. Our team of specialists are continuously updating their skills and encouraging parental involvement.
*names changed to respect confidentiality of minor and his family.
WARNING: Javascript is currently disabled or is not available in your browser. GlobalGiving makes extensive use of Javascript and will not function properly with Javascript disabled.
Please enable Javascript
and refresh this page.